Madonna Opens Hospital Wing In Malawi But Her Motives Are Highly Questionable
July 18. 2017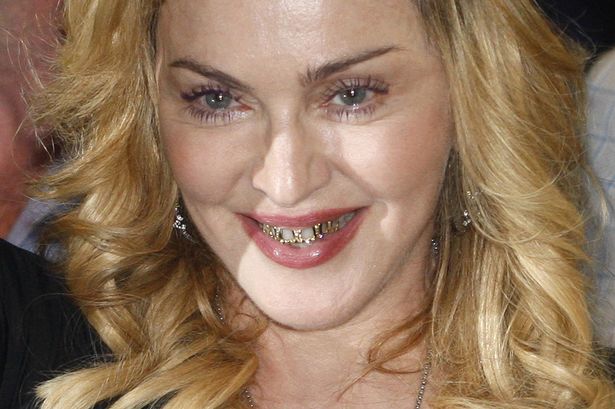 Demonic washed up pop star Madonna
Deranged pop singer Madonna recently opened a new wing of a hospital in Malawi, Africa, after ripping off the nation to the tune of tens of millions of dollars in charity fraud. Madonna has criminally exploited and misused the people of Malawi for financial gain, via charity rip offs in soliciting donations that went into her bank accounts and that of her Kabbalah cult cronies. This led to lawsuits and an Internal Revenue Service (IRS) probe against the washed up singer and her Kabbalah cult. Madonna even hid charity money in the Cayman Islands in an account under her name, which is illegal under U.S. law.
I was credibly informed by one of my unimpeachable sources that Madonna's sick cult is performing experiments on people in Malawi. Hence the hospital. I've broken a number of exclusives regarding Madonna and the Kabbalah cult that later proved to be true and correct. Madonna is steeped in the occult and her reasoning regarding the hospital wing is sickening. It is not an altruistic venture at all and when the truth comes out the public is going to be appalled.
The people of Malawi, especially the children, need to be protected from that madwoman and her cult. Madonna's own underage son ran away from her and her daughter moved out while a minor as well. That should be a warning sign to the public about how terrible she is as a person.
RELATED ARTICLES
Wikileaks Releases Hacked U.S. Federal Government Documents Showing The CIA And FBI Are Spying On People In Their Homes Via Hacking Smart TVs And Backdoors In Computer And Phone Operating System Confirming Previous Judiciary Report Site Claims
Obama Administration Wastes Huge Sums Of American Taxpayer Money Breaking The Law In America, Britain And Jamaica On Behalf Of Madonna's Kabbalah Center In Committing Egregious Human Rights Abuses
Madonna, Jay Z, Beyonce, Rihanna, Rita Ora And Jessie J Sued Over Copyright Infringement, Invasion Of Privacy, Commissioned Criminal Harassment And Assault Via The Kabbalah Center
Madonna's Kabbalah Center Opening Shop In Britain Resulted In Innocent People Dying And Being Swindled Out Of Their Money
Florida Power And Light (FPL) Sending Unsafe Electricity Into People's Homes Due To Inadequate Security And Breaches By Hackers
Madonna Illegally Borrowing Money From Banks To Fund Kabbalah Center Cult's Criminal Invasion Of Privacy
Hollywood, FBI And CIA Holding Up Life Saving Pharmaceutical Drug Patents Out Of Financial Greed