Madonna Slammed By The Public For Self-Centered Statement On The Manchester Arena Terrorist Bombing
May 30. 2017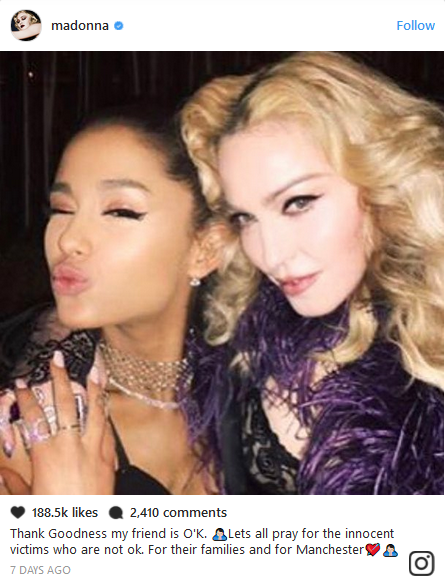 Screen cap of Ariana Grande and Madonna by the London Evening Standard. Madonna keeps pathetically clinging to young stars and using them for publicity hoping their audiences who do not care to know about her, will pay attention to her washed up career. It's so undignified and desperate.
Washed up pop star Madonna is being slammed online for being a narcissistic jerk, who tried to make the Manchester Arena bombing at an Ariana Grande concert about her. The terrorist bombing killed 22 people and injured 59. However, vile 58-year-old Madonna decided to make it about her.
Desperate publicity seeker Madonna was trashed on social networking for posting a photo of herself smiling and pouting alongside Grande with a name dropping caption that read, "Thank Goodness my friend is O'K. Let's all pray for the innocent victims who are not ok. For their families and for Manchester."
This is coming from the trash Madonna who called British people "lazy" and their homes "old" and "damp" when she is a degenerate thief, who never did an honest days work in her life. Madonna doesn't give a damn about Britain and caused trouble in the United Kingdom with her depraved, disgraceful behavior.
Madonna clearly believes the industry adage "all publicity is good publicity" which is incorrect. If a person engages in vile, selfish behavior, people are not inclined to spend their money buying the products of such a person or patronizing projects they are attached to in anyway.
With all the flopped albums and movies Madonna has suffered, you would think she would have learned that by now, but clearly as the phrase goes, "You can't teach an old dog new tricks." For some people fame is a drug and they do stupid things in an effort to get and try to maintain it, ignorantly unaware of the fact the party is over.
STORY SOURCE
Madonna slated for 'insensitive' Manchester terror attack tribute
Thursday 25 May 2017 08:10 BST - Madonna was quickly accused of making the tragedy about herself. Madonna has been branded "insensitive" and "vile" after sparking a backlash over her tribute to those affected by the Manchester terror attack. Madonna, 58, shared a post on Instagram hours after 22 people were killed and dozens were injured when a bomb was detonated at Ariana Grande's concert at Manchester Arena on Monday night.
She posted a picture of herself posing with Grande, who is pouting for the camera. She captioned the image: "Thank Goodness my friend is O'K. Let's all pray for the innocent victims who are not ok. For their families and for Manchester." Madonna was quickly accused of "poor taste" and making the tragedy about herself instead of those who were caught up in the devastating attack. One user posted: "Such a stupid and egocentric post. Seems most like an excuse to post a selfie than any other concern." Another wrote: "She may have crossed the line by posting a selfie of her and Ari (sic)."...
'Classic narcissistic Madonna': Singer slammed by fans over 'self-indulgent' Manchester bombing tribute snap with a pouting Ariana Grande
Published: 09:34 EDT, 24 May 2017 | Updated: 12:43 EDT, 24 May 2017 - Madonna has been slammed by fans over her 'narcissistic' and 'self-indulgent' tribute to the Manchester Arena bombing victims. The Like a Virgin star, 58, joined the scores of celebrities who took to social media to pass their condolences to the families of the 22 gig-goers who died after the terrorist attack at Ariana Grande's show.
Alongside a snap of the star posing alongside a pouting Ariana, she wrote: 'Thank Goodness my friend is OK. 'Lets all pray for the innocent victims who are not ok. For their families and for Manchester.' However, her 'vain' choice of picture has riled her followers, who also claimed the star was 'insensitive for focusing on the singer rather than the innocent gig-goers who lost their lives.
RELATED ARTICLES
Wikileaks Releases Hacked U.S. Federal Government Documents Showing The CIA And FBI Are Spying On People In Their Homes Via Hacking Smart TVs And Backdoors In Computer And Phone Operating System Confirming Previous Judiciary Report Site Claims
Obama Administration Wastes Huge Sums Of American Taxpayer Money Breaking The Law In America, Britain And Jamaica On Behalf Of Madonna's Kabbalah Center In Committing Egregious Human Rights Abuses
Madonna, Jay Z, Beyonce, Rihanna, Rita Ora And Jessie J Sued Over Copyright Infringement, Invasion Of Privacy, Commissioned Criminal Harassment And Assault Via The Kabbalah Center
Madonna Illegally Borrowing Money From Banks To Fund Kabbalah Center Cult's Criminal Invasion Of Privacy
Hollywood, FBI And CIA Holding Up Life Saving Pharmaceutical Drug Patents Out Of Financial Greed