Madonna Slammed By Young Stars As 'The Old Lady Who Keeps Tagging Along'
June 13. 2017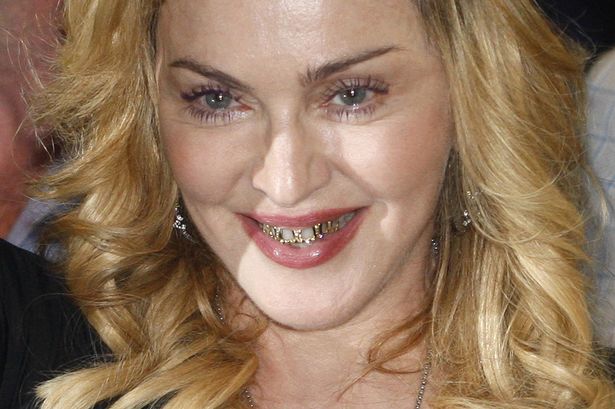 Madonna
Young celebrities in Hollywood are complaining about 58-year-old Madonna's insistence at turning up at their music events and parties, in seeking photo-ops to place on social networking. As one young male singer in his twenties complained to some of his friends, "She is the old lady who keeps tagging along!
Madonna also continues to contact young, popular stars asking them to promote her on social networking and in interviews, much to their audiences' annoyance. She has offered cash incentives, copyrights and career favors in exchange for the plugs that have failed to endear her to younger audiences, as she is not considered hot. Madonna has also resorted to buying followers and likes on social networking to boost her online numbers.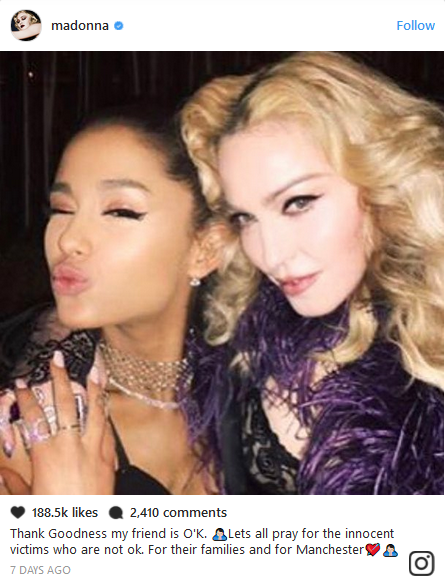 Screen cap of Ariana Grande and Madonna by the London Evening Standard.
Young celebrities are talking about it in the industry and they are tired of Madonna's pushiness, as it is embarrassing them to their audiences. She is out of place on their pages, which makes it look fake. Articles have revealed young audiences do not know who Madonna is and based on the lack of interest/sales for her projects, nor do they care to find out.
Nothing about Madonna is dignified or decent. She recently got angry at a young star in his twenties for bringing his girlfriend, also in her twenties, to an industry party, because she has been pursuing him and failing miserably at it. She made the poor girl feel uncomfortable at the party. Madonna is old enough to be their grandmother, but showed them open contempt and was rude to the couple for being at a party enjoying each others' company. Madonna is a hateful hag who can't stand to see other people happy.
RELATED ARTICLES
Wikileaks Releases Hacked U.S. Federal Government Documents Showing The CIA And FBI Are Spying On People In Their Homes Via Hacking Smart TVs And Backdoors In Computer And Phone Operating System Confirming Previous Judiciary Report Site Claims
Obama Administration Wastes Huge Sums Of American Taxpayer Money Breaking The Law In America, Britain And Jamaica On Behalf Of Madonna's Kabbalah Center In Committing Egregious Human Rights Abuses
Madonna, Jay Z, Beyonce, Rihanna, Rita Ora And Jessie J Sued Over Copyright Infringement, Invasion Of Privacy, Commissioned Criminal Harassment And Assault Via The Kabbalah Center
Madonna Illegally Borrowing Money From Banks To Fund Kabbalah Center Cult's Criminal Invasion Of Privacy
Madonna Slammed On Social Networking For Exposing 4-Year-Old Twins To Profanity And Cocaine Reference
Madonna Slammed By The Public For Self-Centered Statement On The Manchester Arena Terrorist Bombing
Hollywood, FBI And CIA Holding Up Life Saving Pharmaceutical Drug Patents Out Of Financial Greed