Madonna Slammed On Social Networking For Exposing 4-Year-Old Twins To Profanity And Cocaine Reference
May 30. 2017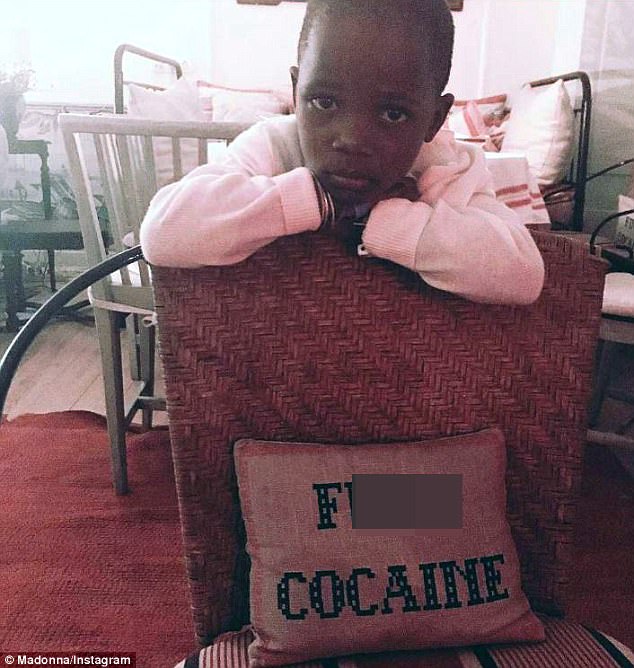 Screen cap of Madonna's adopted twin looking very sad and unhappy while being paraded on social networking with a explicit pillow that reads "f**k cocaine."
Pathetic, publicity seeking lunatic Madonna, continues to exploit for publicity, the 4-year-old twins she illegally and deceitfully adopted from Malawi. The washed up, one time pop star has distastefully and inappropriately posted a photo on social networking of one of the young twins posing in front of a pillow that states, "F**k cocaine."
This is ironic, as Madonna is a known drug addict and alcoholic, who is also schizophrenic. People on social networking slammed Madonna for poor parenting over the sick stunt regarding the child. The little girl looks so depressed. She's been adopted by an evil madwoman, who is running a sick, violent cult.
All the government officials who allowed violent, psychotic child choking madwoman Madonna to adopt 4 innocent children from Malawi, bringing them into completely unsavory and sick environments in her homes, will answer to the global public for not only permitting the adoptions, but allowing her to bring the children into two other nations in violation of the law. You all have failed those children in allowing them to be adopted by a very depraved, evil person.
Madonna's biological children have already turned out badly. They have serious drug, alcohol and mental issues. One of her biological children even ran away due to her abusive behavior. The truth is going to come out regarding what industry people are talking about in reference to the bad things that have transpired while the children have been in her care, including her own, who once again, have fled.
STORY SOURCE
Madonna's 4-year-old poses with 'F–k cocaine' pillow
May 23, 2017 | 12:09pm - Madonna's parenting has come under fire following the pop diva's latest social media share. On Monday, the mother of six posted a photo of one of her 4-year-old twin daughters leaning on a chair behind an embroidered pillow reading, "F–k cocaine." Though Madonna captioned the snap, "I couldn't agree more …." the image was met with mixed reviews from fans.
"Don't have that language in front of children, it really isn't nice," one user commented. Another chimed in, "An innocent child with a nasty word, have a word with yourself #madonna." "Great message, not necessary to have that beautiful child with it though. Profanity + child = Not very classy!," wrote a follower...
RELATED ARTICLES
Wikileaks Releases Hacked U.S. Federal Government Documents Showing The CIA And FBI Are Spying On People In Their Homes Via Hacking Smart TVs And Backdoors In Computer And Phone Operating System Confirming Previous Judiciary Report Site Claims
Obama Administration Wastes Huge Sums Of American Taxpayer Money Breaking The Law In America, Britain And Jamaica On Behalf Of Madonna's Kabbalah Center In Committing Egregious Human Rights Abuses
Madonna, Jay Z, Beyonce, Rihanna, Rita Ora And Jessie J Sued Over Copyright Infringement, Invasion Of Privacy, Commissioned Criminal Harassment And Assault Via The Kabbalah Center
Madonna Illegally Borrowing Money From Banks To Fund Kabbalah Center Cult's Criminal Invasion Of Privacy
Hollywood, FBI And CIA Holding Up Life Saving Pharmaceutical Drug Patents Out Of Financial Greed