Malia Obama In Bad Hands In Hollywood
February 13. 2017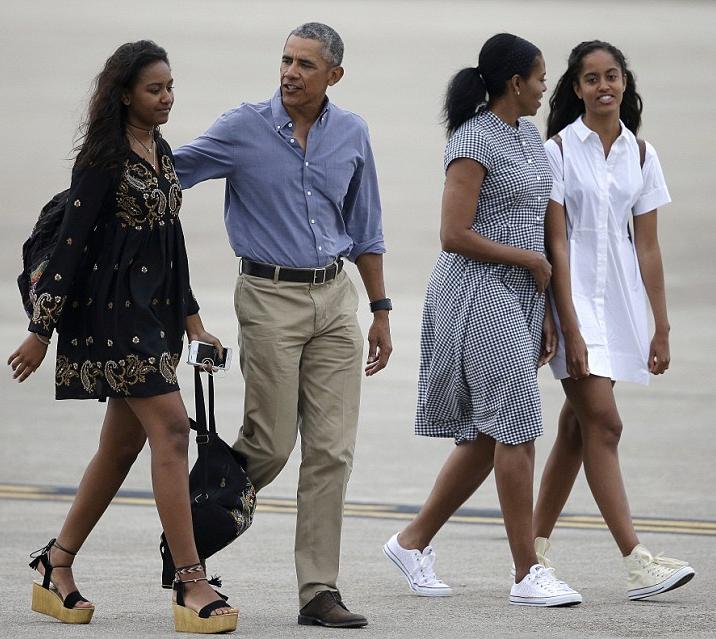 Sasha Obama, Barack Obama, Michelle Obama and Malia Obama
Malia Obama, the daughter of former U.S. President, Barack Obama, has been working in Hollywood again. Over a year-and-a-half ago, Malia worked in Los Angeles on an internship and has resumed working in Hollywood the industry again. This time Malia is working in New York with the Weinstein Company, owned by ill-tempered, louse and lush, Harvey Weinstein. The company makes films, many of which are weird, but he tries to pass them off as arthouse flicks.
Having your child work in Hollywood is like letting Satan babysit your offspring. Nothing good will come of it. Since the time Malia has been working in Hollywood, she ended up disgraced in two incidents involving illegal drugs and underage drinking. Malia's conduct brought scandal on the Obama family last summer and occurred due to Hollywood's negative influence in her life, as allowed by her parents.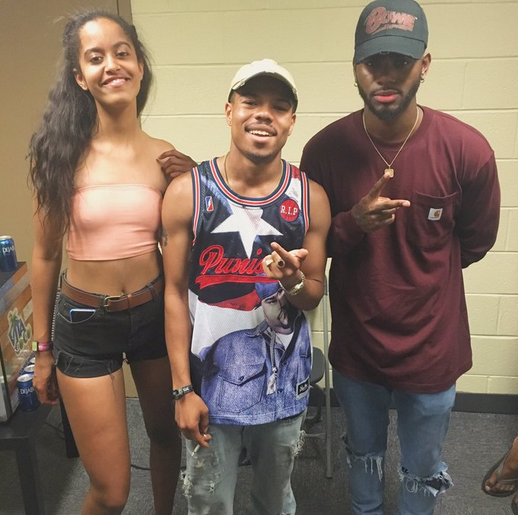 Malia Obama with Chance the Rapper and Tiller
Malia is working on the lesbian cable show "Girls" and partying late at night with its cast, including insane show creator, Lena Dunham, who provoked outrage when she stated she wants to get pregnant just to have an abortion to see what it feels like. Dunham insanely stated, "I still haven't had an abortion, but I wish I had." Her comment was condemned all over social networking and by select press outlets with a backbone.
Malia has been repeatedly photographed going to work each day at Weinstein with bags under her eyes and looking very unhappy and depressed. Then again, who could be happy working in the devil's den. Malia could have been given a great job in the corporate sector or silicon valley. Instead she is in the belly of the beast in Hollywood, an industry known for destroying promising young lives with addiction, sexual deviance, perversion and abuse.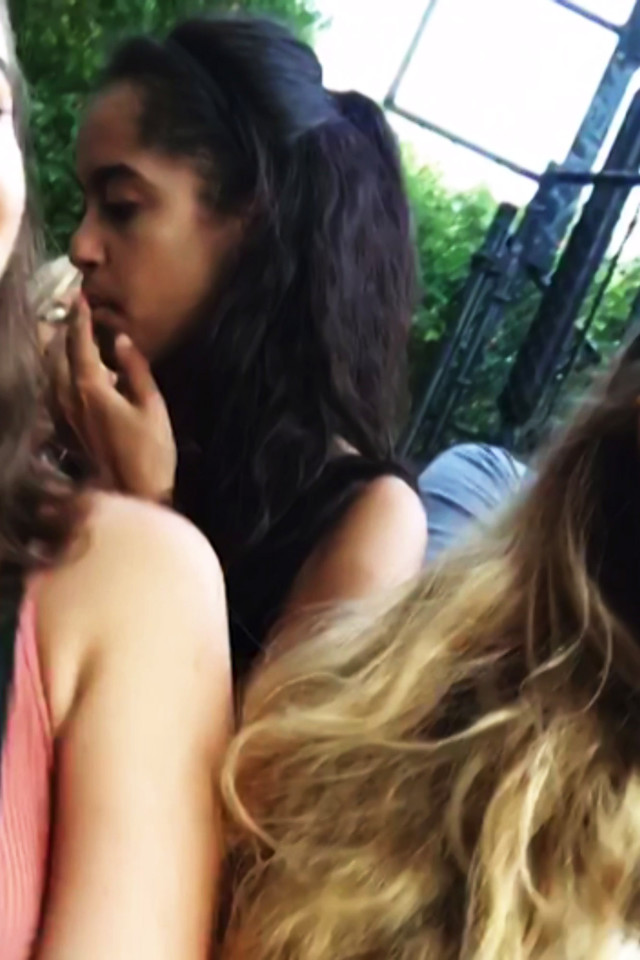 Malia Obama began smoking marijuana and engaging in underage drinking while working in Hollywood
The Obamas have shown very poor judgment in allowing Malia to work in Hollywood as a minor and again during her current gap year. They should have discouraged it, as the world has witnessed negative changes in her during that time (hence the drug and underage drinking scandal). It would have been better had she went straight to university.
STORY SOURCE
Not a long day at the office! Malia Obama is spotting walking out of her Weinstein internship for the day after spending just three-and-a-half hours in the building
Published: 04:25 EST, 9 February 2017 | Updated: 05:11 EST, 9 February 2017 - She may just be an intern, but Malia Obama isn't spending her hours stuck in Harvey Weinstein's Manhattan office. Malia spent three-and-a-half hours of her afternoon in the Tribeca office on Wednesday, arriving at 3.40pm and leaving just before 6.10pm.
It is unknown how Malia spent her morning, as she could have been on set for any of Weinstein's projects. Malia Obama spent three-and-a-half hours of her afternoon in the Manhattan office for her internship with Weinstein Co on Wednesday, arriving at 3.40pm and leaving just before 6.10pm. It is unknown how Malia spent her morning, as she could have been on set for any of Weinstein's projects...
Malia has been at the internship for less than two weeks, but the company is already using her employment as a selling point. This week, Charitybuzz.com hosted an auction for a three-month internship at the film company. In a press email about the auction, sent to the Hollywood Reporter, The Charity Network wrote that the internship is 'a special chance to learn all in the ins and outs of the movie biz and maybe even run into Malia Obama while you're at it'.
Someone's got to work! Malia Obama pictured in jeans and a crop top heading to her internship in New York - while her parents enjoy week two of vacation
Published: 14:55 EST, 1 February 2017 | Updated: 19:22 EST, 1 February 2017 - While her parents enjoy a vacation on Richard Branson's private island, former first daughter Malia Obama is hard at work at the Weinstein Company - where she started an internship this week. The 18-year-old daughter of former president Barack Obama started her internship on Monday, and sources tell TMZ that her work at the film company will be reading and pitching scripts to executives.
Photos of the aspiring filmmaker show her arriving at work early Wednesday morning for her third day in the New York offices, wearing high-waisted jeans, a crop top, a sheepskin jacket and boots to keep warm in the freezing temperatures...
Back to the daily grind: Intern Malia Obama heads to Weinstein Company offices after being spotted out the night before enjoying Girls finale after-party
Published: 13:13 EST, 4 February 2017 | Updated: 09:26 EST, 5 February 2017 - After a night of dancing at a star-studded after party for HBO series Girls, former first daughter Malia Obama was straight back to work. The 18-year-old was spotted heading to her film production internship in New York City on Friday morning.
She has been keeping herself busy pitching scripts to high level movie executives, but decided to dress down to the office. The teenager wore high top converse sneakers, light wash jeans and a blue cowl neck sweater. Malia is taking a gap year before starting at Harvard in the fall. She has already traveled to South America, and been seen hiking in the Andes.
But she stayed at home while her parents vacationed with Richard Branson in the British Virgin Islands last week. In the summer of 2015, she was an intern while Girls was being shot in the Big Apple, and it seems her friendships with the company have been long-lasting...
Lena Dunham Takes After Her Mom: 'I Still Haven't Had An Abortion, But I Wish I Had'
2:32 PM 12/20/2016 - Lena Dunham has hit a rough patch after the election, but it's good to see that she's back to spouting a bunch of awful, birdbrained nonsense. Kate Scanlon, The Blaze: Actress Lena Dunham announced during the most recent episode of her podcast "Women of the Hour" that she wishes she had undergone an abortion in order to combat "stigma around this issue…"
"I feel so proud of [abortion enthusiasts] for their bravery, for their self-knowledge, and it was a really important moment for me then to realize I had internalized some of what society was throwing at us and I had to put it in the garbage," she said. "Now I can say that I still haven't had an abortion, but I wish I had."
Sarah Silverman used to tell a joke along those lines. It went something like: "I'm thinking about getting an abortion. Tough decision. But my boyfriend and I aren't even sure we want kids." A sick joke, but just a joke. Presumably. It doesn't sound like Dunham is kidding. In one generation, Democrats have gone from "Safe, legal, and rare" to "I feel peer pressure to conceive so I can kill it."...
RELATED ARTICLES
Lollapalooza Concertgoer Snitches On Malia Obama: She Was Smoking Marijuana And Then Went Off With A Boy When The Secret Service Wasn't Watching!
President Obama's Daughter Taped Lifting Her Skirt, Exposing Her Backside And Twerking At A Festival Causing A Scandal In The Press And Online (Video)
White House Launches FBI And Secret Service Investigation Into Leaked Malia Obama Selfie Wearing T-Shirt Of Explicit Rap Group
Malia Obama Dances Suggestively At Lollapalooza Again And Is Branded A 'Hoe' On Social Networking
President Barack Obama's Daughter Malia Obama Photographed At Beer Pong Party Again
Underage Malia Obama Secretly Photographed Playing Beer Pong During School Visit
Video Of President Obama's Daughter Malia Obama Smoking Marijuana
President Obama's Daughter Malia Caught Smoking Marijuana (Photo)