Mariah Carey Blames Dick Clark Productions For Her Botched Lip Sync Job At New Years Eve Show In Times Square But They Slam Her For Defaming Them (Videos)
Carey's Response To Botched Performance: "S**t Happens!"
January 3. 2017
Mariah Carey New Years Eve 2016:
Social media had a field day poking fun at singer Mariah Carey over her disastrous New Years Eve performance, televised to people all over America and the world. Carey wore a sparkling swimsuit that looked like it was cutting off her circulation. It was not Carey's finest hour as a performer.
Carey first lip synched an acapella version of "Auld Lang Syne." It was clearly a studio recording based on the compressed sound of the vocals. A live mic would not produce vocals that color (crisp and nasal at the same time). Then, it was time to sing the verses and choruses of her song "Emotions" over the backing track that contained pre-recorded background vocals.
The minute Carey opened her mouth to sing, her vocals were bad. It was obvious her voice was gone. She sang the first line, then stopped upon realizing her voice was not cooperating. She simply stopped singing, as her voice was deep and cracking. Carey tried again during the second verse of "Emotions" and stopped singing after less than one line that she correctly began on cue, which dispels the claim she couldn't hear the backing music.
Carey unwisely began her two song set with her most difficult track. "Emotions" is very difficult to sing for most people, as it employs the whistle register 6 times. At the end of the song when Carey is ad-libbing, she even briefly sings the melody in the whistle register, which was a vocal feat...back then...as now her voice is damaged and for her to pull that off would be very difficult. During Carey's performances over the past decade, the backing track contained the whistle register notes, as she can no longer sing them properly.
Mariah Carey Singing "Emotions" On Soul Train In 1991
During the performance, Carey indicated the "Emotions" backing track was not supposed to start playing on the New Years Eve telecast (allegedly no sound check). However, who gave them the track. The show's producer, Dick Clark Productions, didn't just snatch the backing track out of nowhere, with Carey's background vocals already piped in. Carey's team gave it to the producers, but had to abandon ship when her voice gave out...again.
Carey performed the song "Emotions" live on Soul Train in 1991 and did a good job of recreating the record from the studio recording. However, years of overuse of the whistle register has greatly damaged Carey's voice, as stated in a past Judiciary Report article. Strange, but sad. However, it happens.
Carey's publicist blamed the New Years Eve fiasco on Dick Clark Productions sabotaging her performance in "setting her up to fail" which they deny as, "Defamatory, outrageous and frankly absurd." It is a crazy industry and some have sabotaged others out of jealousy and greed. However, the problem in this incident is squarely with Carey. Once again, the proof is Carey started singing over the backing track and promptly stopped after the first line, as she realized her voice was not cooperating that night. She set herself up to fail, forging ahead with performing and going on tour, knowing her voice is depleted.
Pop singer Janet Jackson would take time off between albums. She would gain weight at times, even 50-pounds, but get back into shape like a boxer in anticipation of a fight, before her next album would be released. She would come back when she had her music and her body right, as she is a pop star and it goes with the territory. Pop music is about catchy songs and looks. Carey keeps coming back with mental problems, out of shape and vocal damage. It is wreaking havoc on her career.
Even one month before Carey's New Years Eve fiasco, I stated on this site for the umpteenth time that Carey needs vocal rest to salvage her voice ('Mariah's World' A Real Snoozefest Giving Audiences More Of The Same Old Stuff That Puts Mariah Carey In A Bad Light). Her latest performance is more proof of this fact. She also needs to stop smoking drugs (the Judiciary Report has stated in the column for years that Carey smokes marijuana and is an alcoholic and it is a well known fact smoke is not good for the voice). Recently, Carey was pictured in a marijuana dispensary store.
Mariah Carey Singing "All I Want For Christmas Is You" In 2014 (and her voice giving out):
Carey needs to take a break and get her mind, voice and body right. She would benefit from therapy with a psychologist, vocal rest (no singing, less talking) and a trainer. She can afford to pay people to help her, rather than listening to the sycophants in her circle, such as her manager, hairstylist and back up dancers, who tell her everything she does is right and great, when some things she undertakes is quite inadvisable and self-destructive. I don't believe all publicity is good publicity. Some bad publicity can cost people sales...and fans.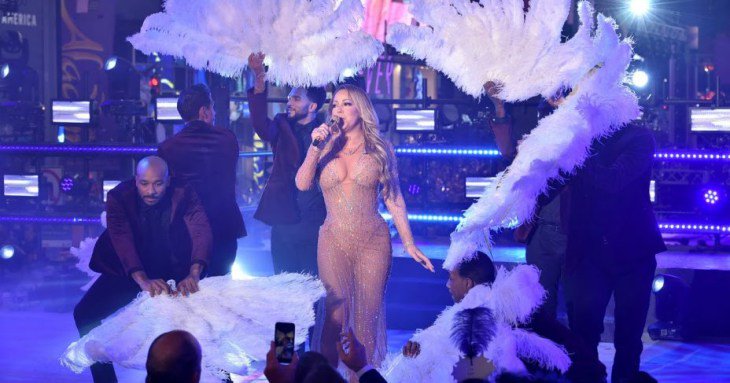 This has been a terrible comeback for Carey. 2016 hurt her career and it is pouring over into the New Year. Social networking keeps slamming and mocking Carey, as she is making the wrong choices and it is drawing derisive laughter rather than applause. Some of Carey's fans are not being supportive either. Meanwhile, her other fans are attacking the ones who are jumping ship on social networking.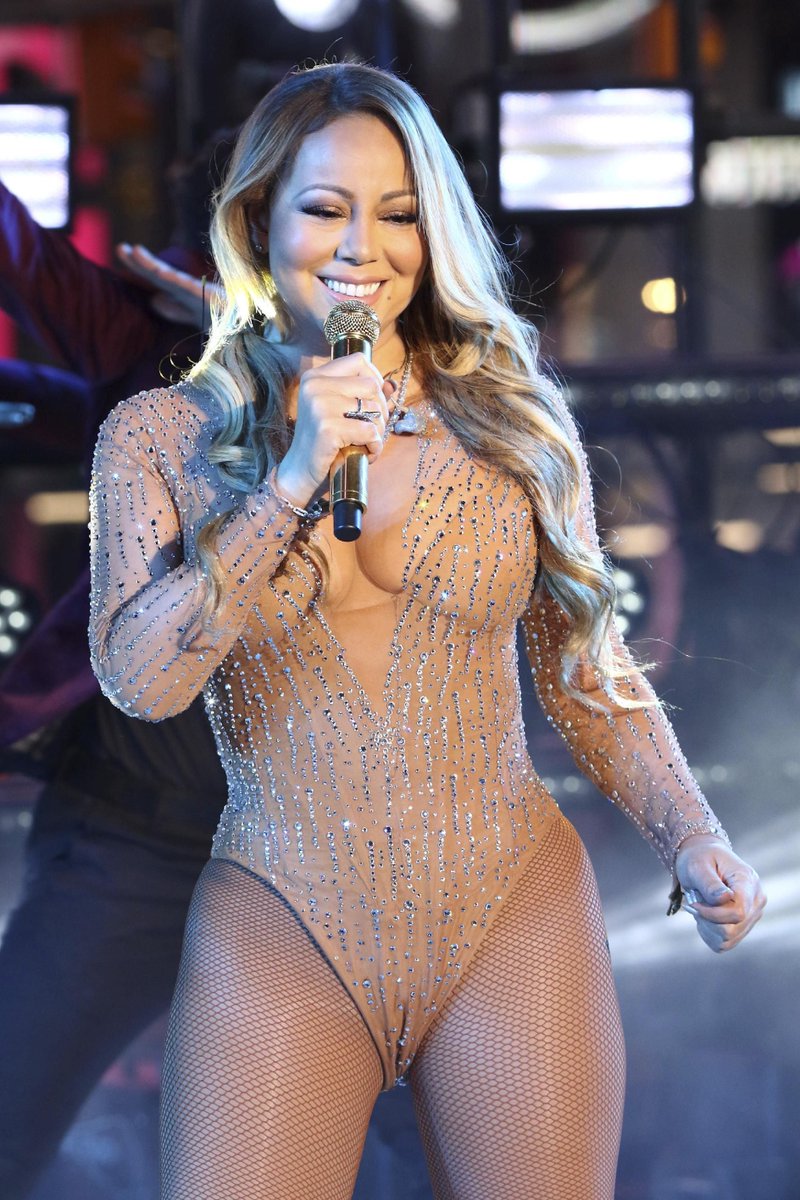 Right now, from a managerial standpoint, Carey is overexposed, in more ways than one. Not just the painfully tight skimpy outfits that are ill-fitting and unflattering, it has just been too much of her over the past couple years - with the engagement to a billionaire (James Packer), getting dumped by a billionaire, dating her younger back up dancer (Bryan Tanaka), her voice repeatedly giving out during appearances, concert cancellations (Las Vegas), the noticeable weight gain and the odd reality show "Mariah's World." Carey is overexposed and she hasn't even put out any new music yet. That does not help with sales.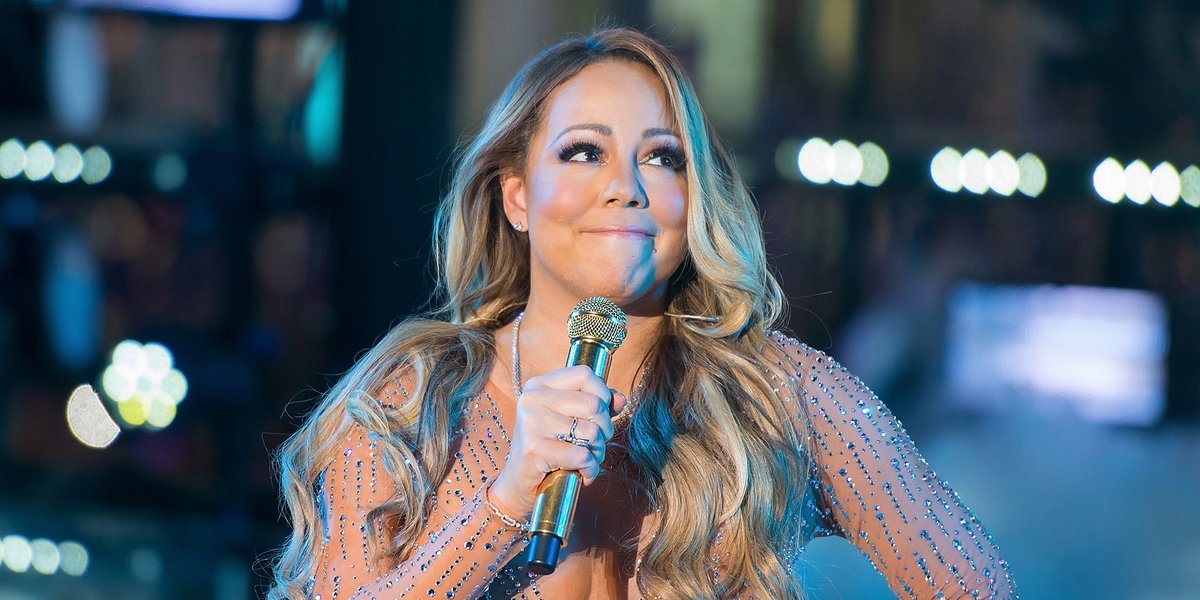 However, Carey can take comfort in one thing. Even though her voice is damage and her appearance is not at its previous best, she dated a billionaire that she actually attracted without paying him and she still looks and sounds better than Madonna, who is absolutely the bottom of the barrel, can't sing and has to pay men to date her.
Side Bar: Coincidentally, Carey was hit with a lawsuit regarding copyright infringement over the song "Emotions." Carey stole items from the preexisting song "Best of My Love" from Maurice White's band The Emotions. She was even brazen enough to name the song after the band. "Emotions" heavily used melodies, harmonies and riffs from the very distinct "Best of My Love" without payment or credit. Carey settled the lawsuit out of court. It was one of several copyright lawsuits against Carey.

Side Bar 2: Did you know Carey ripped off "Careless Whisper" and "One More Try" by the late singer George Michael, for her later recorded and released song "Can't Let Go." The synth music in "Can't Let Go" is directly lifted from "One More Try" and the melodies, harmonies and portions of the beat taken from "Careless Whisper." The subject matter is also the same.
Carey was even heard on a recording studio tape telling the engineer and producer to lift music from Michael's work. The tape was subpoenaed in a copyright infringement case by a third party who sued her and it gave away the fact Carey likes to steal music.
RELATED READING
Dick Clark Productions rejects Mariah Carey's sabotage claim
Mariah Carey performance turns into blame game between her representatives and show producers.
Monday, January 02, 2017 06:04PM NEW YORK -- Dick Clark Productions is hitting back against Mariah Carey's claim it sabotaged her live performance on its "New Year's Rockin' Eve" special. Carey's disaster during the annual New Year's Eve special in Times Square made international headlines: The superstar vocally stumbled through her short set, failing to sing for most of it despite a pre-recorded track of her songs playing in the background.
Carey was visibly upset during the performance and afterward tweeted "(expletive) happens." Her representative Nicole Perna blamed technical difficulties, and in an interview with Billboard she said Dick Clark Productions hampered Carey's performance. "She was not winging this moment and took it very seriously," Perna told Billboard. "A shame that production set her up to fail."
Perna said Carey's earpiece wasn't working and she flagged the issue to the production team but was told it would be OK when she got on stage. "However, that was not the case, and they were again told that her earpiece was not working," Perna said. "Instead of endeavoring to fix the issue so that Mariah could perform, they went live." In a statement released on Sunday, the production company called such claims "absurd."
"As the premier producer of live television events for nearly 50 years, we pride ourselves on our reputation and long-standing relationships with artists," it said. "To suggest that dcp (Dick Clark Productions), as producer of music shows including the American Music Awards, Billboard Music Awards, New Year's Rockin' Eve and Academy of Country Music Awards, would ever intentionally compromise the success of any artist is defamatory, outrageous and frankly absurd."
It said that in "very rare instances" there are technical errors that can occur with live television. It said an initial investigation, however, indicated it had no involvement in the challenges associated with Carey's performance. "We want to be clear that we have the utmost respect for Ms. Carey as an artist and acknowledge her tremendous accomplishments in the industry," it said...
http://abc13.com/entertainment
Mariah Carey close to tears after New Year's lip-sync failure
1 January 2017 at 8:56am - Mariah Carey appeared to hold back tears after a lip sync failure during her New Year's performance in Times Square. The "All I Want For Christmas Is You" singer struggled to recover after the wrong song appeared to be played while she attempted performing live on ABC...

'ISIS claims responsibility for Mariah Carey's performance': Social media mercilessly trashes diva for her epic New Year's Eve meltdown on Times Square stage
Published: 00:28 EST, 1 January 2017 | Updated: 04:08 EST, 1 January 2017 - Mariah Carey's meltdown on national television is the talk of Twitter as 2017 began with a bang. The diva stormed off the stage in New York's Times Square during the New Year's Eve telecast on ABC after the wrong lip-synced track played during her performance.
Carey appeared flustered and on the verge of tears as she declined to sing some lines of her songs. Mariah Carey's meltdown on national television is the talk of Twitter as 2017 began with a bang... Carey's meltdown became the most trending topic on Twitter, with commenters mercilessly trashing the songstress. 'Hellen Keller could have lip synced to Mariah Carey better than Mariah Carey can lip sync to Mariah Carey,' wrote one Twitter user.
Another Twitter user wrote that the jihadist group ISIS 'claimed responsibility' for the meltdown. 'Who needs to drop the ball for New Years when Mariah Carey already covered it,' wrote this Twitter user. 'Who needs to drop the ball for New Years when Mariah Carey already covered it,' wrote this Twitter user. 'I'm sitting here singing to Mariah Carey while Mariah Carey is pretending to sing to Mariah Carey,' wrote Sabrina O'Brien...
RELATED ARTICLES
Mariah Carey Looks Back On Wedding Dress From Cancelled Engagement With Sadness After Being Dumped By Billionaire James Packer While Her Current Husband Knocks Up Aspiring Star
Rapper Kanye West Released From Psychiatric Ward As 911 Tapes Reveal His Mental Breakdown Indicative Of Abuses Associated With Kabbalah
'Mariah's World' A Real Snoozefest Giving Audiences More Of The Same Old Stuff That Puts Mariah Carey In A Bad Light
Mariah Carey's New Boyfriend Bryan Tanaka Looking For Financial Favors From The Recently Dumped Star
Mariah Carey Lied About Sex With Ex-Fiance James Packer Who Dumped Her
Mariah Carey's Mental Illness Apparent In 'Mariah's World' Reality Show