Mariah Carey Criticized For Strange Interview After Mass Shooting At The Mandalay Bay Hotel In Las Vegas That Left 59 Dead And 515 Injured (Video)
October 3. 2017
Mentally ill singer Mariah Carey is being criticized over a television interview she gave to "Good Morning Britain." Yesterday, Carey was pictured lounging in front of a Christmas tree, while being asked about the massacre that took place this past Sunday outside the Mandalay Bay hotel in Las Vegas, which left 59 dead and 515 wounded.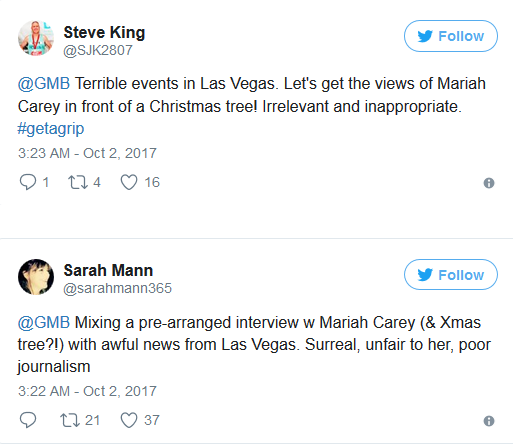 Tweets on Twitter.com about Mariah Carey's interview
Carey expressed sadness regarding the incident. However, viewers were taken aback at the interview being conducted in front of a Christmas tree with Carey lounging sideways on a sofa. It was deemed disrespectful to the dead. People took to the social networking website Twitter.com to slam Carey's interview.
STORY SOURCE
Tragedy While In Front Of A Christmas Tree During Awkward Interview
Oct 2, 2017 at 11:27am - After news of the mass shooting in Las Vegas spread, news outlets switched all coverage to the tragedy as more and more details of the chaos emerged. The shooting, which killed over 50 people and injured another 400, is currently filling hours of coverage across all news networks both in America and overseas.
Of course a tragedy of this magnitude takes precedence over what news programs originally had scheduled, as partially evidenced by this morning's edition of Good Morning Britain. Instead of rescheduling an interview with Mariah Carey about her upcoming holiday tour of the UK, the program–hosted by Piers Morgan and Susanna Reid–opted to forge ahead and ask the pop star about the tragedy.
Morgan asked for Carey's reaction to the news on a "human level." "People are just going out to listen to music," replied Carey. "That's what they wanna do, and they're out for the night and something shocking like this happens, and nobody could have expected it and it's just wrong. I really don't know what to say."
In GMB's defense, Carey did just finish a two-year residency at Caesars Palace in July, so she is, in a way, a relevant voice to hear from when it comes to this tragedy. But, as plenty of viewers pointed out on Twitter, having the pop star deliver her thoughts while sprawled out on a couch and bathed in mood lighting in front of a Christmas tree seemed in bad taste...