Mariah Carey Mocked By NBA Basketball Team The San Antonio Spurs Over Botched New Years Eve Show (Video)
January 5. 2017
"San Antonio Spurs mascot mocks Mariah Carey"
You know what they say, "When it rains it pours!" Mariah Carey, still reeling from her disastrous New Years Eve performance on live television from Times Square in New York, has been made the butt of more jokes (as if social networking wasn't enough). The mascot of NBA team, the San Antonio Spurs, hilariously recreated Carey's New Years Eve performance.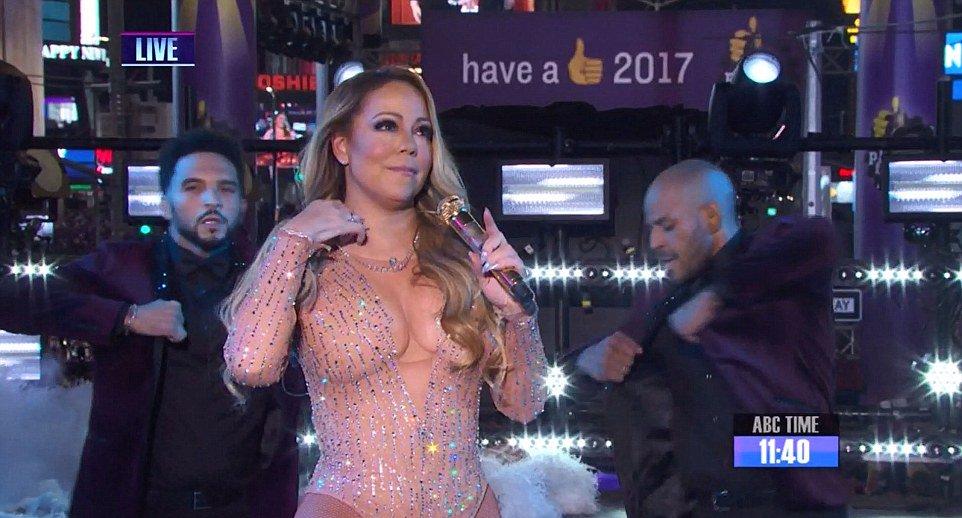 Mariah Carey giving the sound team side eye when she stopped singing, though the speakers brought the music through loud and clear to keep her on cue
The mascot, who has thunder thighs like Carey, put on a similar leotard and shook his tail while lip synching to the singer's song "Emotions." Then, out of nowhere, the mascot's microphone cut off and the pre-recorded vocals for "Emotions" kept playing anyway. The mascot stormed off the stage leaving people in hysterics at the recreation of Carey's failed show. You know, when a mascot starts making funny of you on television to millions of people and millions more on social networking, it's safe to say you messed up.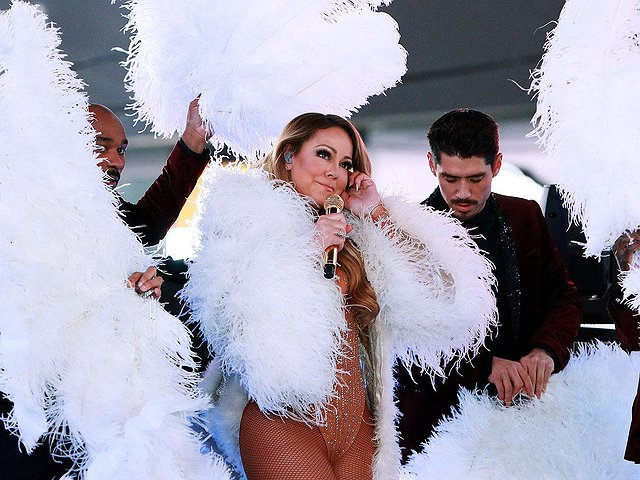 Mariah Carey trying to be slick in passing off blame on Dick Clark Productions for her voice fail and lip sync mess up
This fiasco was so bad, an article on the Sydney Morning Herald newspaper website in Australia, called on Carey to retire, "Seriously. This is a woman of 46, who has made hundreds of millions of dollars from recording and performing, admitting she can't be bothered rehearsing, who says she can't be held responsible for not turning up on time, who doesn't even pretend to sing any more? That's not a relationship, it's abuse. Mariah Carey, read my lips: it's a no from me.Your time is up. Please leave the stage, and take all those other lip-syncers with you."
STORY SOURCE
Mariah Carey lip-sync NYE debacle just latest evidence of a star with no respect
Mariah Carey's appalling New Year's Eve performance is just one more example of a star treating their audience with disdain. It's time to push back. The most shocking thing about Mariah Carey's New Year's Eve lip-sync train wreck is that anyone found it shocking at all. Not because it wasn't remarkable – it was, in the way it managed to be both shameful and utterly shameless at the same time – but because she's done it so many times before.
Mariah Carey fakes it, and fakes it badly? Yawn. That's so 2013. And 2014. And 2015. And, obviously, it's so, so, so December 31, 2016. After being captured lip-syncing many times, Mariah Carey's New Year's Eve performance almost feels expected. Her management has tried to shift the blame for her performance, in which she gave up even pretending to sing or dance, by complaining about faulty earpieces and deliberate "sabotage" by the telecast's producers. But it's time to tell it like it is: Mariah, girl, you ain't fooling no one.
RELATED ARTICLES
Mariah Carey Looks Back On Wedding Dress From Cancelled Engagement With Sadness After Being Dumped By Billionaire James Packer While Her Current Husband Knocks Up Aspiring Star
Mariah Carey Blames Dick Clark Productions For Her Botched Lip Sync Job At New Years Eve Show In Times Square But They Slam Her For Defaming Them (Videos)
Rapper Kanye West Released From Psychiatric Ward As 911 Tapes Reveal His Mental Breakdown Indicative Of Abuses Associated With Kabbalah
'Mariah's World' A Real Snoozefest Giving Audiences More Of The Same Old Stuff That Puts Mariah Carey In A Bad Light
Mariah Carey's New Boyfriend Bryan Tanaka Looking For Financial Favors From The Recently Dumped Star
Mariah Carey Lied About Sex With Ex-Fiance James Packer Who Dumped Her
Mariah Carey's Mental Illness Apparent In 'Mariah's World' Reality Show