Mariah Carey's Performance On VH1's Hip Hop Honors Slammed On Social Networking And Music Sites
September 20. 2017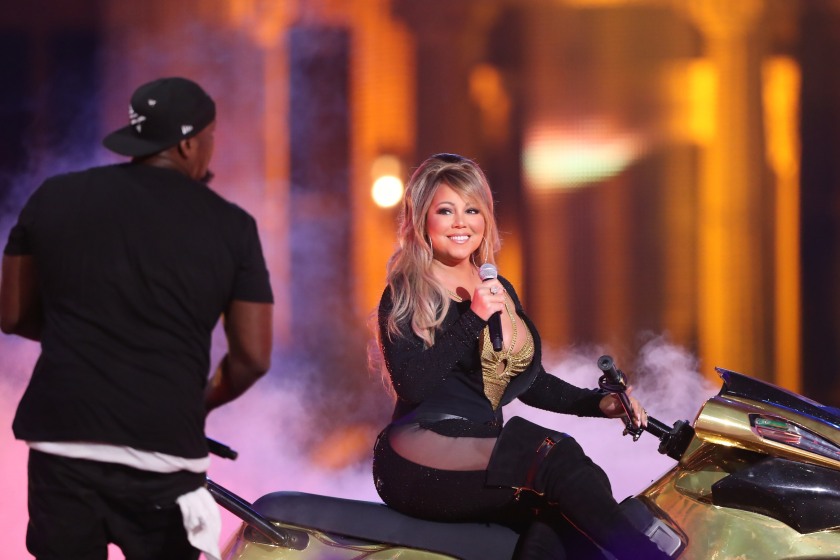 Mariah Carey
Mariah Carey continues to damage her legacy as a singer in turning in subpar stage performances. Carey's New Years Eve fiasco was mocked all over the internet and on television, as the singer was led around the stage in a stiff fashion and failed to lip sync, when she was supposed to be singing live. Audiences slammed Carey on social networking, stating she ruined their New Years. Ouch!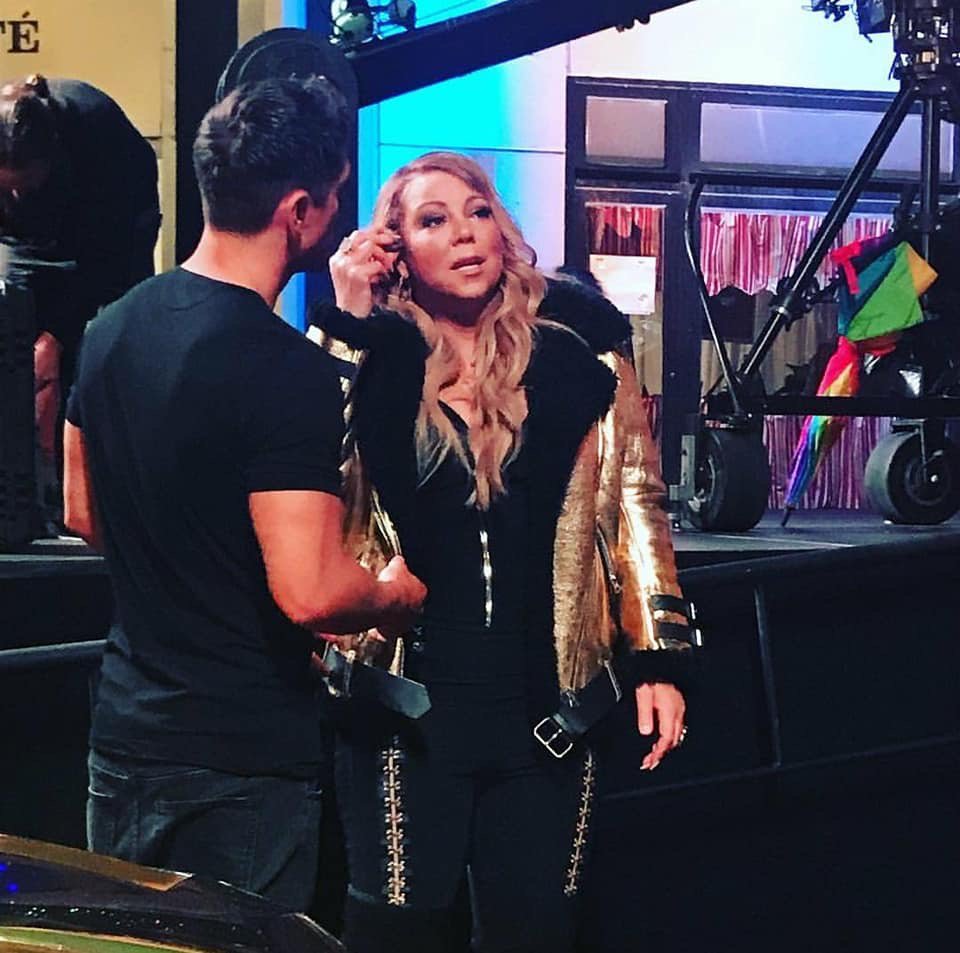 Mariah Carey prior to the show looking dazed. Her mental illness, substance abuse issues and personal problems have turned her into a stiff on stage being led around by dancers. Carey is not washed up, as the voice is still there, but needs a long rest to rebound. Her face is still youthful, but she should get back in shape and cut out the excessive alcohol consumption and pill popping. The songs she has been releasing of late are also weak and a problem to her career.
This week Carey performed on VH1's Hip Hop Honors and again it was poorly received. Carey is being slammed on social networking and websites over her set. Carey's performance was lackluster and full of lip syncing once again. People on social networking had a field day commenting on how stiff, lethargic and unanimated Carey was on stage.
Carey is a glutton for punishment. I've authored a number of articles on the Judiciary Report stating Carey needs to take time off to work on herself and career, but she refused and went head on into disaster, via a string of terrible performances and failed music tours that has eroded her legacy in very damaging ways. Audiences are used to seeing better from her and at this point her music and performances are well below anyone's standards in music.
Comments from Twitter.com on Mariah Carey's poor performance at VH1's Hip Hop Honors: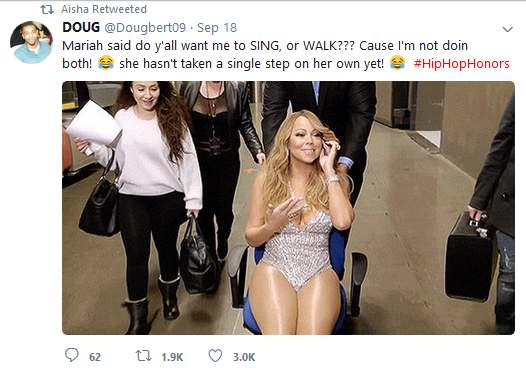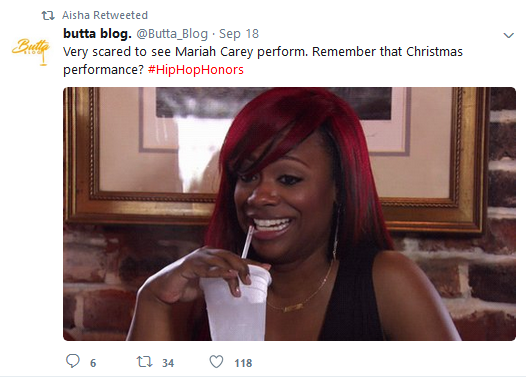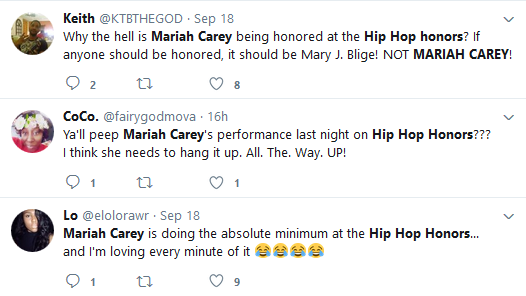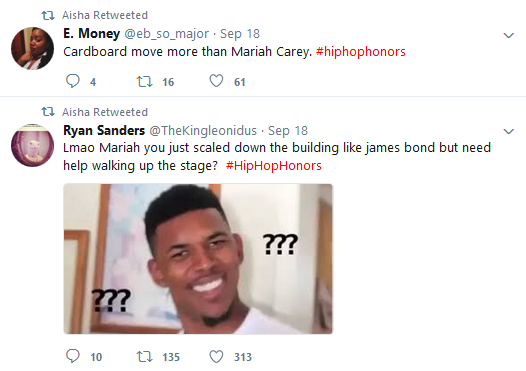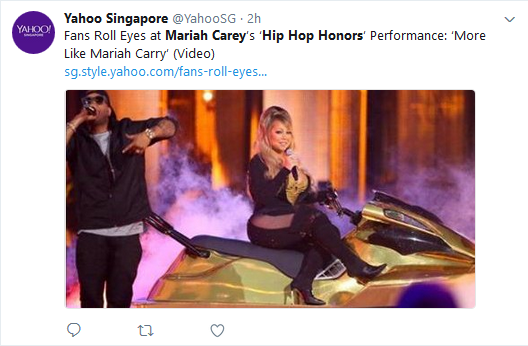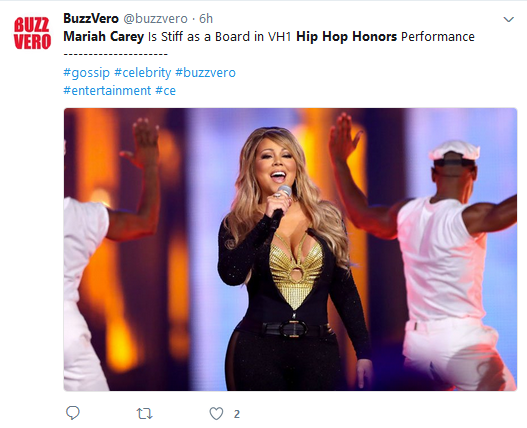 RELATED ARTICLES
Mariah Carey Blames Everyone But Herself Including Her Dancers For Her Latest Fall From Grace On New Years And Flopped Single 'I Don't'
Mariah Carey Taking A Break From Social Networking And The Press After New Years Eve Mauling Due To Her Botched Performance
'Mariah's World' A Real Snoozefest Giving Audiences More Of The Same Old Stuff That Puts Mariah Carey In A Bad Light
Mariah Carey Mocked By NBA Basketball Team The San Antonio Spurs Over Botched New Years Eve Show (Video)
As Predicted Mariah Carey Breaks Up With Boy Toy Who Cost Her Billionaire Fiancé And Is Running Up Bills
Mariah Carey's New Boyfriend Bryan Tanaka Looking For Financial Favors From The Recently Dumped Star
Mariah Carey Delivers Another Terrible Performance This Time On Tour With Lionel Richie (Video)
Mariah Carey Lied About Sex With Ex-Fiance James Packer Who Dumped Her
Mariah Carey Postpones Poorly Selling Tour While Under Vocal Strain