Mariah Carey To Be Sued By Her Former Bodyguard For Sexual Harassment In Performing Sex Act In Front Of Him In See Through Lingerie
Singer Accused Of Exposing Breasts To Bodyguard
November 14. 2017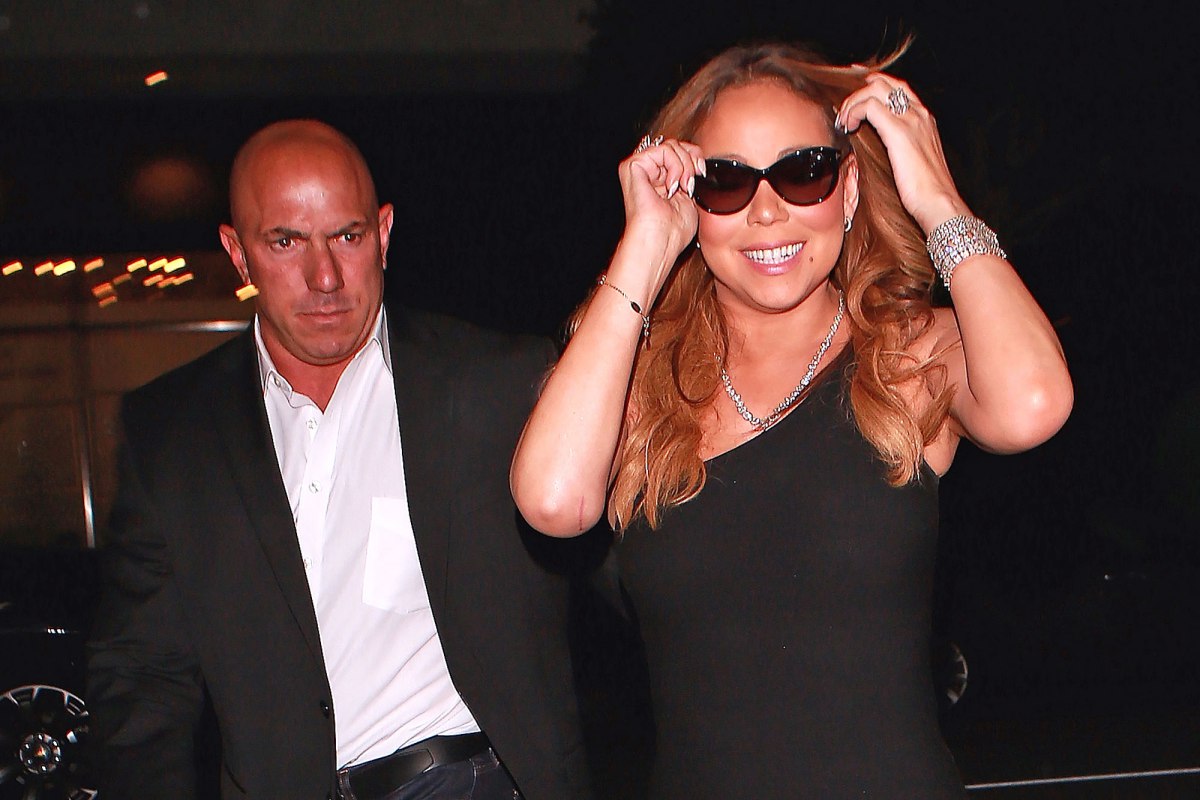 Mariah Carey's bodyguard Michael Anello: if she flashes her fake chi-chis at me one more time!
In the 1990s, the late singer Whitney Houston starred in the hit film "The Bodyguard." The premise of the film was a bodyguard falling in love with a singer and becoming her boyfriend. Apparently, singer Mariah Carey watched that movie one too many times and thought the same would happen with her bodyguard, Michael Anello. Well, she was wrong.
Carey's bodyguard Anello, is in the pre-filing stage of a lawsuit against the singer, alleging sexual harassment and withholding back pay. Anello accuses Carey of summoning him to her room, while she was dressed in see through lingerie. Carey flashed her silicone chi-chis at Anello, who stated the front of her lingerie was open and for whatever reason he did not take the bait. Carey unleashed the chi-chis at the poor man (LOL). Anello also accused Carey of performing a sex act in front of him, in trying to tempt the bodyguard into having sex with her. If the roles were reversed, he would be in trouble for sexual harassment and slammed online for it.
Anello also stated in his lawsuit that Carey owes him months in back pay totaling $221,329.51. Some entertainers do not pay their bodyguards for months at a time. The late singer, Michael Jackson, did the same thing to his disgruntled bodyguards, who could not pay their bills as a result of it and authored a book about their time with the star.
Anello complained in the un-filed lawsuit that Carey, "Wanted to be surrounded with black guys, not white people." However, one look at her entourage and it is evident Carey works with black and white people. Carey, for her part, is said to have referred to Anello as a "Nazi skinhead" and his colleagues "white supremacists" and "KKK members" which he found offensive. However, if he is a white supremacist, why did Carey, who is half black, sexually pursue him. The details and the timeline concerning this story are off. Details are missing.
STORY SOURCE
Mariah Carey's former security guard 'threatens to sue singer for sexual harassment and referring to him as a Nazi skinhead... and claims she owes him over $200k'
Published: 07:13 EST, 8 November 2017 | Updated: 09:34 EST, 8 November 2017 - Michael Anello - the former security guard for Mariah Carey - is threatening the singing sensation with legal action, claiming she sexually harassed him, humiliated him and owes him money, according to TMZ. The founder of Anello Security & Consulting - who has been an 'Executive Protection Agent' since 2006 - has made allegations that the Hero singer, 47, told him he was a 'Nazi skinhead' and that she has an outstanding bill owed to his firm for $221,329.51.
TMZ claims to have seen a draft of a lawsuit prepared by Anello's attorney, which he is threatening to serve Mariah with, but that is thought to be on hold while negotiations are taking place. The file supposedly claims that the security firm were under Mariah's employ from June 2015 to May 2017, but that there was an agreement in place for further two years...