Mel B Of The Spice Girl Wasted Her $50,000,000 Fortune On Items Such As A $250,000 Armored Car And Millions In Vacations
July 11. 2017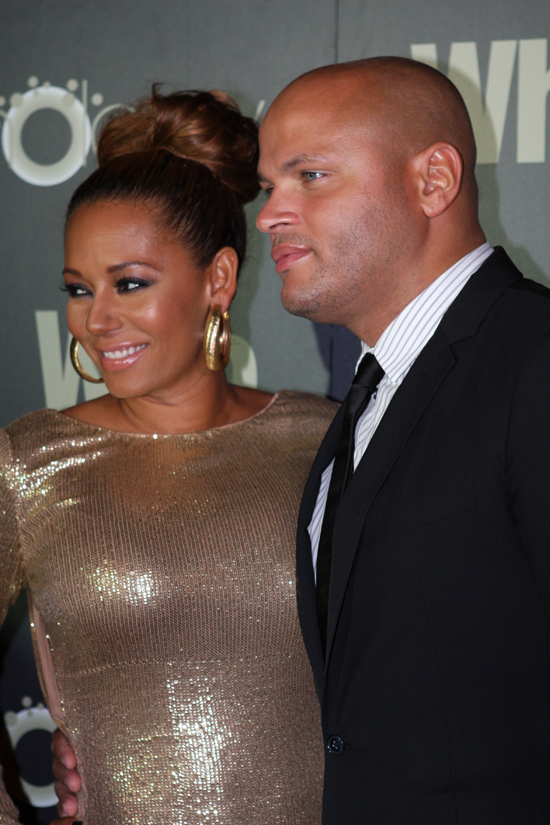 Melanie B and Stephen Belafonte

New details have been revealed regarding the messy divorce of Spice Girls singer, Mel B, real name Melanie Brown. As covered on the site last week, it is being stated Mel B spent most of the $50,000,000 she earned from her days with the Spice Girls in the late 1990s. The extent of her extravagant spending was described in court as one of having an "affluent lifestyle." However, she has very little to show for it now.

Mel B has been famous for approximately 18-years. The majority of the money she earned was made in 1999-2001. She spent millions per year and has squandered most of her money. It was revealed Mel B spent $250,000 on an armored car. This was regrettable and a waste of money, as she was not even a high risk target. A number of newly rich entertainers and athletes buy very expensive vehicles that depreciate the minute they leave the car lot. Then, there are insurance fees and repair costs.

Mel B also took $200,000 in vacations in one year. The pricetag of her vacations were that expensive, as she always flew by private jet or first class and stayed in the finest luxury suites costing thousands per night. It is a habit she kept engaging in for years. Since she became famous, Mel B has spent millions on vacations. It was financially imprudent, as she did not earn enough money to spend so much on such things.

Court papers reveal Mel B now makes approximately $120,000 per month. However, due to her extravagant lifestyle, she is in financial trouble. She also owes the U.S. Internal Revenue Services (IRS), after failing to pay her taxes. If Mel B fails to pay much longer, the IRS is permitted to put a lien on the $6,000,000 Los Angeles mansion she is attempting to sell, to collect the back taxes owed to the government. The house was not purchased cash. Therefore, the mortgage lien would have to first be satisfied, before the IRS could get its funds, which may not cover all she owes.

Mel B seeks to buy a less expensive home with a cheaper mortgage, but is scrambling to find the funds to purchase a property for $1,500,000. For someone who had $50,000,000 that is sad. Poor financial planning and wild spending has ruined her finances. However, she will have to downsize.

According to court files Mel B's husband, Stephen Belafonte (no relation to Harry Belafonte) has no income. He has been living off her for years. He also spent $350,000 of Mel B's money on Lorraine Gilles, the nanny he was having sex with on a regular basis. He is demanding $120,000 in retroactive support payments and future monthly alimony. His behavior is disgraceful. She should have obtained a prenuptial agreement. She was also unwise to give him so much access to her money.

A man does not have to be rich. There's nothing wrong with dating a poor man and helping him man advance in life. However, if he is able bodied, he should work, even if it is an office job paying a modest sum. Belafonte has not been gainfully employed for years, while living a luxury lifestyle off Mel B's money - funds might I add, he did not help her earn.

Mel B also stated her husband was beating her and demanding threesomes with the nanny and strippers. Some women make the mistake of thinking a threesome or open relationship will save their marriage, but it messes up their heads, creates emotional issues and sexual dysfunction.

Women should not allow men to abuse and or exploit them. A man exhibiting such behavior will continue to do so for as long as you permit it. Women in those situations blame themselves, when it is the abuser who is at fault.

STORY SOURCE

Mel B 'forced to ask her friends for money to help her buy a house'... after blowing her £38 million fortune on 'extravagant lifestyle' and Stephen Belafonte divorce

Published: 04:46 EDT, 9 July 2017 | Updated: 07:26 EDT, 9 July 2017 - Mel B has resorted to asking her friends for money following her financial woes and costly divorce from Stephen Belafonte, new reports claim. According to the Mirror, the former Spice Girl has put down a six-figure deposit on a lavish £1.5million mansion in LA - but is afraid she will lose it, if she cannot drum up the remaining amount needed to pay for the pad.

Having reportedly blown her £38 million fortune on her 'extravagant lifestyle', a source revealed that she has now 'turned to pals' for financial help, in the hope they will save her from losing any more money. Earlier this month it was reported the 42-year-old had just £961 in one of her bank accounts, after squandering the £38million fortune earned from her pop career.