Obama's Attorney General Eric Holder Corruptly Files Papers To Have Congress FOIA 'Fast And Furious' Gun Trafficking Case Against Him Dismissed
October 18. 2012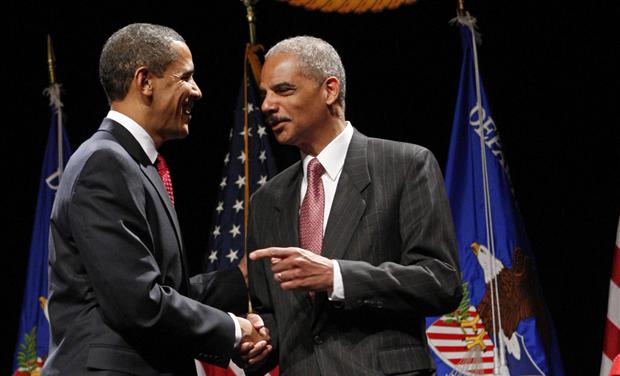 President Barack Obama (left) continues to publicly support lawbreaking Attorney General, Eric Holder (right) indicating neither are fit for office
President Barack Obama's Attorney General, the ever corrupt, Eric Holder, who heads up the Department of Justice, has filed legal papers to have the legal case filed by the U.S. Congress, regarding the 'Fast And Furious' gun trafficking scandal, dismissed. The case was filed to obtain documents Holder and Obama are illegally hiding. This is highly disgracefully behavior on the Obama Administration's part and further proof they need to be voted out of office for engaging in wanton corruption and cover-ups.
Several hundred people have died, because with Obama's support, Eric Holder illegally trafficked guns to the Mexican cartels without tracking them, just to see what would happened. Scores of innocent Mexican civilians and two U.S. Border Patrol agents were brutally murdered with the high powered weapons, found at the crime scenes. This misconduct spat on the rights and sovereignty of the Mexican people and dishonored the American people as well, who entrusted Holder with this prestigious post, he has brought into disrepute all over the world.
Obama abused Executive Privilege to help Holder hide the documents from the public and evade criminal prosecution for mass murder. Now the disgraced so-called lawman has taken the coward's approach once again, in filing papers to have Congress' civil case dismissed, as they are seeking documents to ascertain the full breadth of the scandal and how to put it to an end (possibly saving lives).
The Obama Administration has a serious problem with transparency, repeatedly violating the Freedom of Information Act to their disgrace. For all Obama's talk about transparency in government when he pursued the presidency and won, then failed to deliver on his campaign promises, he has turned out to be the most non-transparent, secretive, clandestine and cliquish president in U.S. history. The American people didn't ask for a dictator, but got one.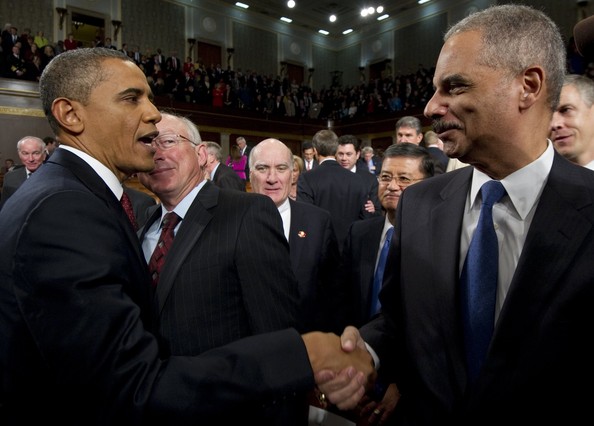 Barack Obama and Eric Holder have made a deal with the devil
As someone that has sued under the Freedom of Information Act to obtain documents, due to the Federal Bureau of Investigation (FBI) and its parent agency, the Department of Justice (DOJ), engaging in criminal wrongdoing, such as obstruction of justice, dereliction of duty and aiding and abetting high profile lawbreaking stars and executives in Hollywood, in disgracefully and shamefully stealing from my preexisting Copyrighted Catalog of intellectual property, which contains thousands of original songs and hundreds of movie scripts and synopses, the culmination of 25-years of my labor, I can attest, the Obama Administration is wholly corrupt beyond redemption.
Not only did they give the case to a former Department of Justice employee who is now a judge, they also offensively and wickedly conspired to produce some of the ugliest, un-American legal nastiness ever set on paper, to withhold the Freedom of Information Act documents the FBI previously acknowledge in writing they have, but won't release to me without a lawsuit. Imagine that, you are a victim of crime and the so-called law enforcement agency has sided with criminals, due to financial bribery on the part of FBI Director Robert S. Mueller.
The U.S. Attorney who defended the indefensible, stated in writing that the Civil Rights Act did not give black people equal rights in America and she should go to prison for it, as that is a hate crime on paper. On behalf of corrupt, taxpayer money stealing FBI Director Robert S. Mueller, she also stated that gaining legal justice is not a right of all people in America and it is at his whim (discretion). The judge rounded out the civil rights violating behavior by stating in a ruling that the FBI and DOJ have "sovereign immunity" to do to anyone anything they please and dismissed the case on those illegal grounds. Once again, they all belong in prison.
What's just as bad is the FBI, on behalf of Obama, sent someone up to me in London, demanding to know who I'm voting for in the election and when I'm coming back to America (not to mention having someone inappropriately contact my mom, who has a heart problem thanks to the aforementioned case). Who do they really think they are. There exists a serious disconnect with this administration. They did all this foul stuff to me and are deluded enough to think I'd vote for them. They must be smoking some strong weed.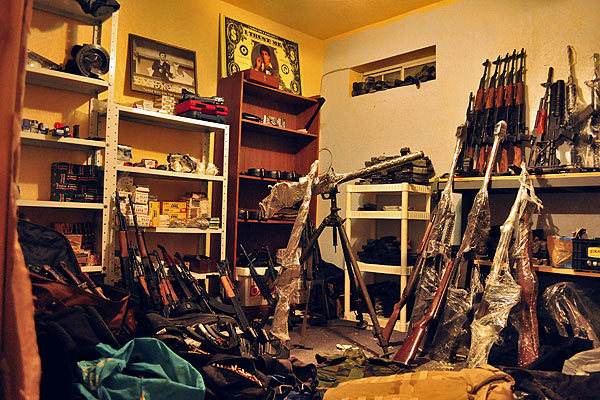 Weapons issued by Obama's Department Of Justice, bought with U.S. taxpayer money, in the home of a Mexican drug cartel assassin, who among others, used the guns to kill many innocent people, including two Americans
This is the terrible image the Obama Administration has sent out into the world and he needs to be voted out for it. The presidency is not a dictatorship or autocracy (or a personal piggy bank). You don't own America. God and the people do. And if you as an administration can't follow the nation's laws, you need to get out of office and go get jobs in Hollywood with the rest of the criminals. Your conduct is not conducive to the public good and the people deserve better than that.
The public needs to ask itself, what is the Obama Administration hiding that it repeatedly and illegally abuses the law especially in criminally violating the Freedom of Information Act to protect itself and its campaign donors. What are you hiding that's so terrible and horrible you refuse to release it to the public, hypocritically violating the Freedom of Information Act. What's the big deal. Just release the documents. But you can't, can you, because it would show the nation and the world that you are criminals that have spat on the laws you swore to uphold and technically should be in prison for it.
Furthermore, what kind of message does the Obama Administration think it is sending to the watching world and nation, who are aghast, that not even the U.S. Congress can obtain documents from them under the Freedom of Information Act or via any other means. Seriously, what is that. Are you that far-gone and insane to think this illegal secrecy is acceptable behavior in a democracy. How can you have a law on the record books, then arrogantly and defiantly state you are not going to follow it.
Your corrupt, fraudulent and disgraceful conduct has harmed too many people and created too much suffering, not just in America, but the world as well. You have turned the U.S. government into a sham and mockery and harmed its name with the public in ways that cannot be repaired. It is time for you to get out of office. The lawsuit doesn't need to be dismissed - your administration does.
STORY SOURCE
Fast And Furious Lawsuit Draws Justice Department Calls For Dismissal
10/15/12 10:09 PM ET EDT AP - WASHINGTON ó The Justice Department on Monday night sought dismissal of a lawsuit by a Republican-led House committee demanding that Attorney General Eric Holder produce records about the botched law enforcement probe of gun-trafficking called Operation Fast and Furious.
President Barack Obama has invoked executive privilege and the attorney general has been found to be in contempt of Congress for refusing to turn over documents that might explain what led the Justice Department to reverse course after initially denying that federal agents had used a controversial tactic called gun-walking in the failed law enforcement operation.
The tactic resulted in hundreds of illegally acquired weapons purchased at Arizona gun shops winding up in Mexico, where many of them were recovered from crime scenes. Two guns in Operation Fast and Furious were found on the U.S. side of the border at the scene of a shooting in which U.S. border agent Brian Terry was killed...
DOJís Startling Argument Seeking Dismissal of Fast and Furious Lawsuit
October 17, 2012 at 3:23 pm - On Monday night, the Department of Justice (DOJ) filed a brief asking a federal court to dismiss the lawsuit the House of Representatives filed challenging the Presidentís invocation of executive privilege in the Operation Fast and Furious case. The House suit seeks to force the Administration to release documents that it is still withholding from Congress, an issue which was discussed in an earlier Heritage Legal Memorandum.
In the midst of the Watergate crisis, President Nixon told the nation, ďIf the President does it, that means itís not illegal.Ē In a similar fashion, DOJís brief argues, in essence, that if the President invokes executive privilege, that means it was a valid assertion and that no court of law should ever be permitted to review the matter, period.
RELATED ARTICLES
Attorney General Eric Holder Told To Resign In Condemnatory Speech Aimed At His Corruption
More Evidence Surfaces Implicating Obama's Attorney General Eric Holder In Serious Crime
John Boehner Demands Answers From Obama And Eric Holder On The Fast And Furious Scandal
New Book On The Fast And Furious Scandal Implicates Eric Holder And The FBI In A Cover Up That Killed U.S. Agents
120 Congresspeople Call For The Resignation Of Obama's Attorney General Eric Holder
President Obama's Attorney General Eric Holder Connected To Banks Responsible For The Mortgage Crisis
Eric Holder A Massive Liability To Obama In The 2012 Election
Obama Being Accused Of Using Attorney General Eric Holder To Rig The 2012 Presidential Election
91 Members Of Congress Demand The Resignation Of Obama's Attorney General Eric Holder
73 Members Of Congress Sign A Vote Of No Confidence Against Obama's Attorney General Eric Holder Due To 'Fast And Furious' Deaths
Obama's Attorney General Eric Holder In More Trouble As It Is Revealed He Put Cash In The Hands Of The Drug Cartels In Mexico
Obama's Attorney General Eric Holder Retracts Denials He Made And Sent To Congress And Launches Another Cover Up Of The ĎFast And Furiousí Deaths
President Obama Criticized For His "Complete Confidence" In Scandal Plagued Attorney General Eric Holder
Obama's FBI And DOJ Used Taxpayer Money To Arm Mexican Drug Cartels