Obama Party Crashers Accused Of Charity Fraud
December 2. 2009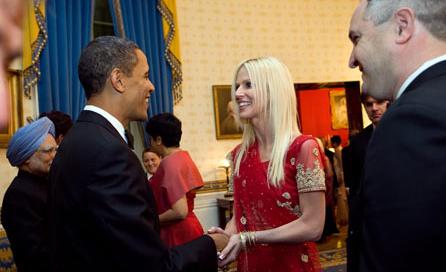 U.S. President Barack Obama,

Michaele Salahi and

Tareq Salahi

Tareq and Michaele Salahi, the couple that crashed President Barack Obama's first state dinner, by showing up uninvited and breaching security to the point they were able to touch and be photographed with the

President, are in the middle of another controversy today.

It appears their annual "Land Rover America's Polo Cup" charity benefit boasts sponsors, who did not support the event. When press inquires began this week, many corporate giants listed on the Salahi's

"Land Rover America's Polo Cup" website, claimed no knowledge of the event.

The couple has also faced 16 lawsuits in civil court, as a result of business dealings gone wrong, such as the

"Land Rover America's Polo Cup"

placing them in the Defendants' column of the complaints.

Side Bar: when I was a teenager I used to watch the show "The Young And The Restless." Doesn't Michaele Salahi look like Cricket (Lauralee Bell). She also reminds me of Marla Maples.

RELATED ARTICLES

Obama Party Crashers Want $500,000

Obama Party Crashers Interviewed

A new field of inquiry: Salahis' polo cup

Couple's problems didn't start with White House dinner

Tareq and Michaele Salahi's signature social event, the annual Land Rover America's Polo Cup, bills itself as the "world's most prestigious and largest . . . charity polo event," benefiting the Salahi-run charity Journey for the Cure. Its next U.S. gala is scheduled for June on the Mall.

The two-day event is to center on a polo match between the United States, for which Tareq Salahi is the captain, and India. General admission tickets start at $25, "Cartier VIP tickets" are $600 to $1,000, and a lifetime membership is on offer for $100,000. The three-year-old polo cup's Web site says it has been "patroned every year by the President of the United States."

But many sponsors listed by America's Cup for 2010 -- including Land Rover, Cartier, the St. Regis Hotel in Washington and the Ritz-Carlton Hotel Co. -- say they are not sponsors for that event. Many vendors in previous years said in interviews that the Salahis have not paid for their services in the event's three-year history, expenses totaling about $500,000. Many have filed lawsuits, and the couple has countersued often. And there is no record of any president attending any of the polo cups...