Oprah Winfrey's Interview With Lance Armstrong Brought Out Controversial Facts And Confessions
January 17. 2012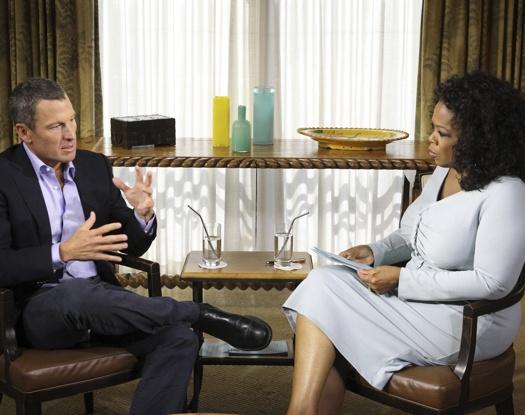 Lance Armstrong and Oprah Winfrey
A skeptical Oprah Winfrey interviewed disgraced cyclist Lance Armstrong, regarding allegations of steroids use for most of his professional career. The interview did not paint Armstrong in the best light, as Winfrey not only got him to confess, she extracted other facts regarding the impact of his conduct upon those around him.
While the Judiciary Report has sympathy for Armstrong as a cancer survivor, his destructive deeds toward many caused others a significant amount of pain and he deprived others of their rightful place in world history when he cheated and won many events as a result.
For example, those in Armstrong's circle who began to speak out about his steroids use, which equates to him cheating his way to 7 prestigious Tour De France titles and an Olympic medal, all of which have now been stripped and revoked, they were threatened and brutalized in court and the press by the cyclist.
Armstrong's former masseuse, Emma O'Reilly, was publicly defamed by Armstrong, labeled a "whore" and sued by the cyclist for speaking out and telling the truth. Betsy Andreu, wife of Armstrong's teammate, Frankie Andreu, testified during an investigation that she heard the cyclist state to his doctor in the hospital that he used, "EPO, testosterone, cortisone, growth hormone and steroids."
As a result, Armstrong viciously slammed and sued Andreu for telling the truth. He publicly called her "crazy" and a "bi**h." Winfrey asked him why he did so stating, "You called her crazy and other terrible things." Armstrong inappropriately joked to Winfrey regarding Andreu, "I called you crazy, I called you a bi**h...but I never called you fat" as his response to his teammate's wife.
Armstrong put Andreu and others through court based nightmares that cost them a fortune in legal fees, all because they truthfully responded to questions about his doping. Armstrong should be made to make full financial restitution with interest and penalties. The people he sued for telling the truth were not rich and his conduct maliciously damaged their finances.
His actions also led Winfrey to state, "You're suing people and you know that they are telling the truth. What is that." Sadly, it is a mentally unbalanced Hollywood tactic to sue those that tell the truth about one's unlawful behavior and it is the circles Armstrong moved in for many years.
Winfrey asked Armstrong about the truth now coming out about his dishonesty, cheating and lies, "Did you not think this day was coming. did you not think you would be found out... did you not always think this day was coming... first of all, third law of motion. what you put out is going to come back. did you not think you would be found out at some point especially since so many people knew." He responded he wanted his own way.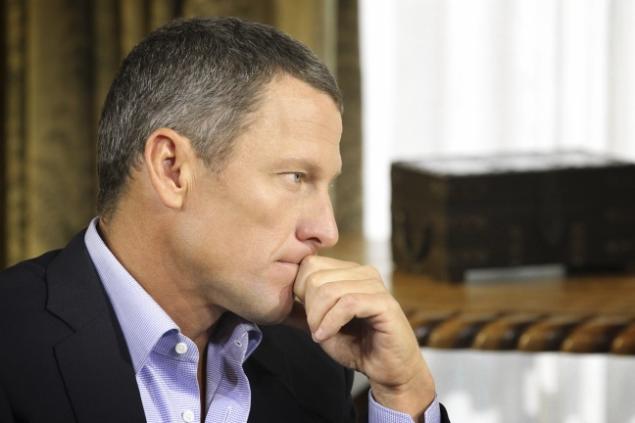 Lance Armstrong
It was discovered that Armstrong tried to bribe the USADA (US Anti-Doping Agency) in 2004 with a $25,000 personal check, to cover up his doping, when allegations against him grew louder (Lance Armstrong reportedly tried paying off USADA in 2004).
Here's the kicker in this case that has further exposed corruption at the FBI and Department of Justice under FBI Director Robert S. Mueller and Attorney General Eric Holder. In 2010, the DOJ launched an investigation into allegations regarding Armstrong's doping (fraud, witness tampering, drug trafficking). In February 2011, the FBI and Department of Justice mysteriously dropped the case, as is their way when a high profile celebrity has flagrantly broken the law.
Winfrey stated, "When the Department of Justice just dropped that case and nobody knows why, did you have any influence in that?" Winfrey implied he had issued another bribe or some incentive to make the case unlawfully disappear. And as stated in the past, as the Judiciary Report knows firsthand from what well-connected sources have informed the site, the FBI Director took an unrelated $1,000,000 bribe from Madonna in this case and his employees have been caught red-handed accepting large bribes in other cases (FBI Agent Arrested For Accepting A $200,000 Bribe To Derail A Criminal Case The FBI Was Supposed To Be Investigating).
After the FBI and DOJ deliberately failed, when there was so much evidence and so many witnesses, the USADA stepped up 6-months later in July 2011 and charged Armstrong with "possession, trafficking and using banned substances." Armstrong sued the USADA to block it and the case was dismissed. The USADA branded Armstrong's conduct as mafia-like in nature. USADA CEO, Travis Tygart stated, "Parts of this scheme were run like a mafia."
World famous sponsor Nike dropped Armstrong and rightfully so, to which he commented, "A 75 million dollar deal gone." As the Judiciary Report has been reinforcing for months via articles, sponsors don't like scandal, controversy or inappropriate behavior. They have to protect their brands and will head for the hills when witnessing an entertainer or athlete engage in questionable conduct. They give one money in good faith and expect a positive return on their investment - not positive drug tests, scandal and taint.
Then there's the personal aspect of the cheating and fraud. His mom is "a wreck." His kids are embarrassed for defending him. His foundation is in shambles by association. People need to think about their families and friends before they engage in the aforementioned conduct. It is better to come second, third, fourth ect... than win dishonorably. As the site has stated for years, history has a terrible way of correcting itself. It's simply not worth it.
At the end of the day, God can forgive Armstrong and so should the public. He needs to make amends personally, professionally and financially for all the damage he has caused. Time to face the music and do what is right.
Side Bar: I am of the belief Armstrong's doping contributed to him developing cancer. He was repeatedly disrupting his body's natural functions and balance in a significant way, via introducing foreign substances into his system that become carcinogens.
RELATED READING