President Obama To Address Gun Control Via Congress
December 20. 2012
In response to the Newtown, Connecticut mass shooting, where 20 kids and 7 adults were murdered by Adam Lanza, with high powered weapons, U.S. President Obama is working on a gun control package that he intends to send to Congress within the next few weeks.
This week, the families and friends of victims of gun violence met in Washington for a touching and emotional press conference which aired on C-Span. Most agree something needs to be done to prevent another tragedy, but will Congress be able to agree on what course of action to take. Hopefully they will.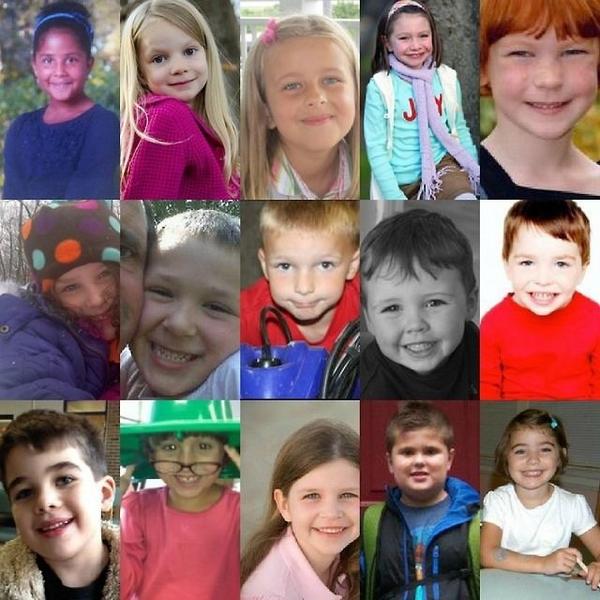 15 of the 20 children murdered in Newtown connection shooting at Sandy Hook elementary
A few suggestions that may be helpful if applied correctly. As some want a full gun ban in America, while others do not, as it is unconstitutional under the law, an option would be to apply a tax to gun sales and use the money to pay for armed guards in schools, along with better building security.
This would also create jobs, which in this matter, isn't a priority, as the kids' safety is the issue. At the end of the day, most people agree, something needs to be done, as these mass shootings keep transpiring, devastating families across the country.
RELATED ARTICLES
Man Opens Fire In Small Connecticut Town Killing 20 Children And 6 Adults
Another Person Dies In Connection With The Warner Bros Film Batman 'The Dark Knight Rises'
Man Tried To Attempt Copycat Murders At Batman 'The Dark Knight Rises' Cinema Showing
Obama Billboard Comparing Him To Colorado Theater Killer James Holmes Provokes Anger
An Episode Of The Big Bang Theory Featured A Similar Movie Theater Plot To The Batman Dark Knight Rises Killings In Colorado
Mass Murderer Who Opened Fire During Batman 'The Dark Knight Rises' Sequel Screening Demands To Know How Movie Ends
Victims Of 'The Dark Knight Rises' Theater Shooting Face Mass Murderer In Court For The First Time
Batman 'The Dark Knight Rises' Comes In With Lower Box Office Due To Mass Murder
Similarities Between Batman 'The Dark Knight Rises' Cinema Killer James Holmes And Character Sheldon Cooper On 'The Big Bang Theory'
Hollywood Is Being Condemned By The Public Over Violence In Films Due To 'The Dark Knight Rises' Mass Murders In Colorado
Man Mimics Batman Comic Opening Fire In Movie Theatre Killing 13 People And Injuring 50 During Batman's 'The Dark Knight Rises'
Rush Limbaugh Says Hollywood Based A Character In Batman's 'The Dark Knight Rises' On Mitt Romney
Man Who Killed 3 People And Himself In Wisconsin Shooting Spree Is Another Example Of Failed Restraining Orders