Prince's Estate Sues Jay Z And Madonna's Tidal For Copyright Infringement
November 17. 2016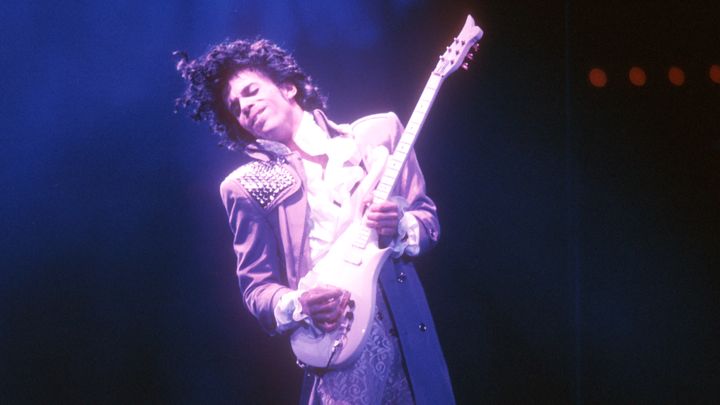 Prince
This is a follow up to the November 15, 2016 article "Prince Estate Shuts Down Jay Z's Cheap Bid To Buy Music Catalog For Far Less Than It Is Worth." The estate of the late singer Prince has sued Jay Z and Madonna's Tidal music streaming service for copyright infringement. Immediately after Prince's untimely death, Tidal began streaming the late legend's most popular albums, racking up several hundred million streams and hiding it from the estate. To use someone's music without permission in this context is outright copyright infringement (not to mention grave robbing). This is typical Jay Z and Madonna - no talent and always stealing. Madonna looks like something from a wax museum and Jay Z resembles a ninja turtle. But I digress...
When Prince died people flocked to music streaming sites and YouTube to listen to all his music again. It is a common occurrence when a star of Prince's magnitude dies. However, when you have sold as many records as Prince and are a worldwide name, there is greater public interest, resulting in far more music streams.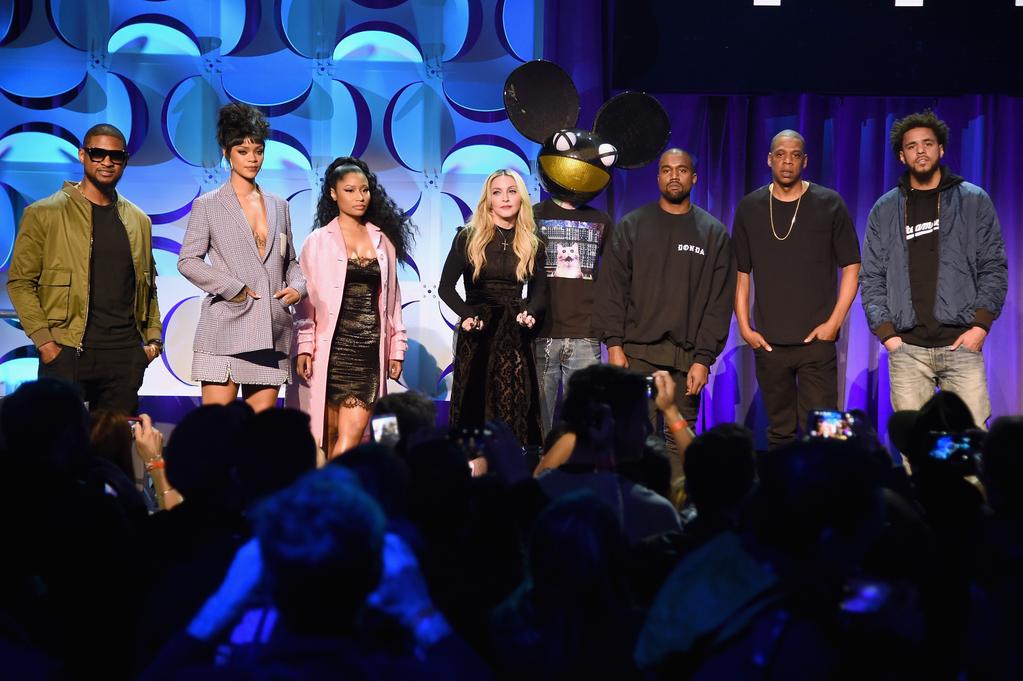 Usher, Rihanna, Nicki Minaj, Madonna, Dead5Amu, Kanye West, Jay Z and J Cole (also known as Hollywood's self-professed "Illuminati")
YouTube also owes Prince's estate a big check. When Prince was alive, a member of his staff repeatedly filed notices on his behalf to have his music removed from You Tube. Trust me, when he was alive, you could find just about any recording artist's music on YouTube, except Prince's, as he kept on top of them with the removal notices.
The day after Prince died, I noticed most of his music was on YouTube all of a sudden, uploaded by members of the public as a tribute. Nonetheless, YouTube pays a basic fee to artists whose music is on the site. Therefore, the Prince estate needs to be compensated as well and his wishes honored in removing his work from the site. He had a pet peeve about it. So remove it.
STORY SOURCE
Prince's Estate Sues Jay Z's Tidal in Streaming Fight
Nov. 16, 2016 - Kevin Winter—Getty Images The estate of late singer Prince has filed a federal lawsuit against Jay-Z's entertainment company Roc Nation.
The late singer's estate wants Tidal to pay damages. The estate of legendary singer Prince, who passed away earlier this year, has filed a federal lawsuit against Roc Nation, the entertainment company created by Jay Z that includes music streaming service Tidal.
NPG Records Inc. and NPG Music Publishing filed suit alleging copyright infringement, saying that Roc Nation continues "to reproduce, distribute and publicly perform" the music of the late superstar, the Star Tribune reports. Although the dispute has been ongoing for several months, Tuesday's lawsuit represents an escalation of legal action. The estate of the late singer is asking for a jury to decide on the matter, and is looking for Tidal to pay unspecified damages and to stop streaming and selling all Prince material apart from one previously agreed upon album...
RELATED ARTICLES
Jay Z And Madonna's Floundering Tidal Sued For $5,000,000 Over Copyright Infringement In Not Paying Artists While Inflating Their Own Sales To Go Number One On Billboard
Madonna, Jay Z, Beyonce, Rihanna, Rita Ora And Jessie J Sued Over Copyright Infringement, Invasion Of Privacy, Commissioned Criminal Harassment And Assault Via The Kabbalah Center
Tidal Ripped Off Consumers Fraudulently Charging The Credit Cards Of Former Customers Who Closed Their Music Streaming Accounts
Samsung Seeks To Buy Sinking Tidal As Two More Executives Depart From The Struggling Company In The Face Of Mounting Lawsuits
Rapper TI Signs With Jay Z And Madonna's Floundering Tidal As IRS Moves In To Seize His Assets Over $6,200,000 In Unpaid Taxes
Apple Lunches Its Music Streaming Service With Drake As The Face Of The Product That Is Set To Crush Jay Z And Madonna's Tidal
Jay Z And Madonna's Failing Tidal Music Service Is Hemorrhaging Money While Inadvertently Increasing Rival Spotify's Revenues
Mainstream Publications Rip Jay Z And Tidal Streaming Service To Shreds Implying He Is Suffering From Delusions Of Grandeur
Snoop Dogg's Son Slams Jay Z, Beyonce, Rihanna And Madonna For Being Greedy And Not Caring About The Public (Tidal)
Apple And Samsung Slam Rumors They Are Going To Buy Jay Z And Madonna's Failed Tidal Music Streaming Service
Jay Z And Madonna's Tidal Officially Branded A Bad Business Move And Flop By The Mainstream Press
Jay Z Tries To Defraud Prince Estate In Trying To Buy Music Catalog For Far Less Than It Is Worth
Prince Estate Shuts Down Jay Z's Cheap Bid To Buy Music Catalog For Far Less Than It Is Worth
Samsung Issues Statement Revealing Rumors About Them Buying Tidal Are Untrue
Apple Music Streaming Crushes Tidal With Massive Sales And 11 Million Members
Another Top Executive Leaves Jay Z And Madonna's Failing Tidal