Prison Penalties For Criminals Should Be More Severe In Cases Of Acid Attacks
Halle Berry Supports Charity For Women Who Are The Victims Of Abuse
November 16. 2016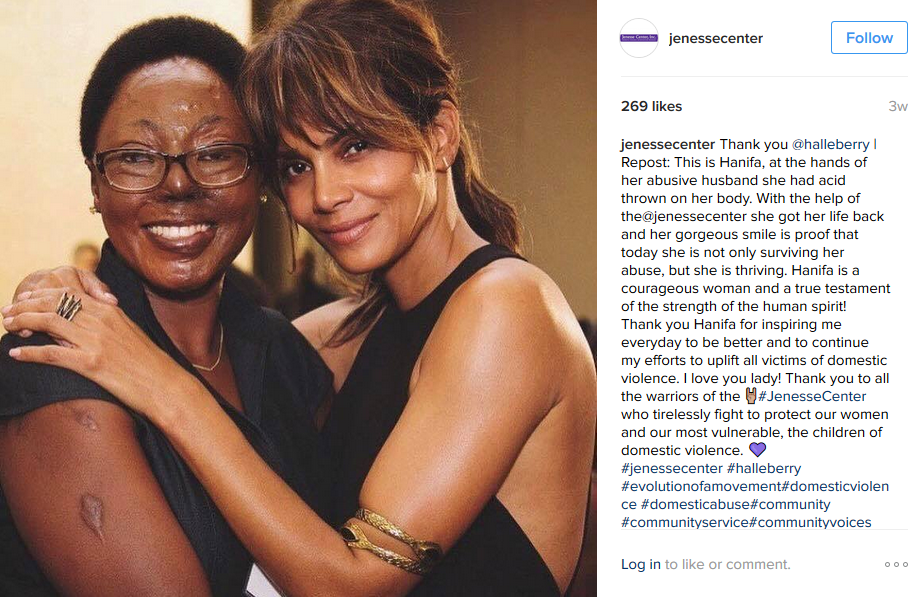 Halle Berry and acid attack victim Hanifa Nakiryowa
Academy award winning actress, Halle Berry, 50, is a survivor of abuse. In the 1990s, Berry's then boyfriend, actor, Wesley Snipes, viciously beat her to the point she became deaf in one ear. This month, Berry loaned her support to the charity, the Jenesse Center. The charity provides support for victims of domestic violence.
Berry posed for a photo with Hanifa Nakiryowa, 34, a domestic violence victim whose husband cruelly threw acid on her at his home in Kampala, Uganda. The two had been married with children, but she wanted a divorce and left him. Her husband did not want her to get an education, work or have differing opinions from his own. One day in 2011, he instructed Hanifa to pick up their two daughters from his home. When she arrived at the property, a young man doused her in acid, throwing the damaging substance in her face.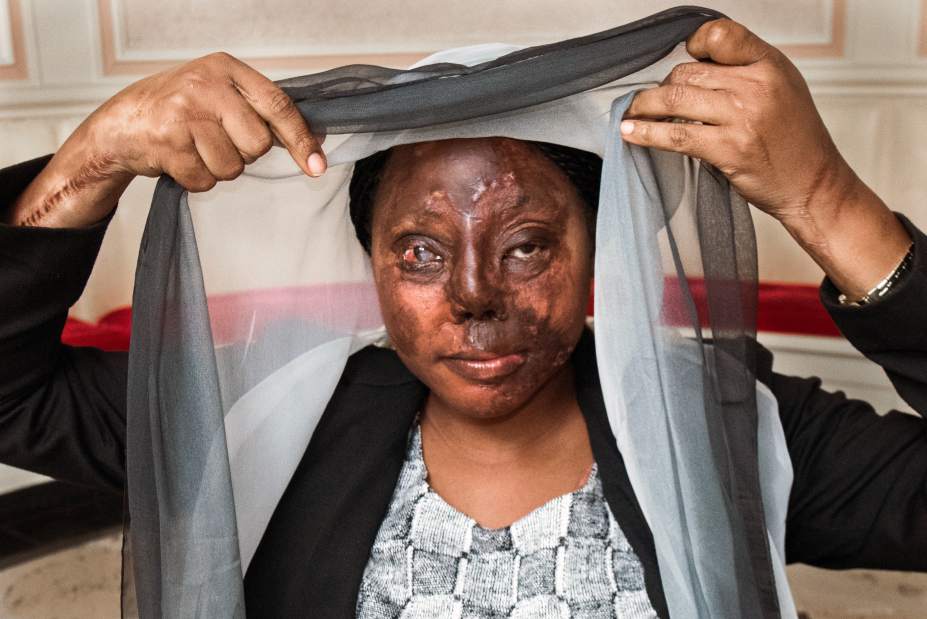 Hanifa Nakiryowa months after the acid attack
Hanifa stated, "On contact, it's cold. But in seconds, you feel the burning, as if you've been thrown in a pool of fire. You burn in invisible flames. Her husband refused all attempts for her to receive medical care, objecting to neighbors request. However, a neighbor defied him and rushed her to the hospital.
Hanifa further stated of the acid attack incident, "You don't see the effect right away. It surfaces over time. You think the dead skin is going to shed off and you will heal, but it begins to eat up the body. Experiencing that, seeing your body parts fall off when you begin to get hope that you are healing, it is so traumatizing. Many patients give up." However, Hanifa did not give up. No victim should give up. Ever.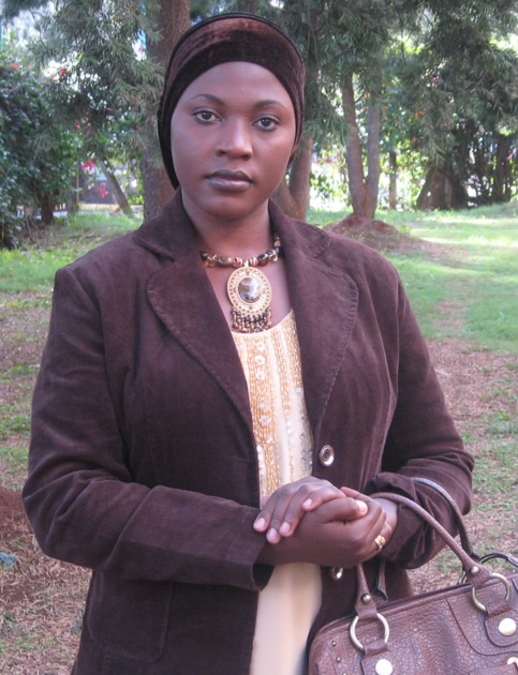 Hanifa Nakiryowa prior to the 2011 acid attack
Hanifa spent months in the hospital recovering from her injuries. Due to the acid attack, Hanifa lost an eye and her nose later fell off. Her nose was so badly burned, it fused together preventing her from breathing through one of her nostrils. The attack scarred her beautiful skin, but not her spirit. Hanifa has been rebuilding her life and moving forward after the terrible trauma. Hanifa now works for Acid Survivors Foundation in Uganda and Acid Survivors Trust International (ASTI) in Britain.
In what is a terrible injustice, Hanifa's husband was never prosecuted for the incident. He never spent a single day under arrest or in jail. This must change. People cannot perpetrate such horrible acts of violence against others and walk away without any punishment from the courts. They must be held to account in a court of law.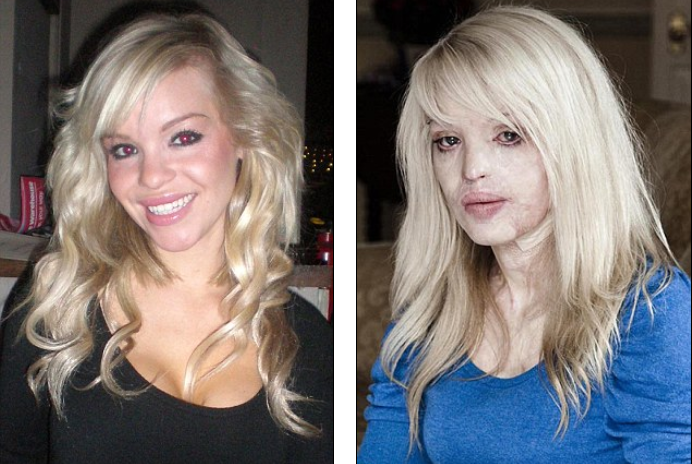 Katie Piper before and after acid attack
In a similar case beauty queen, Katie Piper, 33, of Britain, was doused in acid by Stefan Sylvestre, 28, a man sent by her ex-boyfriend, David Lynch, to attack her. The attack occurred in 2008. The two had met on Facebook and he asked to meet her in public. The relationship did not work out and took a terrible turn in its conclusion.
Two weeks into dating, Lynch raped, beat and stabbed Piper in the arms at a hotel. Piper received medical treatment for her injuries and was trying to recover. However, two weeks later, Lynch became jealous at their break-up and planned another cruel attack against Piper.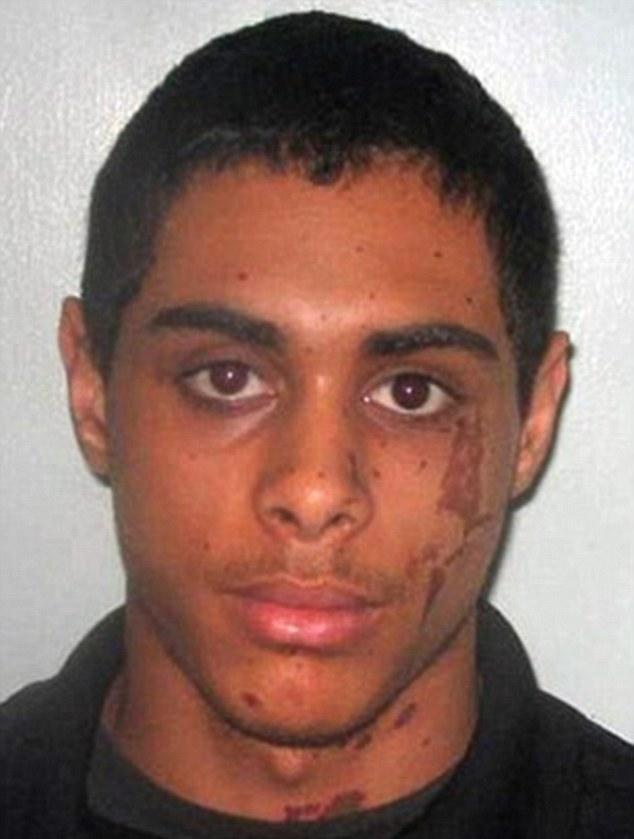 Stefan Sylvestre threw acid on Katie Piper
Lynch lured Piper out of her flat, requesting she go to an internet cafe to check an email he had sent to her. When Piper exited her flat, Sylvestre threw acid on her, following Lynch's orders. Piper was in excruciating pain after being doused in industrial strength sulfuric acid that was thrown in her face and on her upper body. Some of the acid even went down her throat.
Sylvestre was given two life sentences by the British courts, which is highly appropriate in light of what he inflicted upon Piper in carrying out the brutal acid attack. Lynch was given 16-years in prison. Both men were eligible for parole last year. Piper petitioned against their release. Both men should serve their full sentences and pay financial compensation with everything to their names.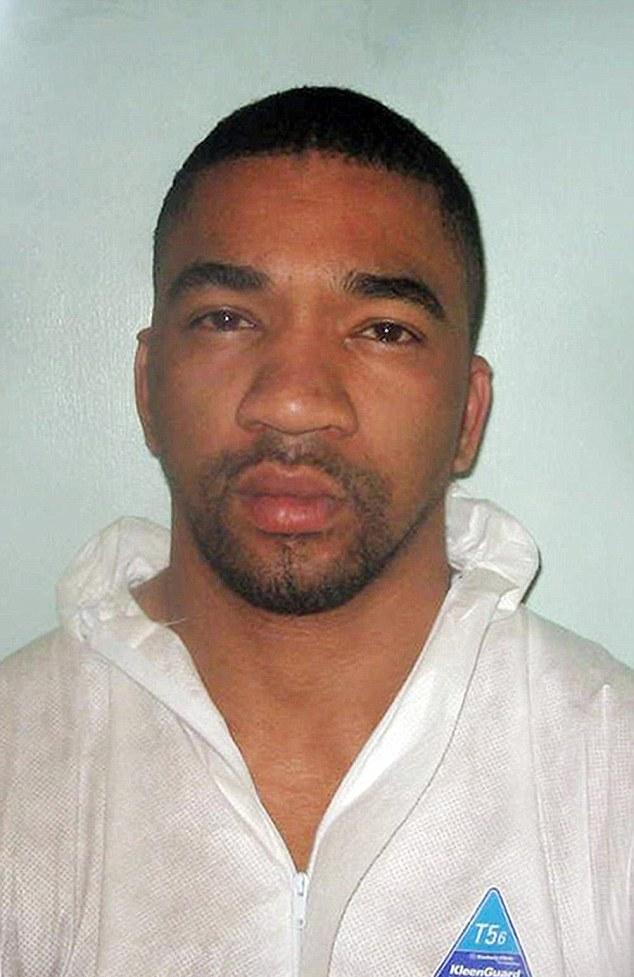 Piper's ex-boyfriend, David Lynch
It was such a hateful, horrible attack. Piper is blind in one eye and endured over 40 operations, due to extensive skin damage from the acid attack. The attack scarred her beautiful skin, but not her spirit. Piper has since gotten married and given birth to a daughter.
There should be severe prison penalties for anyone who throws acid on another person or animal. The sheer agony victims of acid attacks go through is horrendous. It is the equivalent of torture, forbidden by international law, as it constitutes human rights abuses. It is cruel and horribly abusive conduct that must be met with the full force of the law.
STORY SOURCE
Acid attack victim, now a Pitt student, works to reveal women's suffering
Saturday, June 13, 2015, 9:00 p.m. - Behind her veil, Hanifa found silence, not peace. Then she met other victims, their faces and limbs — like hers — maimed, their will to live fading or gone. "I decided that I could not keep silent," said Hanifa Nakiryowa, 33, an acid attack survivor. "Yes, there are moments when I feel a lot of pain and I close myself behind doors and cry. But ... maybe it happened to me because I have the strength to speak against it."
The attack occurred in 2011 outside her estranged husband's home in the Ugandan capital of Kampala. Hanifa, who's from Uganda, had divorced him. He was controlling and abusive and did not want her to study or work or have opinions that contradicted his, she said. So she left him. They had two daughters together; he called that day and told Hanifa to pick them up.
She knocked on the door. Inside, she heard footsteps, but no one answered. Then a young man she did not know appeared and threw something at her face. "On contact, it's cold. But in seconds, you feel the burning, as if you've been thrown in a pool of fire," Hanifa recalled. "You burn in invisible flames." Witnesses begged her husband to take her to a hospital. When he finally opened the door, he said he could not find his car keys, Hanifa said. A neighbor rushed her to the nearest hospital. She would stay for many months...
In countries where women are denied basic human rights, acid attacks are disturbingly common, said Louis Picard, a University of Pittsburgh Professor of Public and International Affairs and African Studies. Hanifa is one of 480 documented cases in Uganda. Attackers intend to dehumanize their victims, to mark them as disobedient and maim them so grotesquely that they no longer find acceptance in society, he said. Victims often are shunned, even by their families, and become street beggars or commit suicide. No one was arrested in Hanifa's attack..
http://triblive.com

Acid attacks around the world: Hanifa's story
19 August 2013 - The acid attack on British teenage volunteers Kirstie Trup and Katie Gee in Zanzibar stunned the world. But their horrifying experience isn't unusual. It's estimated that 1, 500 acid attacks take place every year around the globe. One woman who was seriously disfigured by an attack now spends her life helping other victims.
Hanifa Nakiryowa, 31, lost her nose and the use of her right eye after acid was thrown in her face. The mother of two has been left seriously disfigured and scarred, has trouble breathing and suffers pain from her injuries. Hanifa, who lives in Uganda, was attacked as she picked her children up from her estranged husband's home.
'I'm the one with a life sentence. Not him': Acid attack victim Katie Piper's horror that the thug who disfigured her could soon be free on parole after just six years in jail
Published: 05:54 EST, 29 August 2015 | Updated: 17:58 EST, 4 December 2015 - The man who carried out a horrific acid attack that scarred TV presenter Katie Piper for life could be released after just six years in jail. Stefan Sylvestre, 27, is now up for parole after being sentenced to indefinite detention in 2009 for carrying out the attack ordered by her jealous ex-boyfriend David Lynch. The attack left Katie Piper blind in one eye and she had had to endure years of surgery, with more than 40 operations.
In her autobiography, she talked of the moment she heard that he was seeking parole, saying it was 'hard to believe' that it had been six years since he was jailed. She wrote: 'The two of them had taken so much from me, and now this man's punishment might soon be over. 'I thought, "I'm the one with the life sentence. Not him. He can change his identity, change his name, get a new job, a partner, move on, but I can't. I can't pretend it didn't happen because it's all over my face".'
Sylvestre was given an indeterminate sentence for public protection in 2009, meaning he would not be released until he was no longer deemed a threat to the pubic. His minimum tariff has already been served and he was due for a parole review in 2014 but he has still not been released...