R. Allen Stanford's Double Life
Pretended To Be British And Knighted By Buckingham Palace
Has A Wife, Two Girlfriends And Several Kids
Victims' Money Frozen
Washington Failed Again
February 23. 2009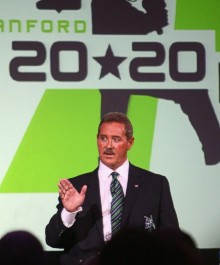 R. Allen Stanford (Courtesy of Gallo Images)

C

on man

R. Allen Stanford has been leading a double life.

Stanford, a Texan, wanted to be British so badly, he lied about his background, falsely claimed he was

knighted by Prince Phillip at Buckingham Palace (knighted in Antigua by PM),

adopted a British accent and began dating a young English woman behind his wife's back. Paging Dr. Freud.

That's in addition to his other girlfriend in Miami, where his $10 million dollar, over the top, inauthentic looking, faux English house, Tyecliffe Castle, is well-known in real estate circles. He has several children with different women, who are all living very well off money stolen from his customers.

He is a

patent fraud, claiming to be related to the founders of the school Stanford University, who in turn sued for trademark infringement. He also stated he is a beneficiary of his great-grandfather's multi-million dollar insurance business, which his father refuted.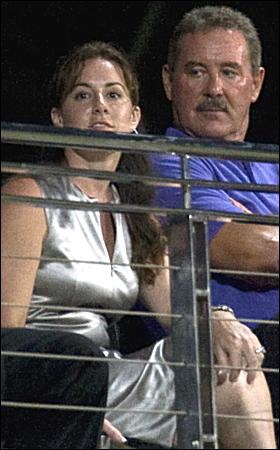 Stanford with girlfriend Andrea
When news of his arrest broke, I thought he looked familiar. Last year, he was pictured in the British press getting a little too friendly with two young women at a sporting event.
I've stated it before and I shall state it again, if you were not born into the English aristocracy, trying to buy your way in, is an exercise in futility. You have to be 100% Anglo-Saxon and British, with wealth having passed through your family for hundreds of years.
There are even members of the English aristocracy, the late Princess Diana included, that chided the royal family, as they are from German descent. That's how strict the club is, that even the royals have been scrutinized. There's nothing wrong with being German or any other nationality, but that's just the way the English aristocracy has been for many generations.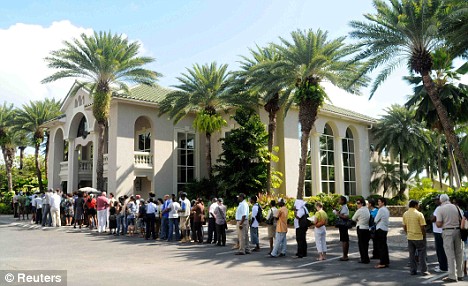 Stanford Bank in Antigua
In other Stanford news,
analysts have claimed,
the mess he has left behind, "Will take years to clean up." Stanford's customers that did not withdraw their money from his bank before all assets were frozen, upon the government's announcement of civil charges, will not be able to do so for, "More than two years." How terrible.
He is also being investigated by the FBI and Scotland Yard, both law enforcement agencies knowing he was a fraud, as much as 20 years ago. My guess is Scotland Yard/Met Police was told by the FBI not to do anything, as is standard criminal negligence between the two.
Nice work failing the public again, which is ironic, as none of your combined salaries can replace the public's money that has been squandered by a known criminal you let remain free to damage innocent people.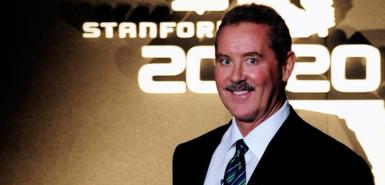 However, the problem is, once again, corruption in Washington. Stanford, "Has entertained powerful American politicians from both sides of the aisle" and boasted to a Florida employee, "That his contacts and money made him 'untouchable.'"
This is how Stanford was able to get away with this madness for so long, despite the fact the SEC and Congress knew of his criminal misconduct for two decades.
Once again, the government has failed the nation and the world in letting another known criminal run loose and wreak havoc. It was cowardly, craven and corrupt.
What have you really wrought, when the end result is permanent damage to America's name and finances, due to allowing the the Madoffs and Stanfords to roam free breaking the law (and the others that have not been publicly unmasked yet).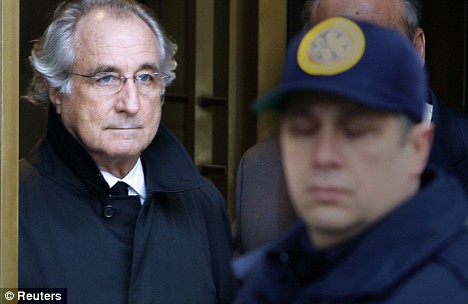 Bernard Madoff (left)
There are honest, successful business people in America, but that shall not be the worldview, when the U.S. government knowingly and so treacherously, allows certain known criminals to defraud and scam others and on such a global scale. The bad then begins to outshine the good in worldview, as it is so devastating.
Washington, is that your twisted idea of nationalism and building wealth and reputation for the nation - fraud and theft - items that are always, inevitably discovered. If so, the U.S. economy will never recover.
Get your act together and fast, as y
ou should have weeded out the criminals long ago, because they are ruining the entire crop. You have no excuse, because you knew what they were doing, but sat there and let it happen anyway.
I've seen firsthand how easy it is for fraudulent people to corrupt the justice system, members of Congress, the FBI and SEC, through bribery and misplaced nationalism, to get away with misdeeds that are detrimental to the nation and the world.
The worse is yet to come regarding these terrible revelations in corporate America, but things cannot remain hidden and as they are now, lest it destroy a nation, America. The government needs to work faster, as the longer they let well-connected criminals linger in the corporate system, is the worst the damage shall be.
The criminals in corporate America must be indicted and imprisoned and new regulations put in place. It is the only way to repair the economy, lest this happens again.
$8B Stanford fraud case will take years to clean up
Burned investors, trapped advisers, frozen assets spell trouble
Investors' accounts in financial companies controlled by him
may remain frozen for more than two years, according to Walter Pagano, head of the forensic-accounting division of Eisner LLP in New York and a former revenue agent with the Department of the Treasury.
Fraud better or fraud worse
SHAMED cricket tycoon Sir Allen Stanford can today be exposed as a love cheat who planned to commit BIGAMY with a secret British girlfriend.
The News of the World can reveal that the Texan billionaire—accused of a £6.5 billion fraud in the US—repeatedly applied for a licence to wed Louise Sage.
But he was still legally married to Susan Stanford, his American wife of 34 years, when he proposed THREE TIMES to Louise—the woman with whom he has two children.
It means he would have committed bigamy if the wedding had gone ahead...
However, she still enjoys a lavish lifestyle in Miami, Florida, where she lives in a £4.5 million waterfront house and receives an £18,000-a -month allowance from him…
Stanford is now dating Andrea Stoelker who was president of the Twenty20 cricketing board of directors which helped set up the now-scrapped deal with English cricket.
http://www.newsoftheworld.co.uk
Stanford's life — brash, cash, a dash of flash
…His language was that of a money man, and he preferred to speak it with a British accent of sorts, so infatuated was he with the mother country's history and sporting customs. He claimed to have traced his lineage to 17th century Yorkshire, renamed his $10 million Miami-area mansion Tyecliffe Castle and felt more at home at a cricket match than a football game…
Of course some things about Texas rarely change, and true to the myth of its nouveau riche, Stanford made a point of living life hand-in-hand with an exclamation point.
With a net worth north of $2 billion, he owns glitzy homes in and around Miami, the Virgin Islands and Antigua, and in them he has entertained powerful American politicians from both sides of the aisle…
That was then. Last week Stanford was hit with a civil suit by the U.S. Securities and Exchange Commission that alleges his Houston-based financial services company defrauded investors. His assets were frozen. For the time being, at least, the would-be Caribbean prince who once boasted to an employee in Florida that his contacts and money made him "untouchable" — he and his company have reportedly spent more than $5 million on political contributions and lobbyists — is just another guy with cash-flow problems…