Rapper Body Shames Karrueche Tran And Quavo Of The Migos Defends Her
August 18. 2017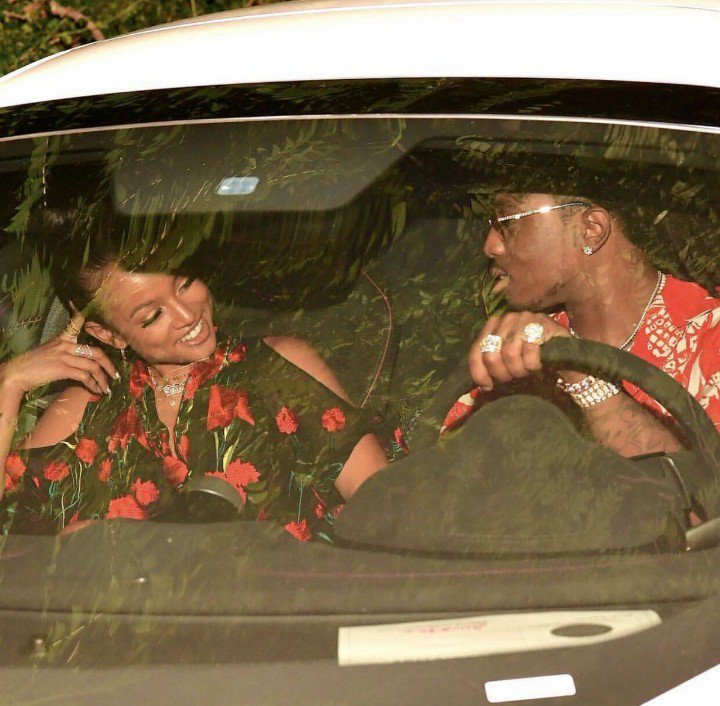 Karrueche Tran and Quavo
Atlanta rapper Ralo has come under fire for body shaming actress Karrueche Tran on the social networking site Instagram. She posted photos of herself in a bikini, proud of her workouts to gain more muscle tone, to which Ralo posted under one of her pictures, "U looks better wit clothes on." Tran read the comment and slammed Ralo online.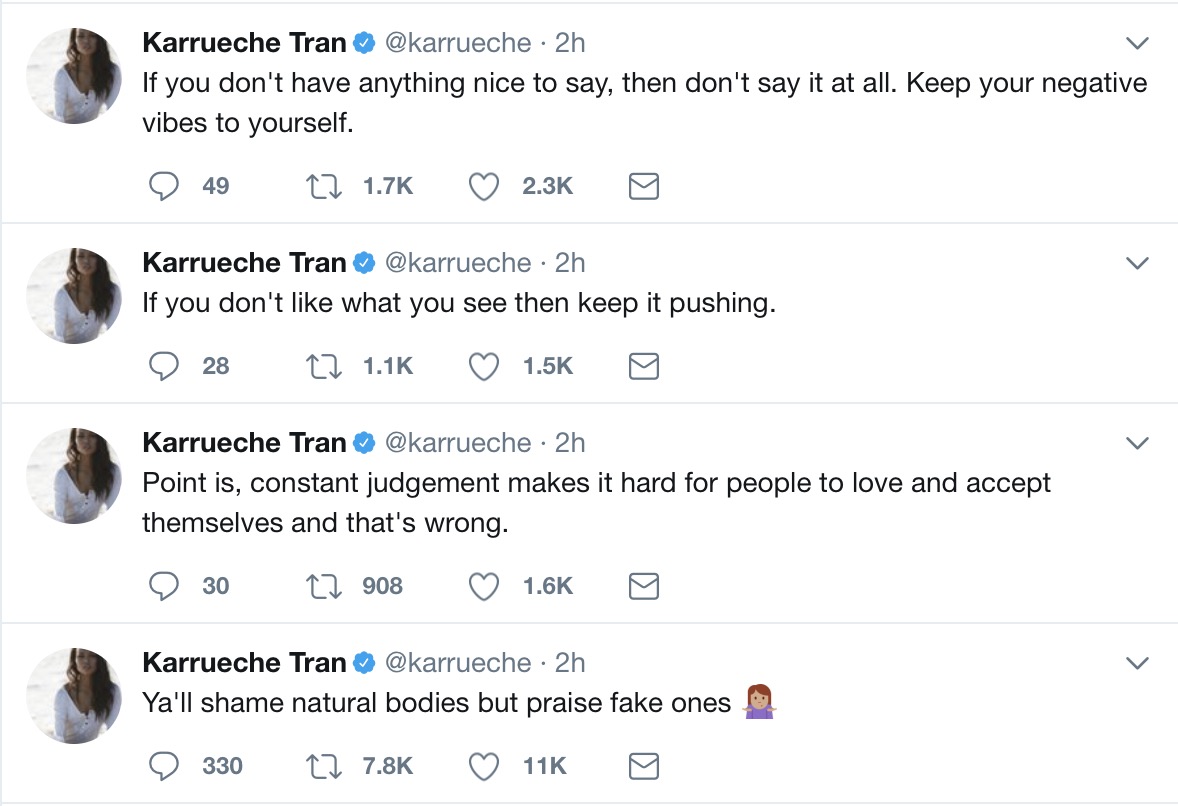 Karrueche Tran tweets
Tran posted in a series of tweets on the social networking site Twitter, "Y'all shame natural bodies but praise fake ones. Point is, constant judgment makes it hard for people to love and accept themselves and that's wrong. If you don't like what you see then keep it pushing. If you don't have anything nice to say, then don't say it at all. Keep your negative vibes to yourself."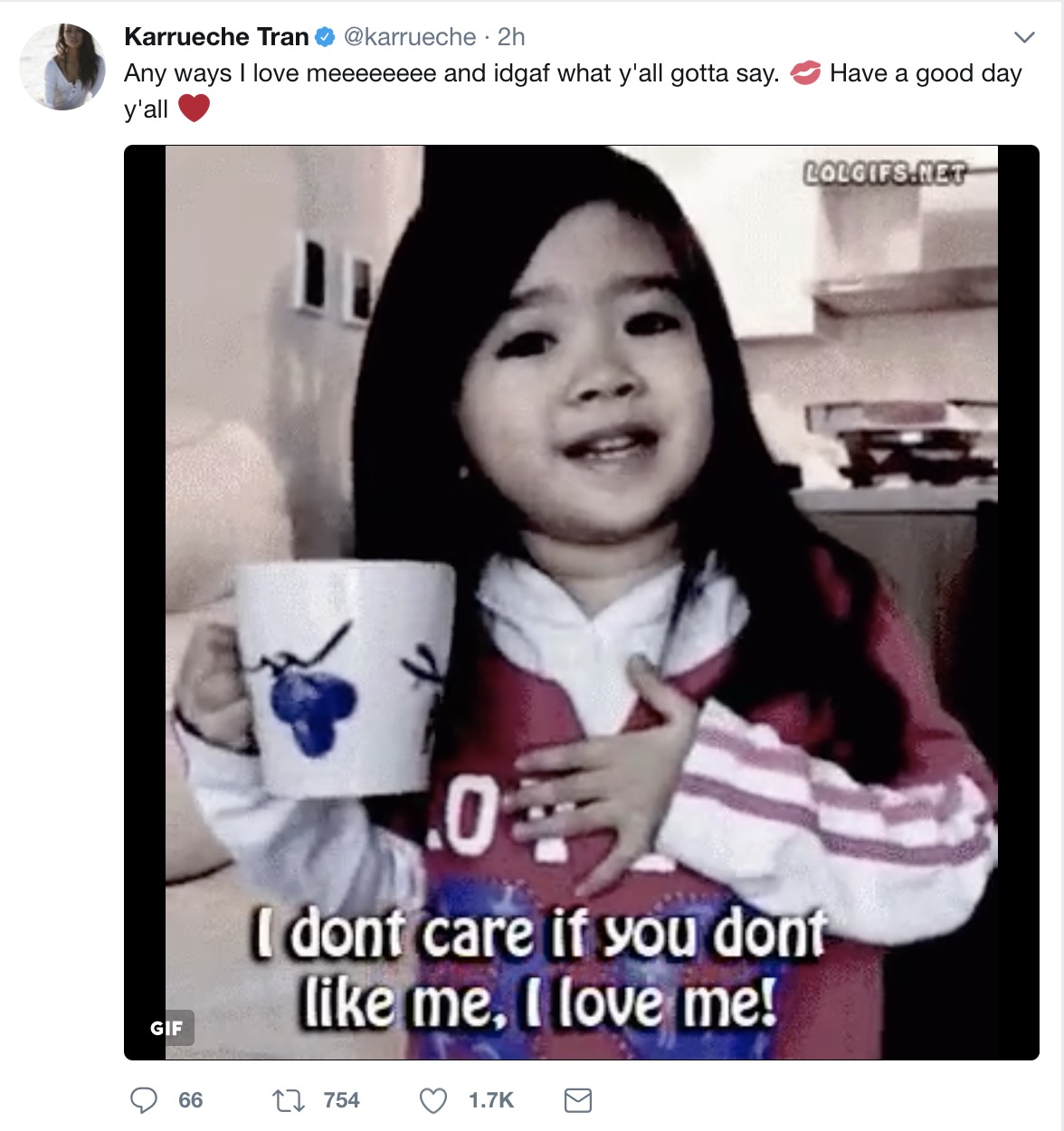 Karrueche Tran tweets
It didn't go unnoticed by Tran's on and off again boyfriend, Quavo of the rap group Migos, who came to her defense in stating on Twitter, "She's so natural." It's nice that he is defending her. That was decent of him to do. Real people defend their friends or significant other in the face of unjust criticism.

Quavo defends Karrueche
Tran was previously criticized on social networking, with detractors repeatedly stating she is shaped like an 11-year-old boy (she was not). She took the criticism to heart and began doing light weight training. Tran is a beautiful woman and she is in great shape. People will sometimes joke with others about their appearance, but not in a mean way. Ralo's comments to Tran were not a joke and comes across as unkind.
STORY SOURCE
Rapper Ralo Shames Karrueche's Body, Quavo Comes to Her Defense
Published 2 days ago - Body positivity is for all. At least it should be, which model and actress Karrueche Tran reminded everyone of after posting some serious #BawdyGoals photos to Instagram. Unfortunately, not everyone agreed with her unclad, bare-skinned flicks that she took so much pride in. But that's not important, especially considering that her rumored new flame and Migos member Quavo joined in her nude and natural celebration.
In the photos, Karrueche is costumed as her Claws character Virginia, donning a skimpy bikini, dark lips and blonde bombshell tresses. She flicked up a few mirror selfies of herself and posted them to Virginia's account, where much of the commentary seemed to join in on the body confidence praise. However, there were still the haters who came to rear their heads and criticism — and Atlanta rapper Ralo's comment just so happened to stand out among the negativity.
"U looks better wit clothes on," he commented under her photo. His best bet, however, was to leave his negative opinion off of the photo after Karrueche checked him and the other naysayers for their uncalled for judgments via Twitter. And her points were unarguably valid too, might we add...
RELATED ARTICLES
Chris Brown Seeks Revenge Against Karrueche Tran For Dating His Friend Quavo And Wants To Go After Her Famous Pal To Get Back At Her
Quavo Of The Migos Claims Karrueche Tran On Snap Chat (Video)