Rapper Bow Wow Apologizes For Threatening To Pimp First Lady Melania Trump

May 29. 2017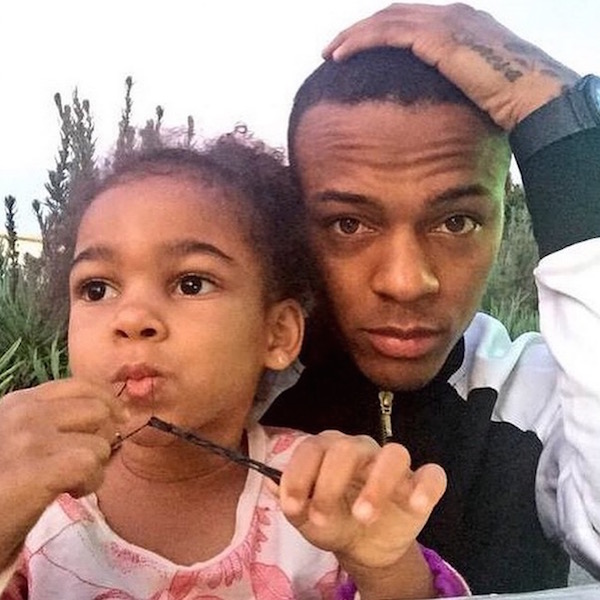 Bow Wow would not like it if anyone spoke about his daughter in the manner he does regarding Melania Trump and women in general
Atlanta rapper, Bow Wow, real name Shad Moss, has apologized for outrageously threatening to pimp U.S. First Lady, Melania Trump. On March 15, 2017, Bow Wow sent a threatening tweet to U.S. President, Donald Trump, because the commander-in-chief hated rapper Snoop Dogg's video that featured his assassination. Bow Wow's ill-advised tweet stated, "Ayo @realDonaldTrump shut your punk as* up talking s**t about my uncle @SnoopDogg before we pimp your wife and make her work for us."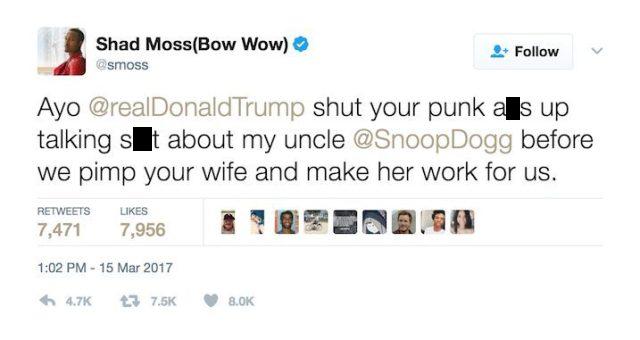 Bow Wow tweet about President Trump and the First Lady
The tweet was absolutely disgraceful and many slammed him for it. People were very offended by his words, as it was very disrespectful towards women. However, this is the attitude Bow Wow has in reference to women. Bow Wow has since deleted the tweet. He recently apologized on his new reality show, "Growing Up Hip Hop."
STORY SOURCE
Bow Wow Apologizes For Threatening To 'Pimp' First Lady Melania Trump
May 27, 2017 - Shad Moss aka Bow Wow talks the #BowWowChallenge, his new reality show, and why he regrets tweeting about the first lady. Bow Wow has nine lives. The rapper, who now goes by his birth name, Shad Moss, played his first sold-out shows long before hitting puberty. In only three decades, he's cycled through innumerable career phases, from rapping at Snoop Dogg's side to acting to hosting gigs and reality TV show appearances.
Now Moss, a long-time staple of the Atlanta hip hop scene, is looking to honor his adopted hometown on WE's newest reality offering, Growing Up Hip Hop: Atlanta. The series' first season is slated to track Moss' latest comeback and new music intended to herald his graduation from nostalgia-inducing puppy to top dog. Along the way, there's sure to be romantic happenings, family drama, and rising tensions with his fellow Atlanta castmates.
Luckily, Moss is already well known for the kind of entertainment value that keeps channel surfers coming back for more. The "Like You" rapper has proven himself adept at combining the explosive elements of social media and minor celebrity to wreak havoc and make headlines. Using Twitter and Instagram, Moss has propelled himself to trending topic twice in the past few months.
In March, he had Fox news anchors clutching their pearls after he fired off an incendiary tweet, defending his mentor Snoop Dogg and jokingly threatening to "pimp" the first lady Melania Trump. For his encore performance, he sparked an entire Twitter challenge by appearing to falsely flex on his Instagram. To hear Moss tell it, "It's all part of the game": While there are certainly bad tweets, there's no such thing as bad publicity...
https://blackchristiannews.com
RELATED ARTICLES
Singers Chris Brown And Trey Songz Mock Rapper Bow Wow For Taking Credit For Making Them Famous
Social Networking Mercilessly Mocks Rapper Bow Wow As A Fraud For Pretending To Fly By Private Jet