Rapper Jay-Z Cancels Concert Dates Due To Low Demand For Tickets
November 3. 2017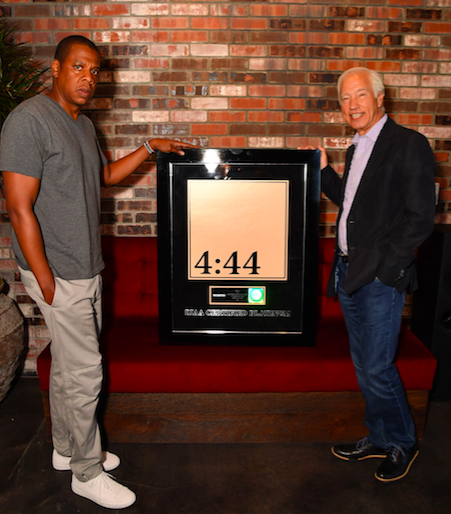 Jay Z awarded a platinum plaque for "4:44" though all the copies were bought by a mobile carrier then distributed to their subscribers for free. The hard copy of the album went on to flop in stores.
Cheating rapper Jay Z is struggling under his flopped, terrible album "4:44" which has not caught on with audiences. When an album flops, it impacts potential tour sales. Despite the fact Jay-Z's album flopped, he had a promoter book tour dates for him anyway. Due to very poor demand, Jay Z has been forced to cancel tour dates, under poor ticket sales. When ticket sales are low, a recording artist will end up in the red by putting on the show.
Sales were so poor, ticket prices were slashed to $6. However, that failed to remedy the sales problem. Rather than losing money, the promoter decided to cancel select tour dates. Jay Z and his massive ego will not take this well. A flopped album and tour is a wake up call that the public is not buying what he is selling. It's made all the worse by the fact he had a massive amount of promotion.
RELATED ARTICLE
Jay Z Lied About Loaning Kanye West $20,000,000 And Continues To Give Artists And Athletes Very Bad Advice That Is Causing Trouble