'Real Housewives Of Potomac' Season 2 Finale Left Unanswered Questions
July 5. 2017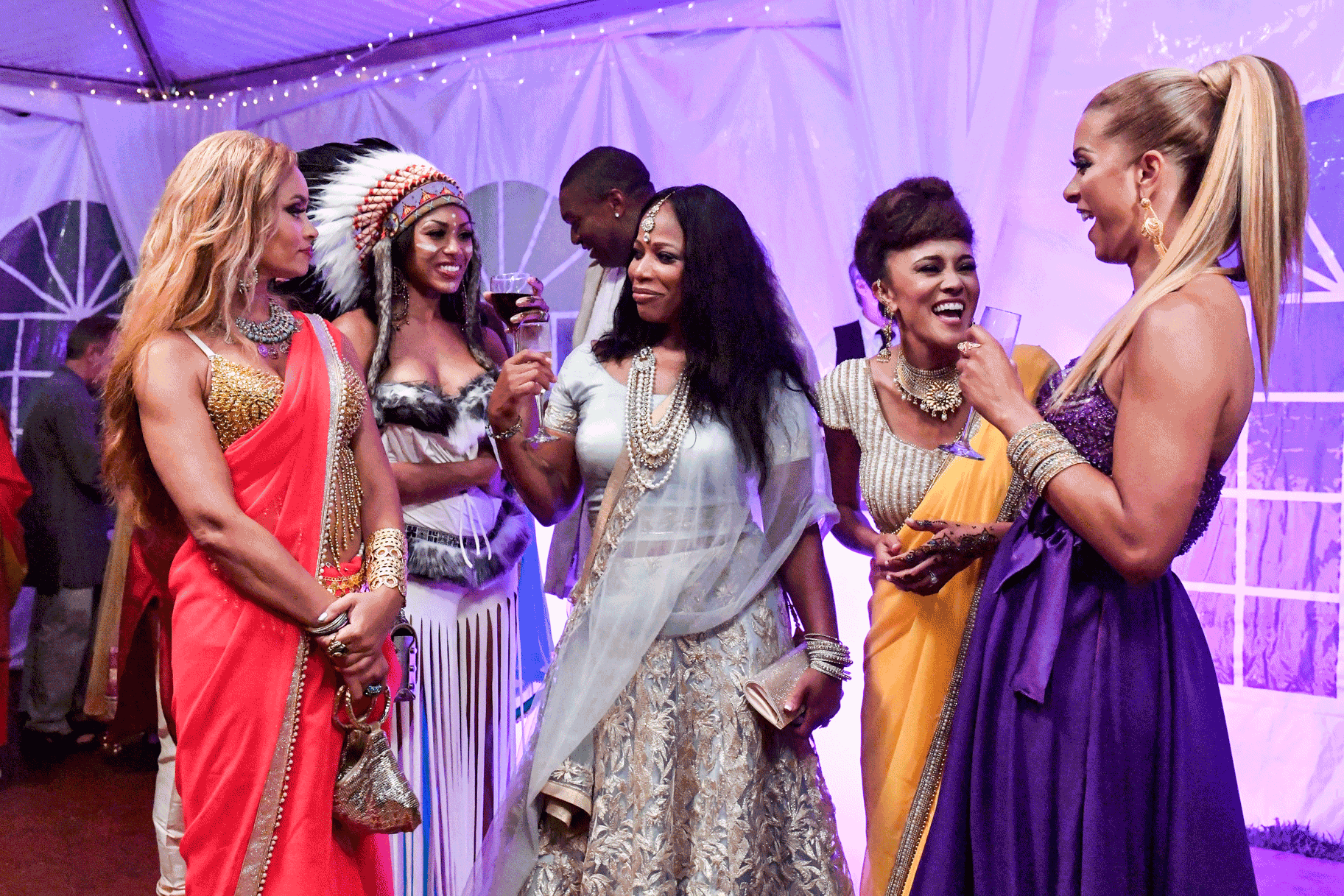 "Real Housewives Of Potomac" season 2 finale (Gizelle Bryant, Monique Samuels, Charrisse Jordan, Ashley Darby and Robyn Dixon)
In the season two finale of "Real Housewives Of Potomac" Karen Huger and her husband, Ray Huger, left wealthy Potomac, Maryland, for more affordable Great Falls, Virginia. The couple are renting a large mansion in Karen's home state in trying to keep up appearances. However, it is obvious they have experienced financial setbacks. Hence, leaving Potomac. Though the show does not explain the hasty departure from Potomac.
Ashley Darby, who is upset with Karen for treating her like riff raff and referring to her as a "stray cat" she took under her wing, took glee in watching her move to a less expensive home and outside of Potomac. Karen had branded herself the "Grand Dame of Potomac" and her current move has cost her the title.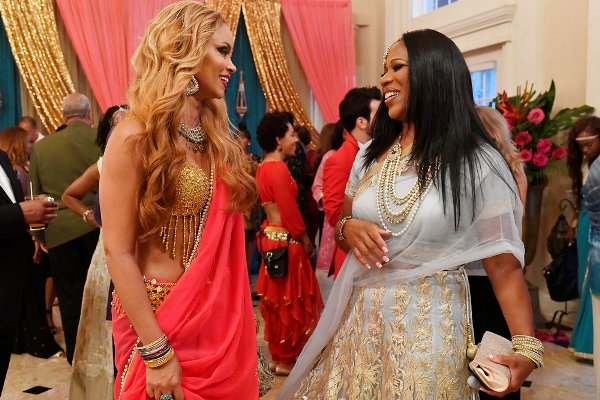 Gizelle and Charrisse during the Huger's housewarming party
Karen and Ray held a 20th anniversary/house warming party that she wanted to have an Indian theme. However, her husband disagreed, stating they are African-American. Therefore, in his estimation the party should have an African theme. In the end they compromised and gave guests the option of wearing an African or Indian costume to the party. Some on social networking took offense, stating it should have strictly been an African theme, in keeping with the couple's roots as black people.
The party was filled with people who were portrayed as friends of the Hugers. However, many of the party's guests were unfamiliar to the housewives. Their husbands wondered if the Hugers were up to something bad, as they moved rather quickly and far away. No real answers were provided on the finale.

Karen and Ray Huger at their housewarming theme. Karen wore an Indian costume and Ray sported an African one.
Robyn is still in love with her cheating ex-husband, former basketball player Juan Dixon, who has fallen on hard times after a friend ripped them off. Robyn is not listening to reason from her therapist or friends, who are trying to alert her to the fact Juan is not serious about her anymore and is cheating with others, while living under the same roof. It is an unhealthy relationship.
Ashley's marriage to Michael Darby is still in trouble, as their restaurant is causing a significant amount of strife and arguments. Ashley is resentful of the fact that Michael has all the money, which she interprets as control in their relationship, but she knew this was the situation when she married him. I like Ashley, but she spoke to her husband in very harsh terms on television and should apologize to him for embarrassing him in that manner, as he did not treat her that way on the show for all to see (she called him an "insane as***le" among other things).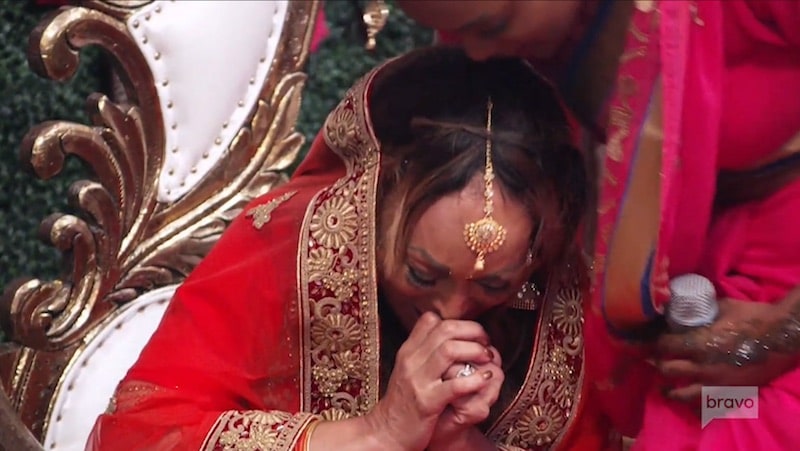 Karen broke down crying during Ray's anniversary tribute. Ray saved Karen from a lot and has given her a good life.
The women did not resolve their issues during this season, but the show gained new viewers and a bigger presence on social media, as more people are tweeting and posting about them now, over their various on-screen conflicts. The season was entertaining. In closing, the housewives need to remember they are all living a luxury lifestyle due to their husbands' money. Therefore, be humble with each other.
RELATED ARTICLES
'Real Housewives Of Potomac' Reality Star Monique Samuels Almost Became A Famous Rapper But The Casting Couch Impeded Her Career Much Like It Did To Other Young Talent
'Real Housewives Of Potomac' Star Karen Huger Renting A Mansion Branded Throwing Money Down The Toilet In A Common Mistake Stars Make
Is Ashley Darby's Husband Michael Darby Jealous Of The Muscular Chef At His Restaurant And Vice Versa On 'Real Housewives Of Potomac'
Choosing Trendy Materials In Home Design Can Lead To Selling Problems Later As Seen On 'Real Housewives Of Potomac'