'Real Housewives Of Potomac' Star Karen Huger Renting A Mansion Branded Throwing Money Down The Toilet In A Common Mistake Stars Make
Karen Huger Teased For Downsizing On 'Real Housewives Of Potomac' With Claims She Is Going Broke
June 21. 2017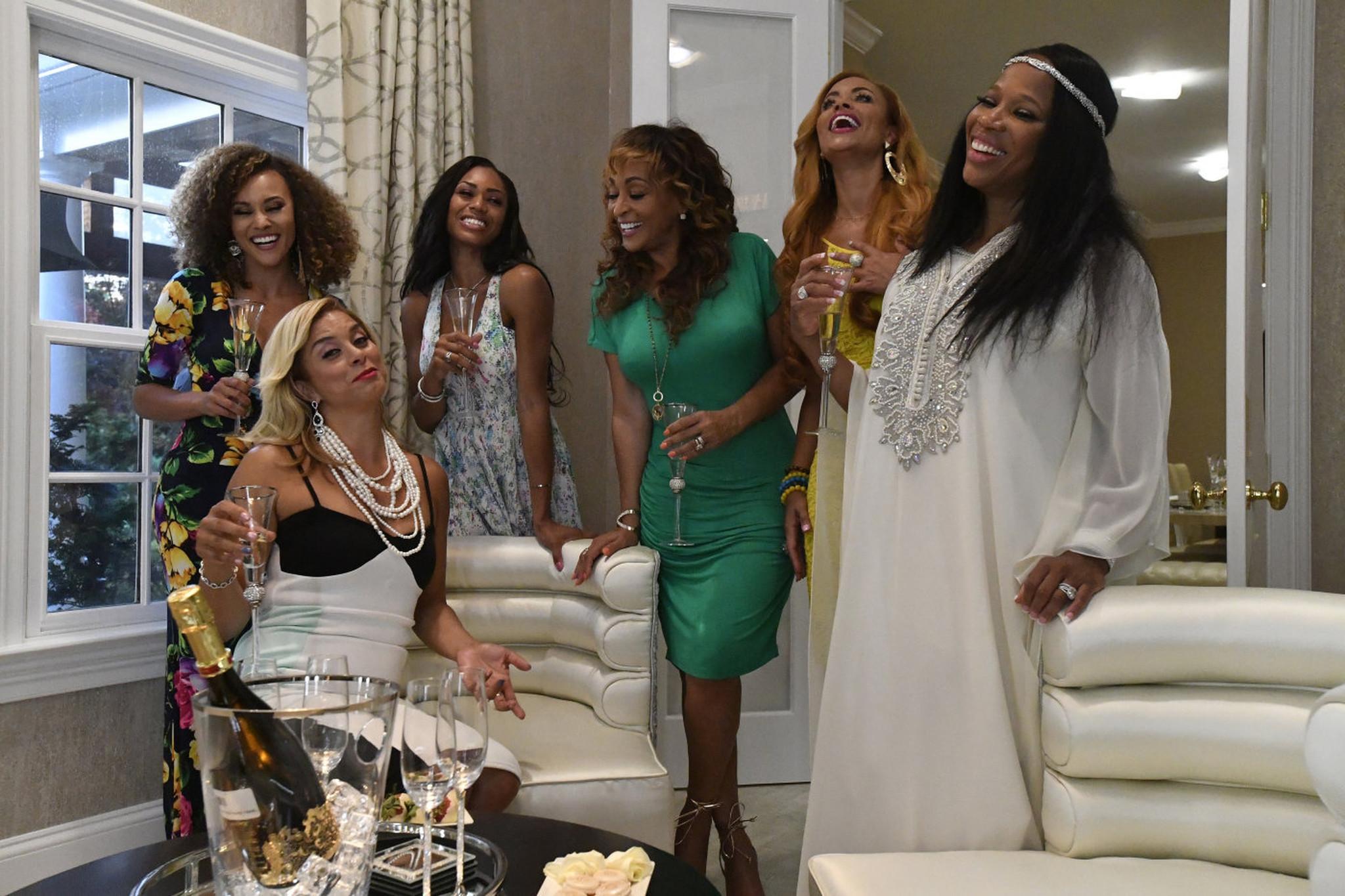 Real Housewives Of Potomac
"Real Housewives Of Potomac" reality star, Karen Huger, 54, refers to herself as the "Grand Dame" of wealthy Potomac. Karen also refers to her husband, Raymond Huger, as the "black Bill Gates." Raymond owns a technology company called Paradigm solutions. Therefore, Raymond and Bill Gates are in the computer industry. However, Bill Gates is the richest man in America.
Karen informed her fellow money oriented cast mates that she and her husband are downsizing, as their children have grown up and moved out of the house. However, cast mates Ashley Darby, Robyn Dixon and Charrisse Jackson-Jordan teased Karen, implying the couple is having money problems.
It's plausible the Hugers are having money problems. One of my friends is a computer engineer, who has a masters degree. He started a computer company in Jamaica and Miami. One of his first paychecks was a contract for $1,000,000 and he successfully completed it. He invested some of the money in buy two homes, a condo and land. However, due to the pressures of work, he got sick for a while from a stroke and had to cut back on his spending, as he was not working as much. The computer industry can be stressful and competitive. Maybe Raymond's business has slowed for some reason, prompting the Hugers to move to less expensive accommodations.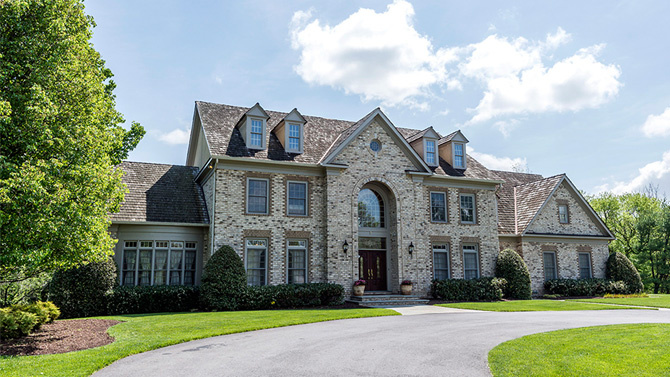 Karen and Raymond's house in Potomac, which they recently sold after 20-years of occupancy
Karen's cast mates kept teasing her about the step down in real estate status. Karen and Raymond are moving from Potomac, Maryland to Great Falls, Virginia, which costs less money. In Potomac you are paying for the address, which means land value, as opposed to the actual home structure.
Karen's new home in Virginia is nice and spacious. However, her cast mates teased her as it is not as prestigious as Potomac. The aspect that is more concerning should be Karen and Raymond are renting in Virginia, which could lead to financial problems via money they will not see again.
First off, I do not know the Huger's finances. Maybe they had a second mortgage on their Potomac home, which is a debt that would have to be satisfied prior to receiving proceeds, if any, from the house sale. Clearly, the couple do not have enough money to buy a new property in Potomac, which Karen loves or they would not move out to Virginia. There's nothing wrong with that (unless your sarcastic friends try to get back at you for bragging about being rich for years, as seen with Karen).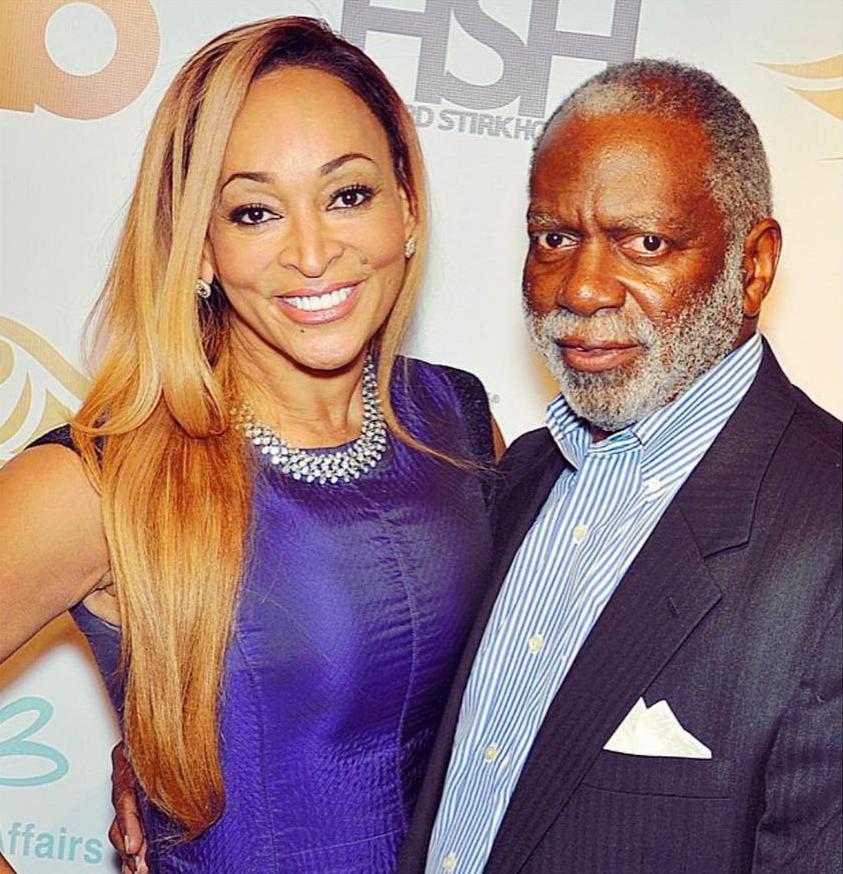 Karen Huger and Raymond Huger. By the way, you guys are wrong for calling Raymond "Uncle Ben." Don't hate. That's some good rice (LOL).
Ashley commented on the matter, "Everybody knows that renting is a waste of money. You're literally just putting that s**t in a hole and burning it. You're never getting it back." She is correct in that regard. It is a topic that has been covered on this site a number of times.
Ashley further teased Karen, "You're not gonna be the Grand Dame of Potomac anymore darling." Now, why did she say that (LOL). The vein stood up on Karen's forehead and she replied in anger, "That's you're opinion and I'm really not into titles and it's how I live." Ashley unwisely pushed further stating the title of "Grand Dame of Potomac" is now "being bestowed on Monique (Samuels)" whose husband, retired NFL star, Chris Samuels, just purchased a $5,000,000 mansion in the are. Karen became even angrier and slammed Ashley by stating, "I will talk to the real people who bestowed it upon me and not some idiot sitting across the couch on the end of it." Ouch! Ashley looked like she wanted to cry (LOL).
But back to the renting aspect of the story. It is better to downsize to a condo or smaller house you can afford to buy cash or mortgage, than rent a grand home you can't afford to buy. In trying to keep up appearances, you can go broke. Not to mention, purchasing a massive home that one cannot afford, will also be subject to constant taxes, insurance, maintenance fees and large utility bills, which can make one go broke as well.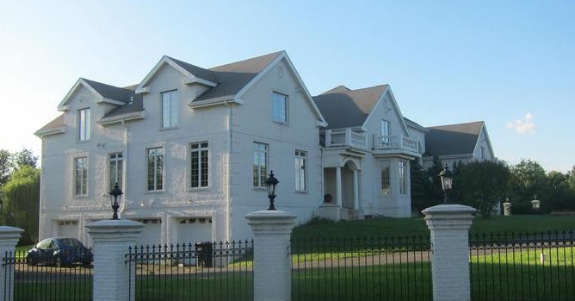 Karen and Raymond's new rental in Virginia
I see it happen in the entertainment and sports industries all the time and have written about it in past articles on this site. A celebrity makes a bit of money, then decides to rent/lease a mansion they can't afford to buy at the moment, but believe more money will later come in to qualify them for a loan or to purchase it cash. 90% of the time it does not happen that way. They either have to leave the house or end up evicted when their money quickly goes, over the financially unwise move of renting too much house they were not financially qualified for when they signed the lease contract.
I've seen rappers and athletes spend $200,000 to $1,000,000 in a year on rent to keep up appearances, in lavish properties they can't afford and have to leave in a couple years or less. That same money they spent on rent could have purchased a smaller, more affordable flat/condo or house that they would own outright.
I sometimes wonder regarding some entertainers and athletes who rent massive properties they can't afford to buy, if they truly realize what they are getting into at the time (not to mention monthly maintenance fees of heating/cooling and cleaning such mansions). It is very financially risky to rent lavish properties.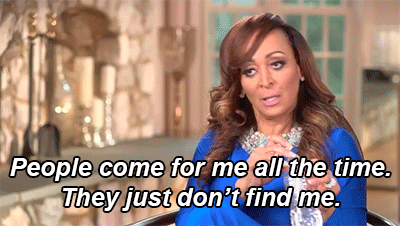 Ask yourself this, if billionaires with far more money than you, are buying and living in less expensive homes than the lavish, overpriced, over the top one you are RENTING, are you going in the right financial direction. The answer is no. That's just money down the drain. Rich people don't stay rich doing that. There's nothing wrong or shameful about living within one's means.
RELATED ARTICLES
Tyga's SUV He Took Back From The Mother Of His Child Chyna And Gave To Reality Star Kylie Jenner Is Being Repossessed
Kanye West $53 Million Dollars In Debt Begs Facebook's Mark Zuckerberg For $1 Billion On Twitter
Olympic Athletes Should Seek To Make The Most Of Their Money And Career Opportunities
Tyga Loses Bentley And Lamborghini Automobiles For Non-Payment
The Kardashians Making Rappers Kanye West And Tyga Broke
Sean Kingston's Bentley Repossessed In Latest Financial Woe