Report: Shaunie Cheated On Shaq O'Neal With A Music Promoter That Extorted Him
June 15. 2011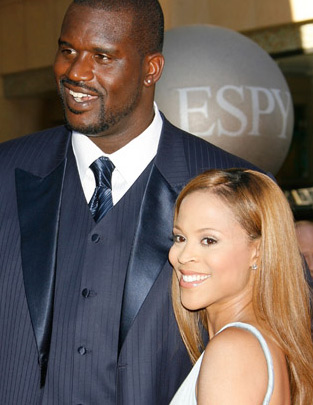 Shaquille O'Neal and Shaunie O'Neal
A police report regarding the arrest of seven Los Angeles Crip gang members has revealed, basketball player, Shaquille O'Neal, was being extorted by music promoter Robert Ross. O'Neal and Ross share the same business manager, Mark Stevens. The report is apart of an ongoing investigation, for which O'Neal is being questioned.
Crip gang member, Ladell Rowles, allegedly lead a group of six men, who ambushed Ross at a gas station, surrounding his Rolls Royce with guns. He was forced to Rowles' home, where he was beaten into revealing the alleged location of a sex tape featuring O'Neal and women, he'd brought to Ross' home to conduct affairs, while he was married to "Basketball Wives" star, Shaunie O'Neal (nee Nelson).
Ross informed O'Neal he had secretly filmed the basketball player in his home and was holding a sex tape of his affairs, which is illegal under U.S. and international law, as spying on or surreptitiously filming people, especially in a state of undress, is a serious crime.
Ross also alleges he told O'Neal he has been having an affair with his wife, Shaunie. According to Ross, Shaq had Shaunie followed by a private investigator, who confirmed the affair to the basketball player.
This mean Shaunie cheated with a music promoter, a Miami trainer ten years her junior and according to what I was told, an attorney as well. Since the time of her divorce, Shaunie's main boyfriend has been 23-year-old model, Marlon Yates. Yes, she likes them young.
STORY SOURCE