Rihanna Again Spotted At The Same Club With Karrueche Tran And This Time With Chris Brown
February 4. 2013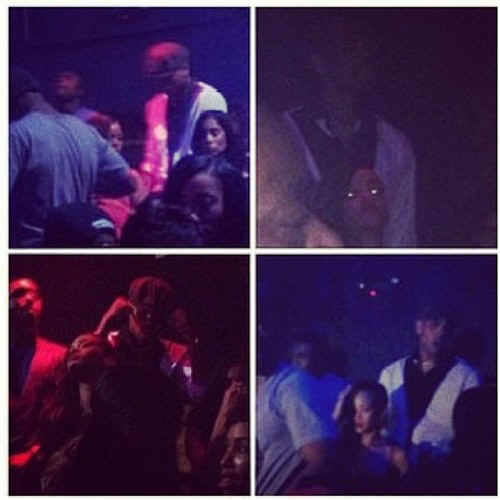 Chris Brown and Rihanna
The Chris Brown/Karrueche Tran/Rihanna just got ugly again. All three were spotted at Greystone Manor in Los Angles, California and according to VH-1 it ended with a jealous and furious Rihanna storming out, flinging her poorly matched weave over her shoulder in rage.
Was Tran, who was also at the club, infringing on her night with Brown. Did Brown invite Tran there with the intent of leaving with her, as he so often does after a night out. Or could it be the reports Tran was at the club with another man at Brown started crying (haha).
You know when Rihanna saw Tran the vein in her forehead fivehead stood right up and was ready to burst. Seeing Chris cry in jealousy over Tran with another man, could not have helped matters. But Rihanna brought this on herself as she started the feud with Tran always picking on the woman and throwing insults her way. Not to mention, crashing Tran's Rolling Out magazine cover launch party.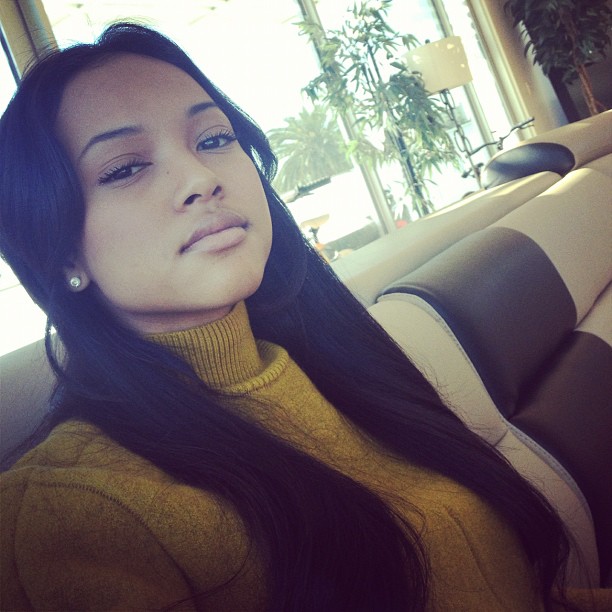 Karrueche Tran
The fact of the matter is Rihanna is scared and intimidated by Tran's hold over Brown. She knows that Brown will drop everything including her if Tran calls. Rihanna is second best in his life. Rihanna continues to put up with it as Brown sexually pursues other women in the industry and has sex with fans. Brown is even attracted to his own artist and women he's worked with who he's chatted up.
STORY SOURCE
Chris Brown In Tears After Rihanna And Karrueche Tran's Awkward Night Club Encounter -
February 4th, 2013 | 5:16 pm - Chris Brown leaves nightclub in tears after Rihanna and Karrueche Tran beef. Breezy is bummed, y'all. Leaving L.A.'s Greystone Manor night club in the wee hours of Monday morning, Chris Brown was spotted getting all misty eyed. We can't be sure, but it might have had something to do with the fact that his rumored lady love Rihanna had stormed out on her own a few minutes before. Just a thought.
It sounded like a pretty uncomfortable night out for all concerned as Brown's ex-Karrueche Tran also showed up at the very same night club, on the arm of another dude. Jeez you guys, Los Angeles is a pretty big city. Why does this damn love triangle keep partying at the same places!? All this awkwardness could have totally been avoided if they'd just checked in on Foursquare.
Whatever the case, and whatever his relationship status, emotion seemed to get the better of Brown as he was seen in tears being driven away from the club with his entourage, but without a lady...