Rihanna And Chris Brown Slammed On Embarrassing Episode Of 'Law And Order SVU' (Video)
February 27. 2013
Today, the long running television drama "Law And Order" aired a thinly veiled episode about the Chris Brown and Rihanna domestic violence case from 2009. The episode is entitled "My Funny Valentine." The show is known for lazily taking people's real lives and turning them into story lines, which has resulted in lawsuits.
The character "Caleb Bryant" is Chris Brown (both have the initials C.B.). The character "Misha" is Rihanna. However, couldn't they have chosen a name for the character such as Rita or Hannah, which sounds more like Rihanna, rather than a name, Misha, that is one letter different from mine, Aisha, even sounds like it (names rhyme) especially given Chris Brown's stalker conduct regarding me.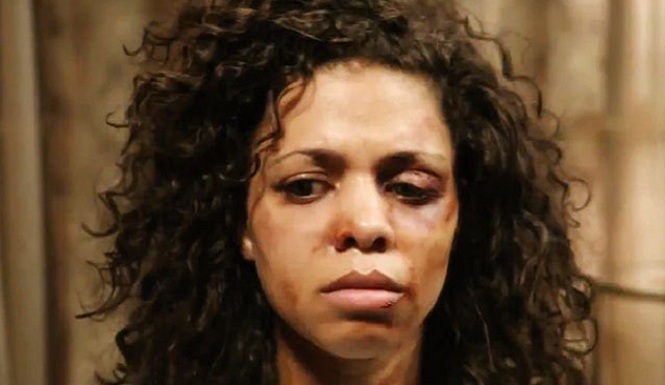 Actress made up to look like Rihanna after Chris Brown beating
Caleb (Chris Brown) is caught cheating with a blonde haired black female singer, upsetting his girlfriend Misha (Rihanna). When Caleb (Chris) is confronted by Misha (Rihanna) a fight ensues in a recording studio and he beats her to a pulp (beating and choking). The police on the show state an abuser who strangles is more likely to kill the person at a later date if they remain together (hint hint).
Misha's (Rihanna) producer/rapper, Brass, who has a wife and child (coincidentally named Chris), is clearly Jay-Z, who is made to look like a father figure (however, in real life, the Jay-Z has been seen going into and out of hotels with Rihanna, giving many outlets the impression the two have a sexual relationship).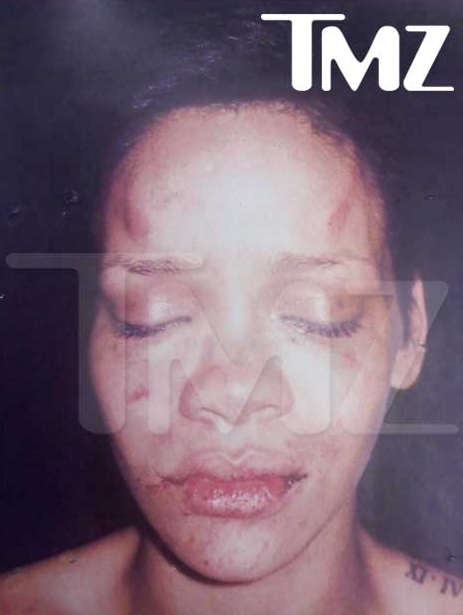 Rihanna's actual assault photo from the LAPD
A lawyer similar to Brown's real attorney, Mark Geragos, is seen pulling the race card against the police when "Caleb" is arrested. "Law And Order" even takes jabs at the couple in the show stating the characters, "Should go on a double date with Chris Brown and Rihanna."
There are other similarities between the show and Rihanna and Brown's real lives. Caleb (Chris) is sentenced to 5-years probation. Misha (Rihanna) has an endorsement deal with a cosmetic company (Cover Girl). Misha (Rihanna) does a duet with Caleb (Chris), which the couple has done in real life. A leaked police picture of Misha (Rihanna) battered face appears in the press (which actually happened thanks to TMZ bribing an LAPD officer). Misha (Rihanna) and Caleb (Chris) go to Bermuda in the Caribbean (Rihanna is from Barbados in the Caribbean and went there several times with Brown).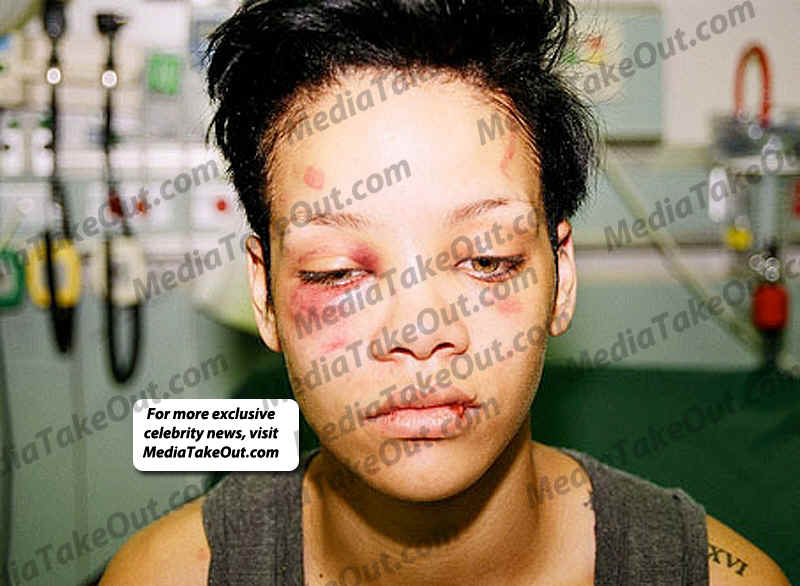 Caleb (Chris) makes an appearance on TV wearing a sweater and bow tie to apologize for his conduct (Brown actually did that on CNN). Caleb (Chris) violates the restraining order and goes to Misha (Rihanna) hotel, then leaks photos of it online (actually happened between Rihanna and Brown as well). Misha (Rihanna) family painted as enablers who "only call when they need something...she pays for all their bills" which is true in real life regarding Rihanna. Misha (Rihanna) mother's boyfriend is an abuser as well, much like Rihanna's actual father.
Caleb (Chris) gets a tattoo of Misha (Rihanna) battered face, which is something Brown did in real life. Caleb (Chris) is caught with marijuana, a probation violation. Brown was caught with marijuana in his system.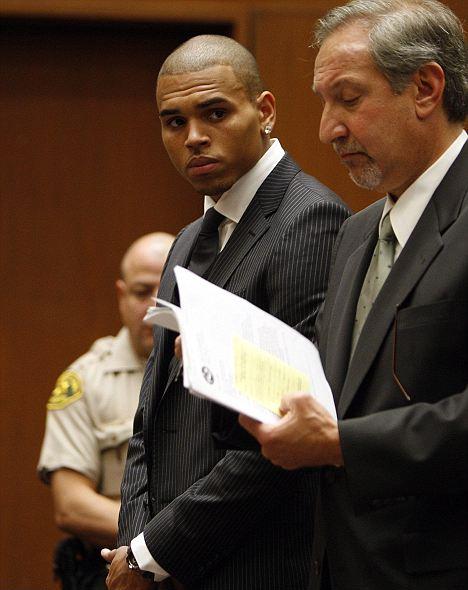 Chris Brown and Mark Geragos in Court
Towards the end of the show, a fight breaks out in a night club in New York (which actually happened regarding Chris Brown and Rihanna at the now closed club W.i.P.). Glass is strewn all over the club (much like the W.i.P. fight). However, Brass, the character representing Jay-Z, is confronted by Caleb (Chris), called an "old man" and threatened. Caleb (Chris) opens fire, killing Brass (Jay-Z).
At the very end of the episode, they go to Bermuda (Barbados) and spend time on a boat, Caleb (Chris) still cheating on Misha (Rihanna) gets a text from another woman again (which is what allegedly started the first fight). Misha (Rihanna) inquires about the text and Caleb (Chris) loses his cool, killing her and dumping her body overboard.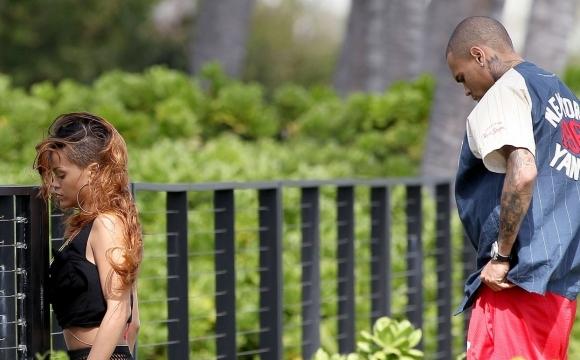 Rihanna and Chris Brown this month
Talk show host Wendy Williams and blogger Perez Hilton make an appearance on the show as themselves. The two have frequently talked about the case in the press. "Law and Order" made Brown look like an arrogant monster and Rihanna a foolish pushover being used by him. They both need to pay attention as the show represents their public image. It is a close depiction of how many people see them and it is not a flattering one.
RELATED ARTICLES
While Bleeding Rihanna Had A Bottle Thrown At Her Karrueche Tran Had Custody Of Chris Brown's Crown Jewels (Penis) On The Other Side Of The Pond
Rihanna Gets Chris Brown For A Few Days After Karrueche Tran Had Her Way With Him