Rihanna And Not Karrueche Tran Appears In Court With Chris Brown Trying To Keep Him Out Of Jail
Tran Couldn't Help Him In His Criminal Case So He Is Using Rihanna
February 6. 2013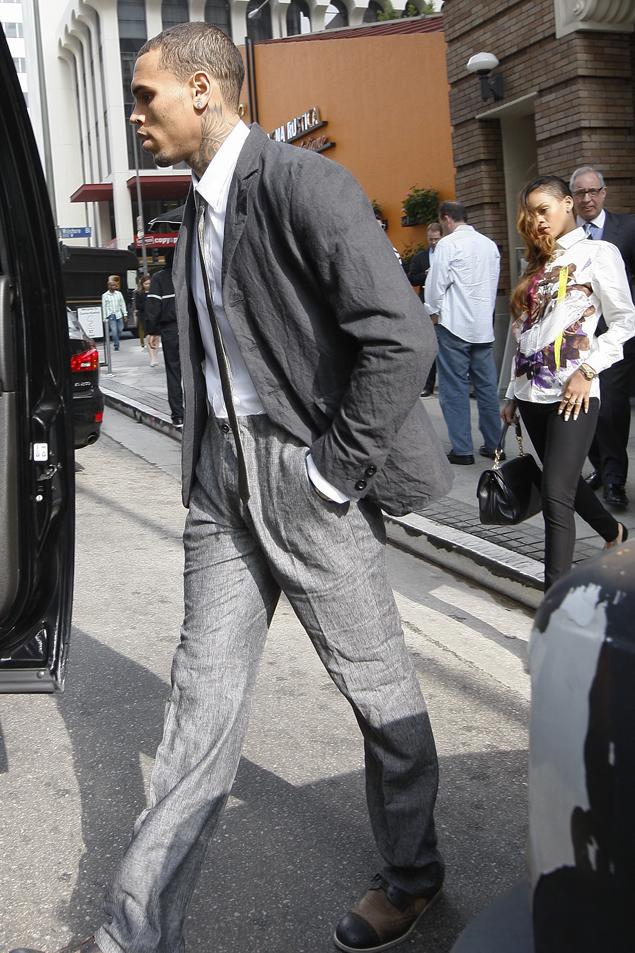 Chris Brown and Rihanna in court today
Chris Brown went to court today in Los Angeles, California on a series of probation violations. Much to the offense of many women's groups, Brown brought singer Rihanna with him for sympathy and support. Brown's probation stems from the 2009 domestic violence case, regarding Rihanna, who initiated a fight with him that he unwisely finished. Many have stated she feels guilty about him being arrested and placed on 5-years probation, as she started the fighting by repeatedly hitting him. While others state he should not have hit her back.
Brown's lawyer, Mark Geragos, was very angry outside the courthouse today, claiming Brown is being "tortured." No, torture is getting beaten up. However, Geragos insists the prosecutor is picking on Brown in seeking to violate his probation for falsifying community service hours. One of the main points of contention is the claim Brown was on a private jet to Cancun, when probation reports claimed he was performing community service in Tappahannock, Virginia.
Geragos is seeking sanctions against the prosecutorís office over the claims, but Brown has repeatedly gotten himself into trouble against the advice of his attorney. There exists grounds to revoke his probation, such as phone theft, fighting and stalking. If the prosecutor can successfully present evidence Brown was in Cancun when he claimed he was doing community service in Virginia, it would constitute a clear probation violation. The fight with gay entertainer Frank Ocean was the last straw for some and has angered homosexuals in Hollywood, who are pushing for Brown to be locked up.
The fact of the matter is the court has given Brown many chances and he has repeatedly played with fire, acting like he can get into confrontations with anyone, snatch phones and throw chairs through windows and nothing will come of it.
RELATED ARTICLES
Chris Brown Quits Social Networking Again And This Time It's Instagram
Chris Brown's New Cast On His Hand After Frank Ocean Fight Being Spun Two Ways By Those For And Against Him
Chris Brown Is In Trouble And Facing Jail On Probation Violation As Frank Ocean Changes His Mind Demanding He Be Prosecuted For Punching Him