Rihanna Brands Press And Fans Ungrateful Over Her Failed Promo Tour
November 22. 2012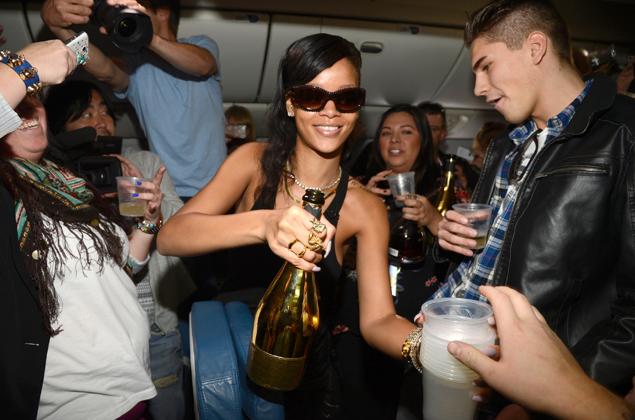 Rihanna drinking alcohol on first day of promo tour then she vanished into the first class cabin to do weed and cocaine for the rest of the trip
Rihanna has been grumbling and complaining regarding her fiasco of a promo tour, where her label rented a 777 plane and had 200 journalists, bloggers and fans cooped up in poor conditions like animals, while she ignored them and got high in first class.
How and why celebrities, especially undeserving ones like Rihanna, develop these complexes that people are to be happy even if you take a dump on them, is a mystery. According to reports on other blogs, Rihanna, who clearly believes the sun shines out of her non-singing backsides, branded the people on board "ungrateful."
I ask, if you were cooped up on a plane for a week with inadequate toilet facilities, no shower, very little food and nowhere to sleep other than your cramped chair, would you be happy and grateful. I think not. Even FEMA could have done a better job. This promo tour was not about helping or getting close to anyone. It was a self-centered publicity grab by a fading faux singer, whose sales are in the toilet.
Rihanna's also not the first to embark on a promo tour cramming seven cities in one week. Pop and rock singers in the 1980s and 1990s have done it before with better results and no complaints. The whole mess has made Rihanna look desperate, unprofessional and ungracious.
RELATED ARTICLES
Boycott Rihanna And Kabbalah For Violating The Constitution And Copyright Act
Rihanna Pictured Looking Angry After Photos Posted Of Karrueche Tran Leaving Chris Brown's House In The Morning After Night Of Passion