Rihanna Criticized Over Plea Against Gun Violence In The Wake Of Her Cousin's Murder In Barbados As She Has Espoused Violence
January 9. 2018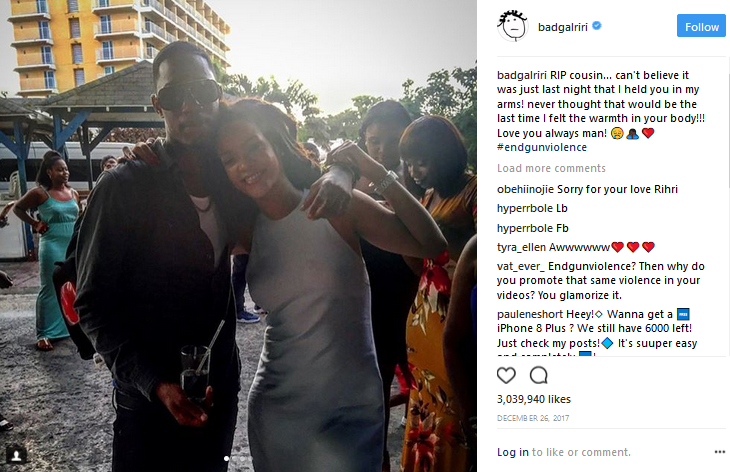 Rihanna and her cousin Tavon Kaiseen Alleyne
Rihanna is being slammed on social networking and blog feedback sections, over a plea she made against gun violence, in the aftermath of her favorite cousin's shooting death in their native Barbados. The singer's cousin, 21-year-old Tavon Kaiseen Alleyne, was shot to death in St Michael, Barbados. 23-year-old Shawayne DaShawn Williams has been arrested by police in reference to the murder.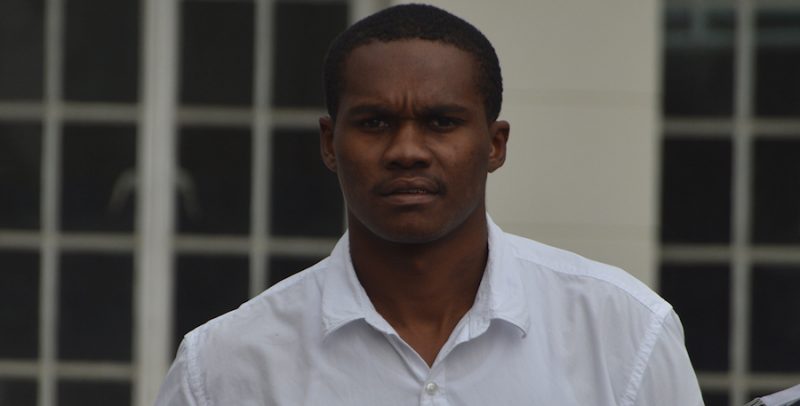 Shawayne DaShawn Williams has been held for the murder of Rihanna's cousin
Rihanna is being called a hypocrite on pop culture website feedback sections and social networking over calling for an end to gun violence, as she has released very violent music videos depicting people being shot and abused (including women). Rihanna also has a gun tattoo on her body that she proudly displayed on social networking.
STORY SOURCE
Rihanna Calls for End to Gun Violence After Cousin's Death
By Melissa Chan December 27, 2017 -Rihanna on Tuesday called for an end to gun violence as she mourned the loss of her cousin, who was reportedly gunned down after Christmas in her homeland of Barbados, hours after the two were together for the holidays. In an emotional Instagram post, the stunned singer recalled how she had just seen her cousin before he was shot and killed. "Can't believe it was just last night that I held you in my arms!" she wrote. "Never thought that would be the last time I felt the warmth in your body!!!"
Rihanna ended the Instagram post with the hashtag #endgunviolence. She did not name her cousin, but she tagged his Instagram account in one of the photos. Nation News, a news publication in Barbados, identified the slain man as 21-year-old Tavon Kaiseen Alleyne, although a representative for Rihanna did not immediately respond to a request for confirmation Wednesday. Citing police, the local news outlet said Alleyne was shot multiple times while walking around his house.
In February, Rihanna's cousin wished the superstar a happy birthday in an Instagram post. "Every day we are happy to have you in our lives," he wrote. "Your presence in my life is a source of joy and happiness. To my favorite cousin, may all your dreams and wishes come true."
Man accused of murdering Rihanna's cousin held
January 9, 2018 - (BARBADOS TODAY) – A St Michael man has been remanded to Her Majesty's Prison Dodds in connection with the shooting death on Boxing Day of the cousin of Barbadian superstar Rihanna. This afternoon Shawayne DaShawn Williams, of Whitehall #1, appeared before Magistrate Douglas Frederick in the No.1 District 'A' Magistrates' Court, charged with the murder of 21-year-old Tavon Alleyne on December 26, 2017.
Attorneys-at-law Rashida Edwards and Angella Mitchell-Gittens of Pilgrim and Associates represented the 23-year-old accused, who showed no emotion as the charges were read out to him. However, he was not required to plead to the indictable offence and was remanded until January 31, 2018. Today, a number of curious onlookers were gathered outside of the court, including two of the victim's sisters.
On the fateful day, Alleyne was walking through a track near his home at Lakes Close, Eden Lodge, St Michael, when he was approached by a man who shot him multiple times. The assailant then fled the scene. The victim was rushed by private vehicle to the state-run Queen Elizabeth Hospital where he later succumbed to his injuries. Since then Rihanna has added her voice to the chorus of calls for an end to rising gun violence on the island, in the wake of 30 murders, including 23 that were gun-related last year.