Rihanna Finally Admits That She Is Crazy
April 21. 2012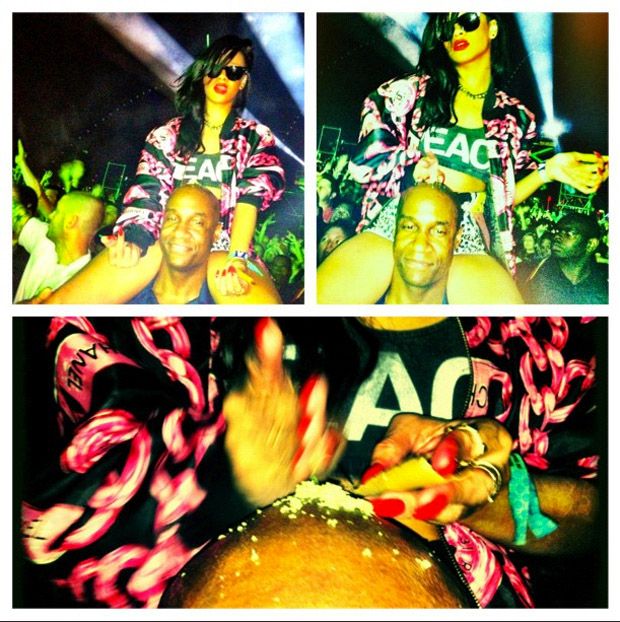 Rihanna doing cocaine off her bodyguard's head at Coachella music festival. Rihanna continues to shame herself and her family with disgraceful acts.
For a few years, the Judiciary Report has maintained that faux singer, Rihanna is a crazy, depraved person, who is a chronic copyright infringing thief, liar and a fraud. She has made a career out of theft of copyright, which means her career is a complete sham and a farce.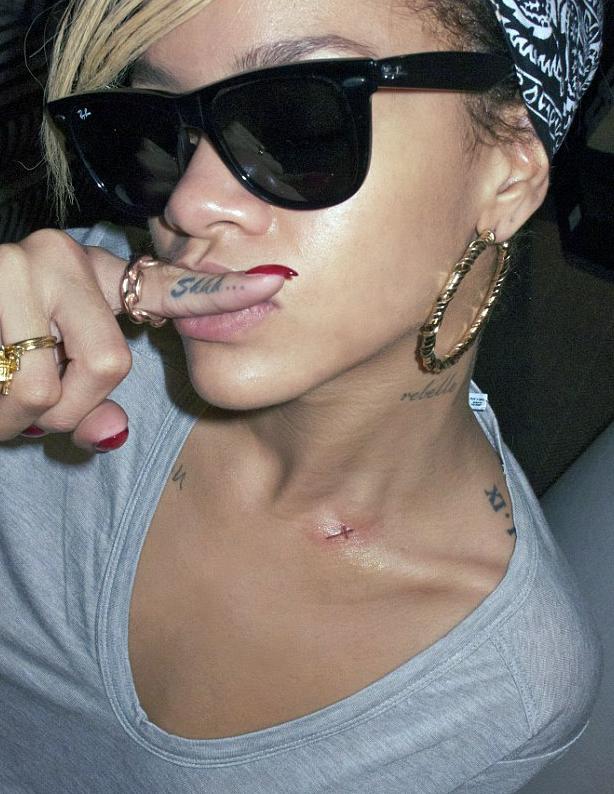 Rihanna wearing an illuminati sideways cross tattoo on her neck, which is a symbol of devil worshiping.
This year, Rihanna has let the mask slip in a major way, with one high profile blunder after another that reveals the Kabbalah cult member is very mentally ill and is in fact a schizophrenic devil worshiper. On April 13, 2012, the Judiciary Report ripped Rihanna a new one, partially exposing how sick and perverted she is and how her awful conduct has damaged others, whose rights she has criminally violated.

Rihanna finally admits the truth after lying and pretending for years
Though her conduct in tandem with the Kabbalah cult she belongs to, who is under criminal investigation, has caused me extensive damage that nearly cost me my life, I could have gone the "poor me" route for public sympathy, but that's just not who I am, because I believe in peacefully and intelligently fighting back within the scope of the law when I am wronged. My mother always says "leave people to time" when they harm or wrong you, as God will reveal the truth, bring justice and set the record straight, pardon the pun. Rihanna has been exposing herself for what she is - a complete and utter fraud, thief and degenerate, who belongs in prison (along with the rest of that sick cult).
RELATED ARTICLES
Rihanna And Madonna's Kabbalah Committed Copyright Infringement In Stealing The Film Battleship
Rihanna Had Sex With Ashton Kutcher And Was Spotted At His House Late Last Night
Rihanna Fans Are Threatening To Kill Chris Brown's Girlfriend Karrueche Tran
Rihanna Uses Mean Racial Slur In Reference To Chris Brown's Girlfriend Karrueche Tran (Photo)