Rihanna's Friend Slams Chris Brown's Girlfriend Karrueche Tran But She Keeps Going To His House When He Calls Anyway
Did Brown Clown Rihanna
October 24. 2012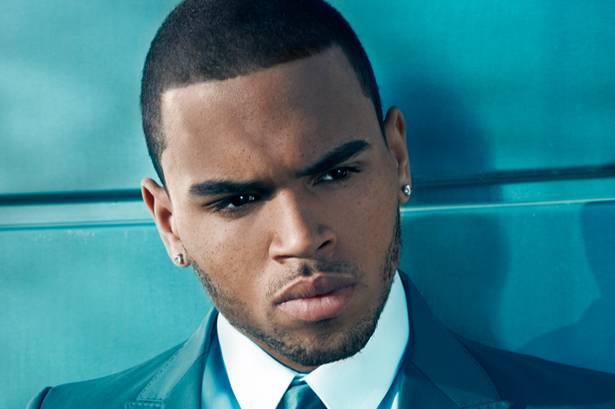 Chris Brown is having his cake and eating it too (look for a trip to the clinic soon)
Rihanna's friend and mouthpiece waded into the debauchery that is singer Chris Brown's love life. As some of you know, as the rest of you don't care, Brown has been dating so-called singer Rihanna and model/dancer Karrueche Tran at the same time (in addition to other sex partners he has scattered in five states). Rihanna is the one getting angry over his conduct, as she believes she should be the only one.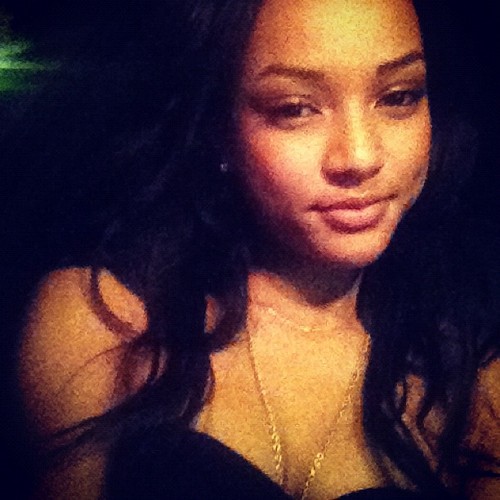 Chris Brown is in love with Karrueche Tran, who did the walk of shame again, twice in the last few days. Rihanna has been floating stories online that Tran was spotted at his house only to get her things, but it doesn't take 3 weeks, 4 visits and overnight stays to move one's things out. Uh oh!
Her friend put her two cents into the bickering, taking potshots at Tran on Twitter by calling her a "broke bi*ch" because Brown gave her $20 in gas money, to put in the Porsche he bought that she is usually seen driving in paparazzi pics (Brown has also bought Tran expensive purses, jewelry and clothes making Rihanna upset). Rihanna's friend is deluded. Like Rihanna is some virtuous woman. When she was underage, she landed a record deal and money from having sex with adult rapper Jay-Z.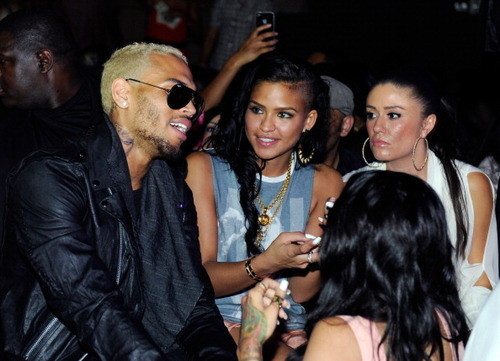 Chris Brown chatting up, er, singer, Cassie who looks like she likes him, because she is usually scowling (hmm where's her boyfriend Diddy)
Then Rihanna proceeded to steal preexisting, Library of Congress registered copyrights from people to fuel her fake career and has been sued a few times already for having done so. Rihanna has not earned a dime she has made, as it was gained through ill-gotten means, making her a thief and criminal in the eyes of the law, both domestic and international (not to mention a prostitute). Copyright infringement is a crime.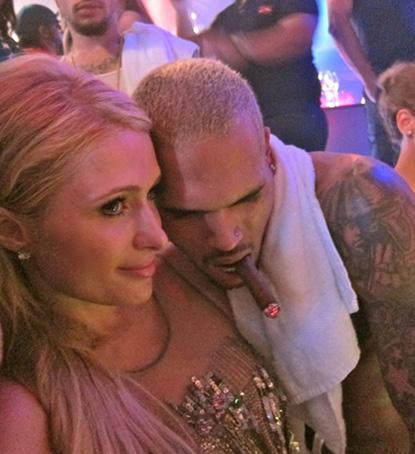 Chris Brown getting close to Paris Hilton (well, that's not really out of the ordinary, as she sleeps with everyone)
Rihanna is not better than Tran. Many online have even stated Tran is prettier. Rihanna needs to come down off her high horse, as she's been doing far worse things than Tran to get money. If there's anyone that should be angry regarding relationships, it should be the wives of the married industry men Rihanna has been sleeping with to get ahead in her career, which has hit the skids (it's just as well, as it wasn't earned anyway).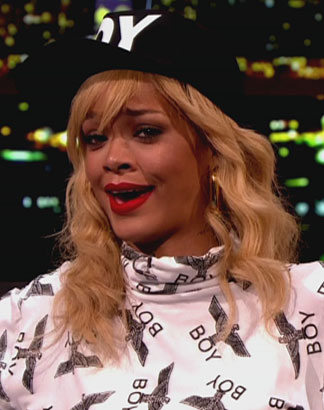 Rihanna looking weak and foolish for being so desperate for cheating Brown
How can Rihanna demand loyalty from Brown when she has shown him none in prostituting herself to married men and others in the industry, who have girlfriends. It's hard to respect a person who does that and that's why Brown treats her any old way he feels like. A relationship cannot properly function with all that promiscuity running in the background. Resentment will occur if the person feels they are dating the "village bicycle."
Rihanna Had Sex With Ashton Kutcher And Was Spotted At His House Late Last Night
Rihanna Fans Are Threatening To Kill Chris Brown's Girlfriend Karrueche Tran
Rihanna Uses Mean Racial Slur In Reference To Chris Brown's Girlfriend Karrueche Tran (Photo)