Rihanna Who! Chanel Clowns Rihanna Slamming Her Claim She Is Their New Model
First Nivea Drops Her Now Chanel Tells Her To Kick Rocks
April 17. 2013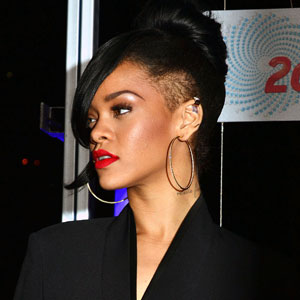 Rihanna needs to stay off the drugs
online that she just completely a new ad campaign, indicating it was for Chanel. The image conscious brand Chanel rushed to Vogue magazine to distance themselves from her stating she is not the new face of their brand. Rihanna said it was "top secret" - apparently so top secret Chanel didn't even know about it. Chanel told Rihanna what she told Karrueche online a few months ago "Ph*ck (f**k) you and your modeling pictures." And that is all...
STORY SOURCE
Rihanna Is Not The New Face Of Chanel
15 April 2013 - RIHANNA is not the new face of Chanel, we can confirm. A spokesperson from the fashion house told us that the Vogue cover girl has not been photographed for one of its campaigns - despite a succession of reports to the contrary.
Online speculation first emerged back in January, when the singer shared a picture on her Instagram account - in which she appeared to be wearing Chanel jewellery - alongside the comment: "And that's a #wrap on my shoot for my new #topsecret ad campaign!!! #2013". The post was quickly followed by a number of reports suggesting that she could be the new face of the brand's accessories line.