Shark Bites Man In Miami In Unprecedented Attack (Video)
July 18. 2017
If you've read my Twitter page for any time you will know that I have written about sharks on different occasions. For years I have expressed my concern sharks would come to the shore in Miami, Florida and bite someone. A few short years ago, sharks were spotted a few miles off Miami's shores, but not considered a danger. However, what I previously expressed concern about online has happened, as a shark came right up to the shore in Miami a few days ago and bit someone on both legs, in what is an unprecedented attack. The swimmer was seriously wounded and taken to the hospital on July 9, 2017. The shark sighting and the aftermath of the attack was caught on video.
I have seen many documentaries on sharks. The odd thing is the shark that came to the shore in Miami and bit the swimmer, was a bull shark and they are usually found in the waters of South America. Miami is a far way from South America. It is my theory global temperatures are bringing sharks closer to the shore. The world is out of whack and it is causing unnatural and unorthodox incidents regarding the environment, wild life and weather events.
Another serious issue regarding Miami and a number of other cities is costal building. Too many buildings have been erected far too close to the shores. The water is going to rise and come in. Rising waters and other whether phenomenon will prove very problematic for residents of buildings built too close to the water.
Builders need to bear this in mind when erecting new structures. While the views are breathtaking and you can charge more money in property prices for said vistas, stop building so close to the shore. There are some towers that you can look over the balcony and the sand is right there. It's the same story in Malibu, California. Some homes are literally built on the sand.
My previous tweets on Twitter.com about sharks: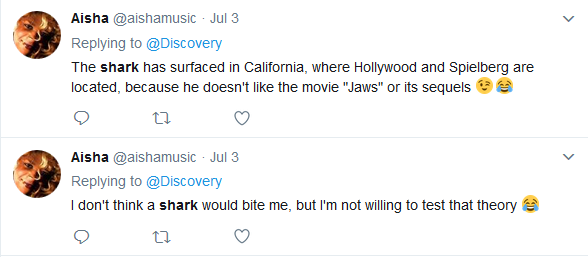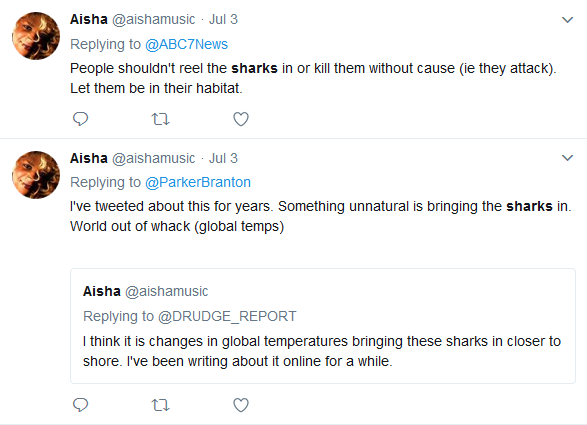 STORY SOURCE
Shark attack sends swimmer to the hospital
July 09, 2017 6:56 PM - A swimmer who was bitten by a bull shark at Haulover Beach was rushed to the hospital Sunday afternoon, officials say. The man was attacked after lifeguards told beachgoers to get out of the water. "In the process of exiting the water, a beachgoer was bitten in the lower extremities by what appeared to be a four- to five-foot bull shark," said Erika Benitez, spokeswoman for Miami-Dade Fire Rescue. "The person was able to get out of the water, and MDFR Ocean Rescue lifeguards immediately rendered assistance."
Fire Lt. Matt Sparling said, "In my 20 years as a lifeguard, this is the first time a person has been bitten here at Haulover Beach, and possibly the first for Miami-Dade County." The swimmer, who was alert and conscious, was transported to Aventura Hospital with injuries to his lower limbs, according to Miami-Dade Fire Rescue.