Smiling Rihanna Pictured With An Uneasy Looking Chris Brown While Karrueche Tran Let's Her Know Who Is Boss
December 26. 2012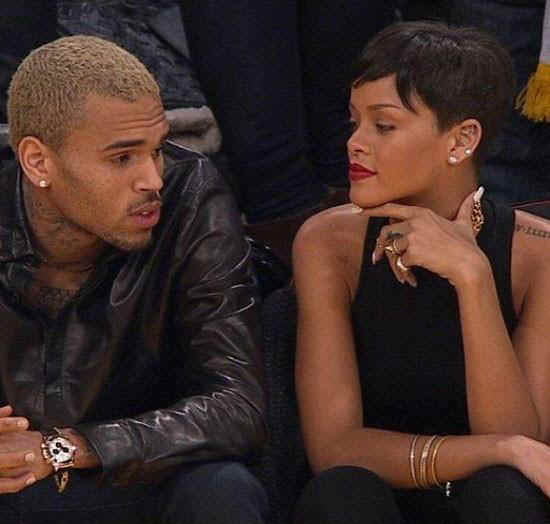 Chris Brown and Rihanna
A smiling, beaming Rihanna was pictured next to an uneasy looking Chris Brown at the Los Angeles Lakers Christmas day basketball game in California. The body language spoke volumes. It's funny, as weeks ago I stated Brown was cheating on Rihanna with a blonde groupie in Europe and within days she changed her schedule to rush to be with him on his Carpe Diem tour. Then, the minute she left the tour, Brown sent for his other girlfriend, Karrueche Tran, enraging Rihanna.
Two days ago, I published a deliberately irritating article stating Rihanna is in Barbados by herself, sad and frowning, while Chris Brown is set to spend Christmas with Karrueche Tran in Los Angeles - and even though it is cold there, she is going to keep him warm (Rihanna, Chris Brown and Karrueche Tran This Christmas).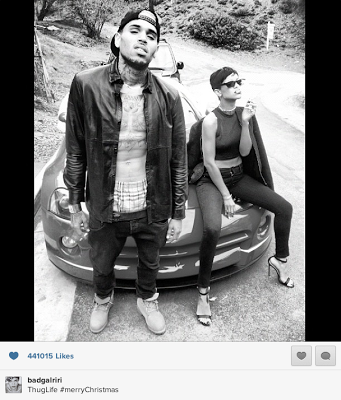 Rihanna and Chris Brown high as kites on Christmas Day
And again, what does Rihanna do, she hightails it all the way from Barbados to Los Angles, acc 6-hour flight, abandoning her family at Christmas to be with Brown, who doesn't look all that pleased. Tell me, if I write Karrueche Tran and Chris Brown are going to jump off of a cliff, will Rihanna rush to get there first trying to beat Tran to it (by the way, no one do that, as suicide is wrong).
Singer Christina Milian has stated her friend, Tran, is Brown's girlfriend. To the average woman that would mean he is not available. But Rihanna keeps embarrassing herself going after Brown like he's single and it's not a good look. It smacks of desperation and ego.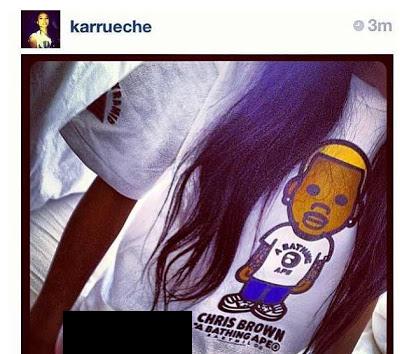 Karrueche Tran wearing Chris Brown's shirt and her underwear in a photo she put up and quickly took down (Photo snap courtesy of Rhymes With Snitch)
Meanwhile, Tran is posting photos of herself online in a negligee and another in her underwear and Brown's customized shirt with his name on it, letting Rihanna know she is still in the picture. It's battering Rihanna's ego that Tran is still around. Still, why are they fighting over this dude...
Rihanna does read the site, as does all of Roc Nation and Chris Brown, who stalked me twice in Miami, which was upsetting seeing him in front of me like that, as I am not a fan of his behavior. That set is so disconnected from reality, they believe they are to get whatever they want, when they want it, no matter who is inconvenienced, offended or hurt. Not a good way to be.
RELATED ARTICLES
Rihanna's Drastic Response To Chris Brown Having Sex With French Reality Star Ayem Nour