Stock Market Plunges 500 Points
Bush Refuses To Help
September 15. 2008
Further proof that America is in a recession, despite President Bush's claims to the contrary, came today via the folding and bankruptcy filing of Lehman Brothers and the subsequent 500-point plunge of the U.S. stock market. These are not good times for Wall Street.
Lehman is one of America's oldest investment firms that now has the dubious distinction of the largest bankruptcy filing in U.S. history, with $613 billion in debts, mostly from the mortgage crisis.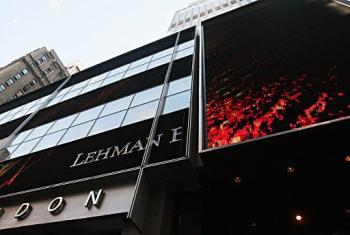 Lehman Brothers (photo courtesy of the AP)
President George W. Bush's terrible corporate policy of letting financial institutions batter the American people for huge profits, has once again produced terrible results.
However, like a true turncoat accomplice, Bush is obstinately refusing to help the famed investment firm. He needs money for the war and a little thing like the U.S. economy tethering on the verge of total financial collapse isn't going to get in the way of that.
Dow plunges 500 points; Lehman failure sparks rout
NEW YORK (AFP) — US shares went into a freefall Monday as part of a global rout after a bankruptcy at Lehman Brothers stoked fears about contagion affecting world markets and the economy.
The blue-chip Dow Jones Industrial Average tumbled below 11,000 with a loss of 504.48 points (4.42 percent) to 10,917.51, its largest one-day point loss since the reopening after the September 2001 terrorist attacks.
Lehman folds with record $613 billion debt
NEW YORK (MarketWatch) -- Lehman Brothers Holdings is closing its doors with more than $600 billion of debt -- the biggest bankruptcy in U.S. history.

The previous largest bankruptcy was that of WorldCom Inc. in July 2002, which had $104 billion of assets.
The Chapter 11 Petition filing with the Bankruptcy Court of the Southern District of New York shows that Lehman has more than 100,000 creditors and more than $150 billion in outstanding bond debt.
Hank Paulson has turned a drama into a crisis
By punishing shareholders, the US Treasury Secretary had made the rescue of other troubled banks almost impossible
It looks as if the prophets of doom may have been right after all. With the demise of Lehman Brothers and Merrill Lynch - and the threatened collapse of the world's largest insurance company, American International Group - we are now unquestionably in the worst financial crisis since the Great Depression.