Taylor Swift And Ed Sheeran Keep Getting Credibly Sued For Committing Copyright Infringement And With Good Reason
January 18. 2018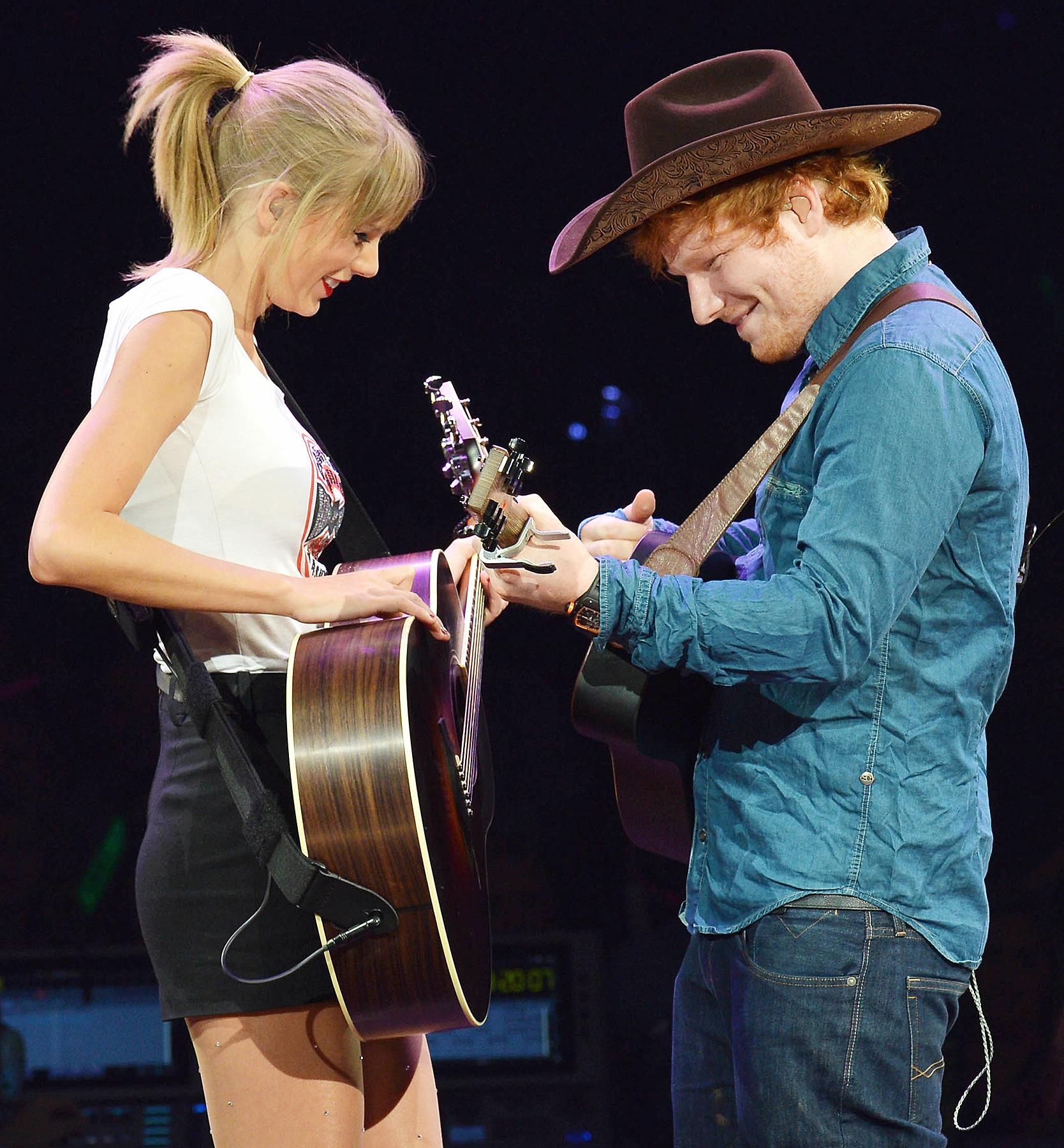 Taylor Swift and Ed Sheeran
Friends with benefits and drug users, Taylor Swift and Ed Sheeran, have been repeatedly sued for copyright infringement, in stealing preexisting music from others. The intellectual property theft allegations against them are vast, valid and credible. To anyone who knows the history of pop and R&B music, the thefts become very apparent upon listening to the songs.
Let's begin with Sheeran, who was given an MBE by the Queen, for music he has deliberately and criminally stolen from others, in open violation of domestic and international copyright laws. These thefts are felonies, due to the value of the songs, which has brought Sheeran millions of dollars in criminal, ill-gotten gains. Not to mention, the copyright infringement is "willful" (deliberate) which under the law is "criminal copyright infringement."
Sheeran has repeatedly and deliberately stolen other people's copyrights, taking credit and payment for preexisting songs he had nothing to do with writing. Mainstream press outlets have reported on copyright thefts by Sheeran that resulted in lawsuits:
Sheeran's 2014 song "Thinking Out Loud" is stolen from the 1973 preexisting song "Let's Get It On" by the late music legend Marvin Gaye. Sheeran has been sued by the Gaye estate over the brazen copyright theft of what is a well-known R&B hit.
Sheeran's 2017 song "Shape Of You" is stolen from the 1999 megahit "No Scrubs" by top selling girl group TLC. "No Scrubs" was written by former Xscape girl group members turned reality stars, Kandi Burruss ("Real Housewives Of Atlanta") and Tameka Cottle ("TI & Tiny: The Family Hustle"). It was produced by Kevin Briggs. Sheeran was sued over the brazen theft. He settled the lawsuit and added Burruss, Cottle and Briggs names to the songwriter credits and royalties for "Shape Of You."
Sheeran's 2014 song "Photograph" is stolen from Matt Cardle's 2011 song "Amazing." Sheeran was sued by songwriters Martin Harrington and Thomas Leonard, who wrote "Amazing." They've also written hits for Celine Dion and Kylie Minogue, among others. Sheeran settled the case out of court.
Sheeran, fancying himself a songwriter, sold the song 2017 "The Rest Of Our Life" to country music singers Faith Hill and Tim McGraw. However, it turns out Sheeran had stolen "The Rest Of Our Life" as well. Now Sheeran, Hill and McGraw have been sued for $5,000,000 for copyright infringement. Sheeran stole "The Rest Of Our Life" from the preexisting 2015 song "When I Found You" by country singer Jasmine Rae.
There are other infringement claims circulating against Sheeran that have not reached the lawsuit phase yet. He is a complete fraud. He is not a songwriter. He has made millions, received many awards and an MBE from the Queen, for being an outright thief and criminal. What a disgrace.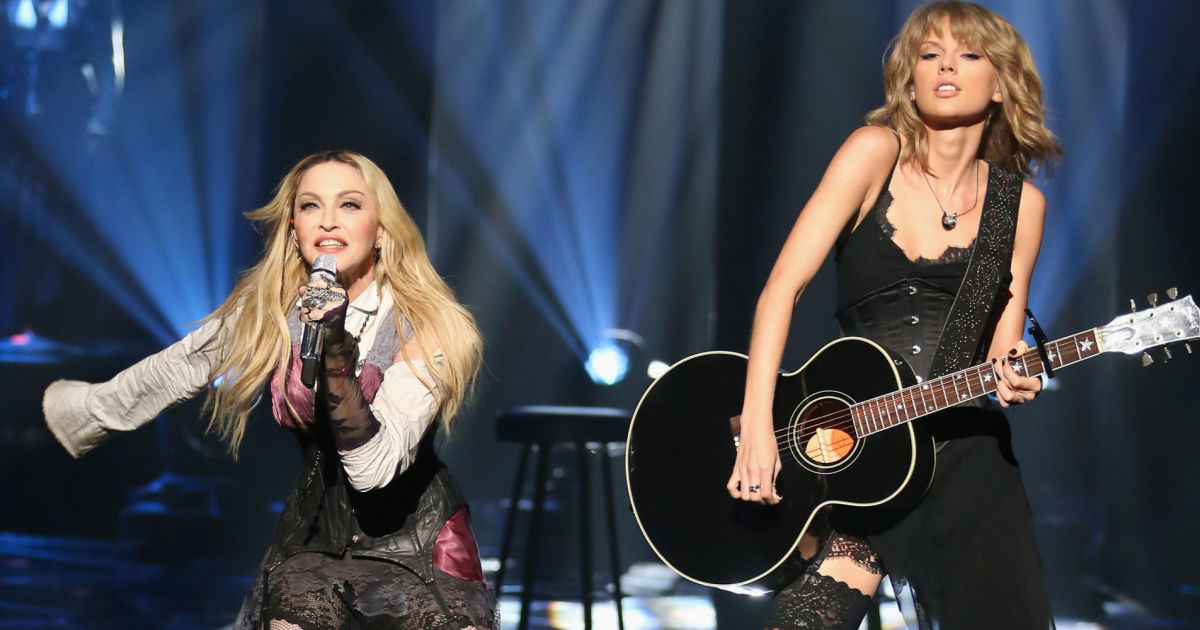 Madonna got Taylor Swift to join the Hollywood "Illuminati"/Kabbalah. Since that time, Swift has undergone a bad transformation, abandoning her country music roots and stealing from many artists to be a mainstream pop star. SEE: The Many Singers, Writers, Producers, Directors And Artists Madonna Has Stolen From For Her Fraudulent Career.
Taylor Swift has been repeatedly sued for copyright infringement and credibly so. Swift has used lawyers to corrupt the legal system, in trying to get away with her intellectual property crimes. However, social networking is sick of her thefts and have been calling her out and slamming her online for being an unoriginal thief.
Swift was slammed online for stealing from the 2003 song "Operate" by singer Peaches for her subsequent 2017 rip off "Look What You Made Me Do." Social networking has been slamming Swift over this theft in a major way. People instantly recognized this theft and are not amused by it.
Taylor Swift was sued for stealing select lyrics from the 2001 song "Playas Gon' Play" by girl group 3LW for her 2014 rip off song "Shake It Off." The lyrics from 3LW's song Swift used are "Playas, they gonna play and haters, they gonna hate." Swift's unoriginal lyric goes, "Cause the players gonna play, play, play, play/And the hates gonna hate, hate, hate, hate." It's the same lyric and it makes up the crux of the choruses.
Swift was slammed on Twitter for stealing from Kanye West's song "Yeezus" for her rip off "Ready For It." Swift and West have a negative history, due to him stating on stage that she did not deserve an award over (another massive copyright infringer) Beyonce.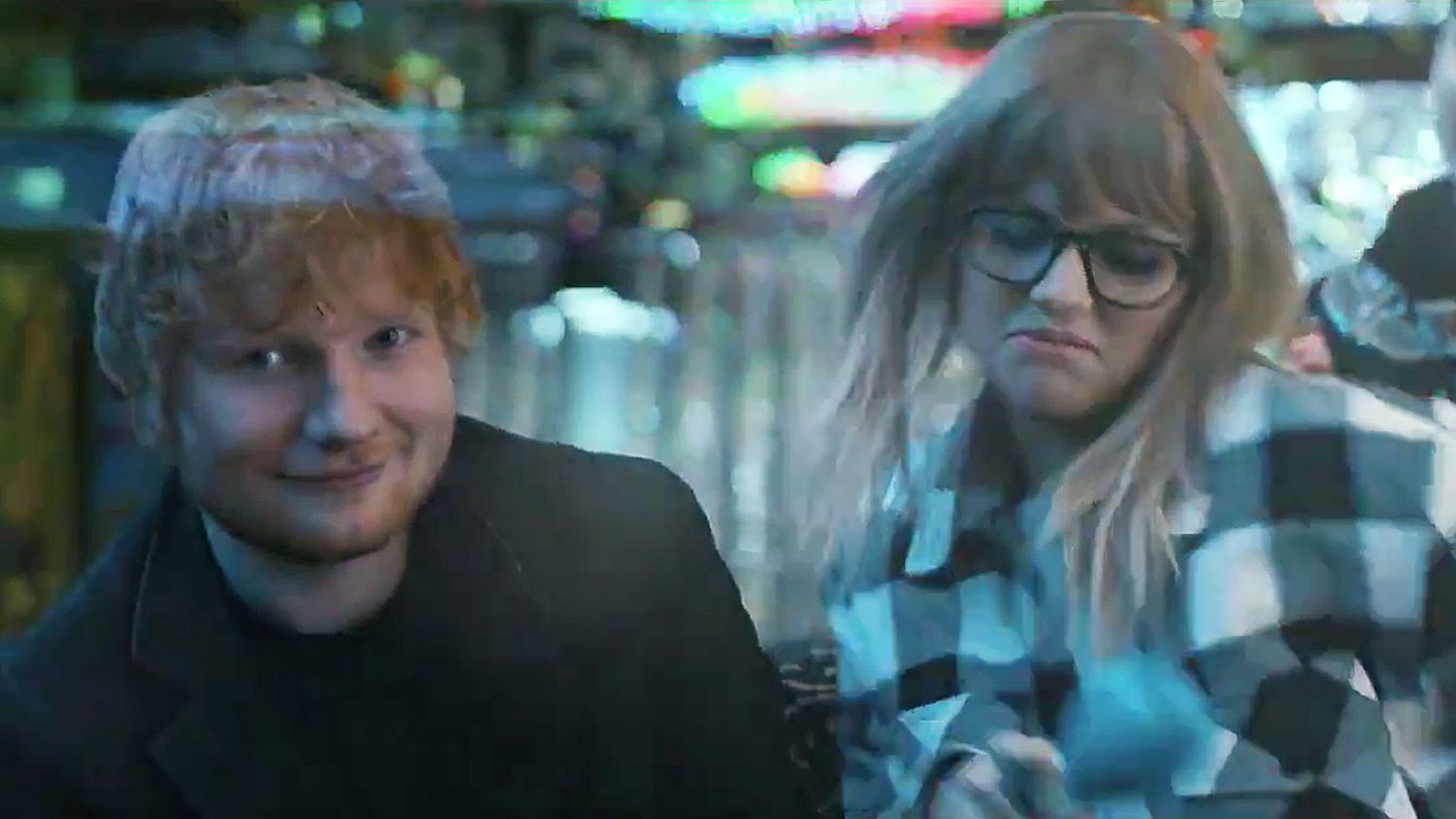 Ed Sheeran and Taylor Swift
As stated previous on this site, the video for "Shake It Off" is stolen from my copyright for "Contemporary Girl" that has been in the Library of Congress since 2000 and thieving, frequently sued pop singer Madonna is how Swift illegally got hold of it (and other items). "Shake It Off" also steals from a copyright I registered in 1991. The rhythmless, goofy garbage Swift turned it into via the "Shake It Off" clip, running around in the video like a graceless, dimwitted moron and making a mockery of black culture, while sporting that dumb expression on her face, is pathetic, imbecilic and highly offensive.
Scenes from "Look What You Made Me Do" are also stolen from my preexisting copyrights. Items from her "End Game" video are very similar to copyrighted items I filmed during a trip to London, England in 2005. Swift is going to get herself in to a world of legal trouble and permanent public disgrace with all this stealing she is doing.
Swift has been stealing more and more copyrighted works from black artists, in trying to gain some street cred, but she needs to stop, as she has none and is making a fool of herself. There are white artists such as the late Teena Marie, who have street cred in the black community. However, Marie was not trying to criminally exploit black musicians. Swift is criminally exploiting black musicians in literally stealing valuable, protected, copyrighted intellectual property from minorities, making millions from the thefts and fraudulently accepting awards for them was well, and it is an ugly, ugly look on her.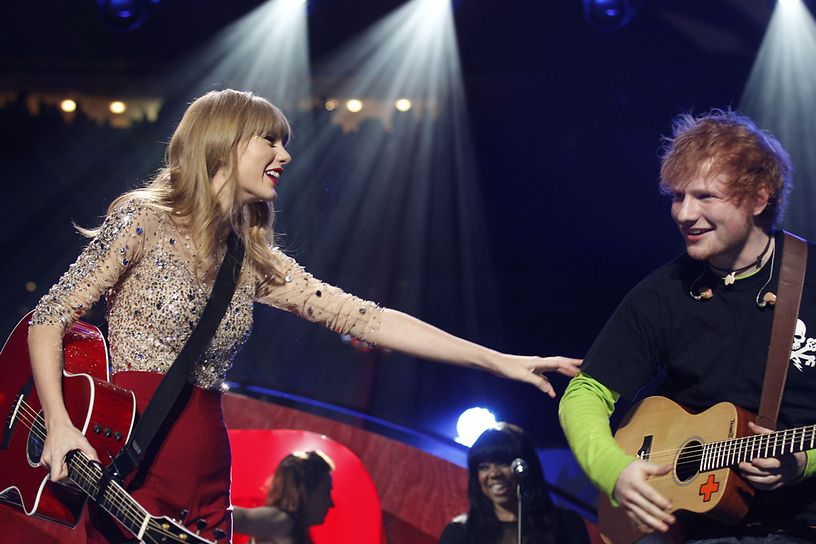 Taylor Swift and Ed Sheeran
Rolling Stone magazine revealed that Swift has been busy filing trademark applications for titles of songs she has recorded. However, she did not come up with these song titles she is trying to trademark. "Party Like It's 1989" came from the late music legend Prince's lyric "Party Like It's 1999" from the megahit song "1999." In 2015, Swift also tried to trademark "1989." A member of the U.S. Congress, Rep. Justin Amash, criticized Swift for attempting to trademark "1989."
"Sick Beat" is a phrase black artists and producers have used for decades ("that's a sick beat" or "this is a sick beat"), but that didn't stop Swift from trademarking "This Sick Beat." Swift also trademarked "Cause We Never Go Out Of Style" and "Look What You Made Me Do" which are not original either, as people from different backgrounds in the West have used those phrase for many years. "Could Show You Incredible Things" is another generic and unoriginal term Swift trademarked. How is Swift trademarking terms she didn't even come up with or use first in commerce.
Sheeran is on Warner Bros and Swift's music publishing is with Sony ATV. Warner and Sony are the two most notorious thieves in the industry. Warner and Sony share the same copyright lawyers in New York and mutual employees. Madonna, Beyonce and Jay Z also have dirty deals with them. The two companies specialize in criminal copyright infringement. It is rampant and wholesale. The two companies also routinely buy out federal judges when they are sued for stealing, bribing them with company stock and cash, so the copyright cases never make it to trial.
Years ago, Arista/Sony executive Clive Davis warned this so-called "Illuminati"/Kabbalah cult of stars to stop "writing" music. He alluded to the dishonesty that has been going on with the copyright stealing. He told them to stop, as they are not songwriters. They should have listened to him. Since all this deranged stealing hit full speed in 2005, music industry sales have steadily declined and are darn near non-existent at this point. Mainstream albums are selling 10,000 copies or less during any given month, which is very bad for a major label release. The industry is in the toilet. That idiot cult is going to be the destruction of the American music industry and Hollywood. Several companies are going to collapse and close because of them.
RELATED ARTICLES
Rita Ora Ripped To Shreds On Social Networking For Referring To Conor McGregor As Her Date Despite The Fact He Has A Longterm Girlfriend And New Son At Home (Jay Z Pimping Her Out Again For His Roc Nation Sports)
Beyonce Steals Again Illegally Using Copyrighted Footage For Her Deceitful New Video 'Formation' While Ripping Off A Model's Pictures And Is Slammed By The National Sheriffs' Association
Madonna, Jay Z, Beyonce, Rihanna, Rita Ora And Jessie J Sued Over Copyright Infringement, Invasion Of Privacy, Commissioned Criminal Harassment And Assault Via The Kabbalah Center
Serial Copyright Thieves Beyonce And Jay Z Sued For Stealing 'Drunk In Love' And Even Including A Clip Of The Original Artist's Voice On The Track
Group Warned Of Beyonce's 'Illuminati' Super Bowl Half Time Show Days Prior To The Power Outage It Caused Requesting A Boycott
Madonna's Criminal Conduct At The BBC In Britain Has Nasty Racist Slavery Connotations To It (Anthony Joshua, Daniel Kaluuya)
Beyonce Steals Again This Time Ripping Off Short Film For HBO Lemonade Special Resulting In Copyright Infringement Lawsuit
The Many Singers, Writers, Producers, Directors And Artists Madonna Has Stolen From For Her Fraudulent Career
Mathew Knowles Tried To Buy His Illegitimate Son And Give Him To Beyonce Knowles And Jay-Z To Raise
Beyonce And Jay Z Twins Born A Week Ago But Have Been In Intensive Care For The Past Several Days
Beyonce Married A Man Who Is Just Like Her Father - A Thief And Cheater
Beyonce Steals "Countdown" Music Video From European Artist's Work
Beyonce And Her Mother Slammed Over Instagram Post