Teenage Rapper Chief Keef Released From Jail But A Facebook Post Has Landed Him In Trouble
March 15. 2013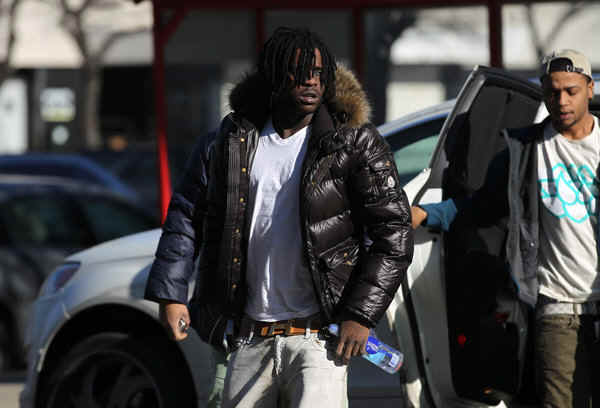 Chief Keef
17-year-old Chicago rapper and gang member Chief Keef, real name Keith Cozart, was released from jail yesterday, after serving 60-days in an Illinois juvenile detention center. He was detained on a gun possession probation violation, stemming from the original offense of pointing a weapon at a police officer.
However, according to NBC News, Keef, may already be in trouble with the law again. It is being reported, upon his release, Keef took to Facebook and posted items taunting "a street gang over a 2011 murder." The post has since been deleted, most likely on the advice of his lawyers.
A local Chicago pastor Corey Brooks has announced he is going to baptize Keef, which is good. He needs spiritual guidance to stay out of trouble and jail. The music industry is another minefield he will have to negotiate and with rappers constantly getting into violent confrontation, Keef needs to make some hard choices regarding the direction he will take.
Side Bar: Can you imagine Justin Bieber and Chief Keef hanging out together. Bieber likes hanging out with rappers, who have a penchant for smoking weed (Snoop Dogg and Lil Twist). However, do you think he could survive on the streets with Chief Keef. Also, can you imagine Bieber with dreads ("Chief Bieber").
STORY SOURCE
Chief Keef Released From Jail
Thursday, Mar 14, 2013 | Updated 1:50 PM CDT - ... According to the Chicago Sun-Times, police are concerned about a posting on Cozart's Facebook page Thursday that taunted a street gang over a 2011 murder, however the posting appears to have been removed.
Over the past year, the rapper has managed to sign a major record deal and released a full-length CD in December, but he's also come under fire for joking on Twitter about the shooting death of an 18-year-old rival rapper, Joseph "Lil JoJo" Coleman.
South Side Pastor Corey Brooks announced a few weeks ago that he would baptize Cozart when he was released from jail.
RELATED ARTICLE
Incarcerated Rapper Chief Keef Becomes Daddy Keef As He Is Sued For Getting 13-Year-Old 8th Grade School Girl Pregnant