Telegraph Newspaper Brands New Album By Jay Z A Sign Of Tidal's Failure
June 21. 2017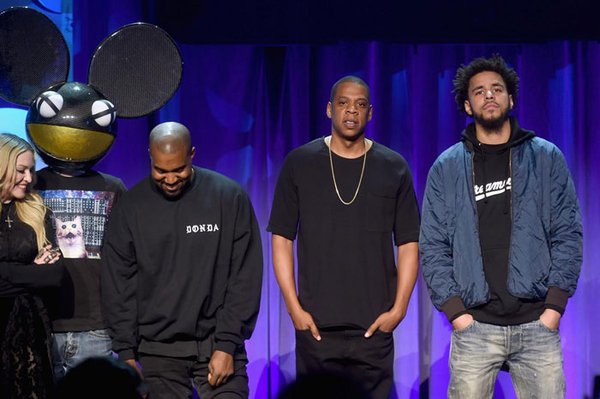 Tidal's Madonna, DeadAmu5, Kanye West, Jay Z and J Cole
Unethical rapper Jay Z is the subject of criticism in the Telegraph newspaper this week, over the blaring failure of his and madwoman Madonna's music streaming company Tidal. Jay Z announced the forthcoming release of a new album, which the Telegraph has branded a last ditch attempt to save struggling Tidal, as it will only be available on the failed music streaming service.
To hide the fact his sales are in the toilet, Jay Z is again partnering with another telecommunications company, this time Sprint, to release an album. Previously, Jay Z partnered with Samsung, which did the company no favors. They paid to hand out free Jay Z downloads of a weak album that was panned by many online.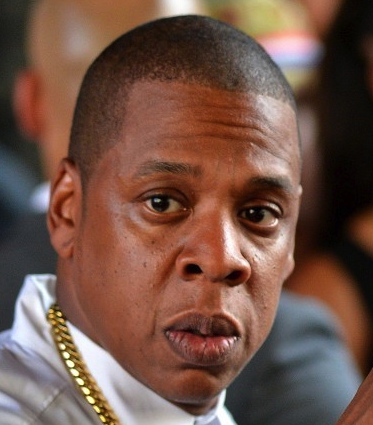 Jay Z
Tidal is a substandard service people do not wish to pay to use. By contrast, Apple Music, which has its own streaming service, launched after Tidal, is now worth $3.5 billion. Tidal is lagging behind all its competitors in sales and member numbers. Many people signed-up for a free trial membership to Tidal under all the hype and promo, then cancelled without paying any money, as it is not a good product. However, Apple has been able to retain paying customers.
Tidal bringing nothing new or original to the marketplace. Other companies are providing the same service and doing it better. Not to mention, Tidal has been falsifying sales, understating royalties to cheat artists out of money, grossly underpaying artists for their music and charging people's credit cards for services not rendered.
STORY SOURCE
Money, cash, woes: Jay-Z's 'exclusive' new album may be a sign of Tidal's failure
Tuesday 20 June 2017 10.29 EDT - Last modified on Tuesday 20 June 2017 16.38 EDT - No one can accuse Jay-Z of not ploughing his own furrow. At the precise moment when everyone else is starting to wonder if streaming and download exclusives actually do more harm than good, he's doubling down and making 4:44, his forthcoming album, exclusive on Tidal. A streaming service in which he has a significant stake. Convenient.
Naturally, he wants to support his own service and you can't really fault him for that. If we are being brutally honest, Tidal needs all the help it can get as it lags miles behind Spotify (50m paying subscribers), Apple Music (27m subscribers) and Deezer (12m "active users"). It last gave out official figures in March 2016, when it said it had 3m subscribers, but the Norwegian business publication Dagens Naeringsliv claimed it was massaging its subscriber numbers and they were under half of what it was claiming.
Jay-Z's Samsung deal signals a musical future where the rich get richer.
The rapper's new album is due for release on 30 June, but there seems to be some uncertainty over just how exclusive this "exclusive" will be. It is being done in partnership with the US mobile company Sprint, which – what serendipity! – acquired a 33% stake in Tidal at the start of this year for an estimated $200m, and seems to be as much about propping up Tidal as it is about a customer land grab by Sprint...
After a consortium led by Jay-Z bought Tidal (previously known as WiMP) in January 2015, it had a star-studded launch where many of the biggest pop acts on the planet pledged to give it exclusive material first. That amounted, initially, to a Madonna video that soon appeared on YouTube. After that came Rihanna's Anti, in January 2016, which ended up being released early by mistake, then 1m copies were given away to appease fans while Tidal blamed Universal Music Group for the error. UMG countered by saying it was actually Tidal's fault. The album eventually ended up on other streaming services...
RELATED ARTICLES
Samsung Issues Statement Revealing Rumors About Them Buying Tidal Are Untrue
Madonna, Jay Z, Beyonce, Rihanna, Rita Ora And Jessie J Sued Over Copyright Infringement, Invasion Of Privacy, Commissioned Criminal Harassment And Assault Via The Kabbalah Center