June 9. 2009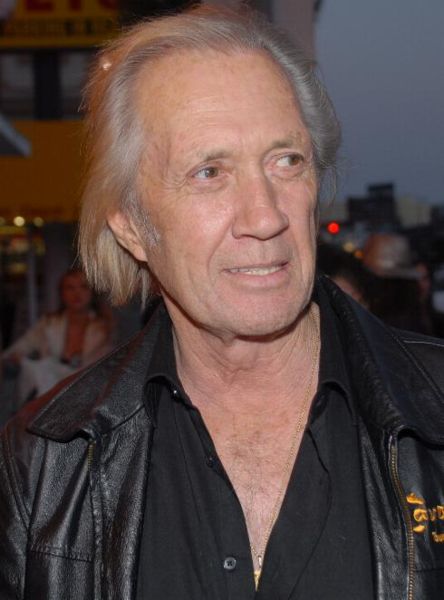 David Carradine at the premiere of "Polanski Unauthorized." Birds of a feather...
The police in Thailand conducting the official investigation into the death of actor and sexual bondage fan, David Carradine, stated the FBI is welcome to observe the case, but they are not allowed to interfere, as local law prohibits such conduct.
The FBI has yet to comment on whether they will join the investigation at the request of the late actor's family. Last week, Carradine accidentally killed himself during an auto-erotic act gone wrong, that involved strangulation.
Different wild theories are being bantered about in an effort to save his memory, such as some in Hollywood claiming an underworld Kung-Fu sect killed him, which I don't believe for one second.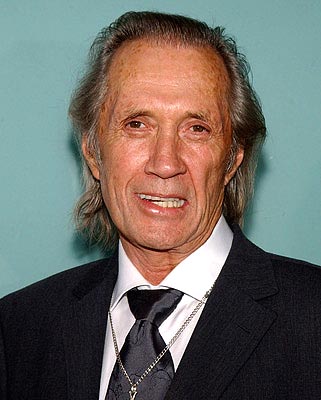 His family and friends are embarrassed by the stigma surrounding the manner in which he died - strangling himself while masturbating - and have released these rumors in a bid to remove some of the shame and ridicule associated with it.
The fact of the matter is, David Carradine suffered mental disorders, like many in Hollywood, which led him to engage in incestuous sex and other dangerous sexual conduct that ultimately killed him.
F.B.I. May Observe Carradine Investigation
Published: June 8, 2009 - The police in Thailand said that they would allow the F.B.I. to assist in the investigation of the actor David Carradine's death, but only as observers, The Associated Press reported. The family of the actor had met with the F.B.I. on Friday, the day after Mr. Carradine's body was found in his Bangkok hotel room.
According to Mark Geragos, a lawyer for Mr. Carradine's half brother Keith Carradine, the family had been upset over conflicting information. Initial reports had said that Mr. Carradine, who was found naked and hanged in a closet, had committed suicide, but the police in Thailand later said his death may have been an accident.
Maj. Gen. Amnuay Nimmano of the Thai police told the agency, "If the F.B.I. wants to get involved, we will do our best to cooperate." An official of the Thai attorney general's office told The A.P. that it had not yet received an F.B.I. request.
Carradine 'murdered by secret kung-fu sect'
14:30 AEST Tue Jun 9 2009 - David Carradine was murdered by an underworld martial arts sect, his grieving family claims.
The veteran actor was on the verge of exposing the secret sect when he was "assassinated" in a Bangkok hotel, they believe.
The family's lawyer Mark Geragos disputed claims by Thai police that Carradine died as the result of a bondage game gone wrong.
The 72-year-old actor was found with a rope tied around his neck, wrist and genitals last Thursday.
"David was very interested in investigating and disclosing secret societies, absolutely," Mr. Geragos said on US talk show Larry King Live...