The FBI And The NAACP
September 17. 2008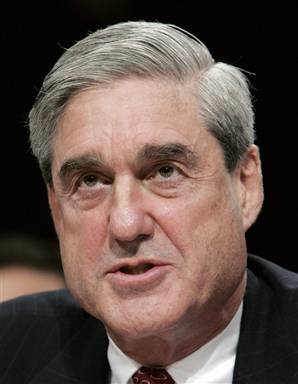 Fuhrer Mueller
The FBI is holding a seminar with the NAACP, which is ironic considering its director, Robert S. Mueller (the S is short for Satan), dislikes blacks and Muslims. He doesn't value the lives of people of color. He thinks we're slave labor.
He's retaliated against black and Muslim FBI agents that didn't deserve it, who later spoke out about it. He's also deliberately delayed civil rights cases, where the victims are black. He has not prosecuted said cases, only using it for publicity, with the hope of deflecting claims he's a racist. Therefore, I don't know why he is playing kissey face with the NAACP.
Note to Mueller: Hitler called from hell and said "good job" and he's looking forward to seeing you. He also said bring non-flammable underwear as the flames are killer.
Note #2: how ironic and appropriate that the FBI was accidentally referred to as FIB in the article below. I've found that to be true.
Local NAACP, FBI to conduct seminar
Published September 17, 2008 10:09 am - "The FBI has had a long-term commitment of building and strengthening relations between themselves and various communities around this country and is very eager for this proven-effective program to be continued," Jones said. "The FBI's CREST Program will provide an overview of the FIB and the Department of Justice's policies and procedures."
FBI's civil rights initiative: no trials yet
WASHINGTON -- Flanked by officials from the NAACP and the Southern Poverty Law Center, FBI Director Robert Mueller last year announced with considerable fanfare a new partnership between his agency and civil rights organizations.
The goal: To bring justice in long-ignored murders from the civil rights era.
The outcome: Not one case has been prosecuted under the FBI's Cold Case Initiative, which actually began two years ago with no fanfare at all.
"I've been disappointed that more cases have not been brought," Cohen said. "I worried that too many people would get their hopes up. I don't want to be part of a show."