Though News Corp's Rupert Murdoch Owns Newspapers He Blocks Others Rights To Free Speech And Free Press
October 27. 2012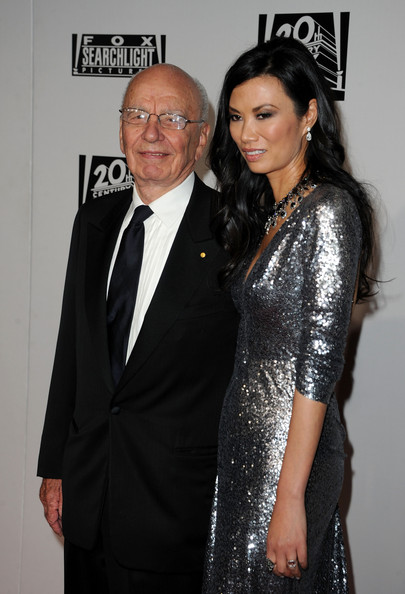 Rupert Murdoch and his unfaithful wife Wendi, who is nearly half his age
Disgraced News Corp CEO, Rupert Murdoch, who owns almost 200 newspapers and two major networks (Fox and Sky), is a first rate hypocrite, as he is of the belief he is to say and print anything he desires, often untruthful and defamatory, but block others' rights to free speech and free press.
On his direction and behalf, Murdoch's staff has been contacting social networking sites and various blog hosting platforms, demanding unflattering items regarding him be removed from their search results, to thwart the public reading the posts and articles. Murdoch also sees it as damage control, but he is in denial, because as the phrase goes, the cat is out of the bag, regarding his unsavory and illegal activities via News Corp in the phone hacking scandal.
The computer hacking scandal, regarding News Corp, has also picked up speed, resulting in several high profile arrests. With all this lawbreaking going on at News Corp, Murdoch is really full of himself to think he should be able to edit his press coverage, when he has so unfairly dragged innocent people's names through the mud for undue financial profit.
However, when the ugly truth is written about him, Murdoch gets his diapers (nappies) in a knot and demands it be excised from the internet at once. At the end of the day, the Murdochs are of the belief they are better than others and the only individuals entitled to an opinion. But the world doesn't work that way and there are still folks out there (like me and others) who refuse to let criminals like the Murdochs rob us of free speech and free press. You can't suppress the internet. It will get out in some form or another.
Furthermore, Mr. Murdoch, if you are going to live in America, Britain and your home country Australia, you need to learn to follow the rules and laws of each country, because mark my words, one of these days, you are going to run afoul of the public in such a terrible way, no lawyer, police officer or politician will be able to get out of it.