Tiger Woods States He Was Not Drunk Driving But Suffered Side Effects Of Pharmaceutical Drugs
May 31. 2017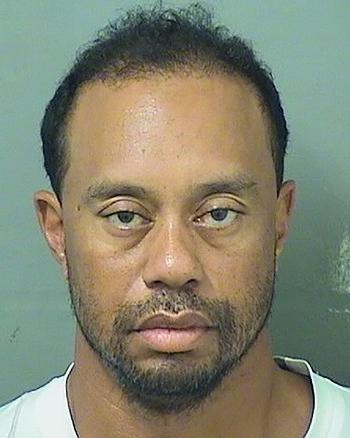 Tiger Woods mug shot
Golfing pro, Tiger Woods, has gone on record addressing claims he was drunk driving in Florida this week. On Monday the story broke that Woods was arrested for drunk driving in Jupiter, Florida. However, Woods has since stated he was on pharmaceutical drugs, which led to side effects that gave the appearance he was inebriated on alcohol. Woods stated the pharmaceutical medicines did not mix well, which indicates a contraindication.
As stated on the site this past Monday, Woods has a back problem, which he underwent surgery for, in an attempt to gain some pain relief and better mobility. However, the problem keeps reoccurring. Back patients are often prescribed pain killers for the painful problem.
In America, drugs such as Gabapentin (nerve pain), Percocet or Fentanyl, among others, are given for serious back pain. These medicines can become dangerous when taken with other pharmaceutical drugs. Woods is also a known user of the sleep aid Ambien. Woods should not take powerful Ambien pills with strong pain meds. The results can be disastrous.
People have been known to sleep walk while on Ambien. Some have even gotten into their cars and tried to drive in a semi-awake state while on Ambien. Others have reported having sex in their sleep while on Ambien. It is also a drug that has turned addictive for some.
STORY SOURCE
EXCLUSIVE: Tiger Woods was ASLEEP at the wheel and on FOUR prescription drugs when he was arrested for DUI: Golf star told cops he 'didn't know where he was' and failed four sobriety tests
Published: 10:18 EDT, 30 May 2017 | Updated: 11:17 EDT, 30 May 2017 - Tiger Woods was asleep at the wheel of his 2015 Mercedes Benz when he was approached by police early Monday morning during his DUI arrest in Jupiter, Florida. The 41-year-old golfer had to be woken up by an officer according to the Probable Cause Affidavit, which states that the car was running at the time and Woods' right blinker was flashing.
Woods then failed four field sobriety tests according to the affidavit, which also reveals that Woods was on four prescription drugs - Soloxex [sic], Vicodin, Torix and Vioxx. The affidavit notes that Woods has not taken Vioxx this year. After failing those four tests, Woods did submit to a breathalyzer and blew a .000 two times, which suggests that there was no alcohol in his system...
RELATED ARTICLE