Tony Romo Bans Jessica Simpson
July 28. 2009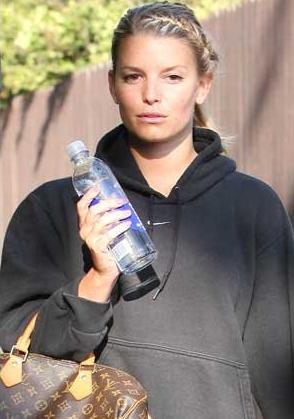 This article is a reminder to Christian women about what the Bible calls "disobedience." Reality TV star and backslidden Christian, Jessica Simpson, dumped her handsome husband, Nick Lachey, to take up the Hollywood lifestyle, believing the hype that was being perpetuated around her. She wasn't the first to chose this tricky road and she won't be the last.
America liked the wholesome, purity ring wearing Simpson, who waited until she was married to have sex and moved into her dream home with her handsome prince. Their reality TV show "The Newlyweds" was a surprise hit to many and launched her to international stardom.
After a few short years, Simpson
joined Kabbalah, divorced Lachey, started romancing a number of Hollywood men, replacing him with others and a gay stylist/fashion accessory, Ken Paves, became her sidekick. America was not amused at these drastic changes and so began her fall from the heights of fame.
Her TV show was cancelled, her record sales plummeted, her various product lines experienced massive sales declines and the public backlash has been very unkind to her.
She then dated Dallas Cowboys football player, Tono Romo and the relationship was plagued with problems from the start, recently ending in an embarrassing incident, with him banning her from his property in Texas.
The moral of the story is, though we at times have trouble in life, "disobedience" to God's word and will for our lives, always comes at a price.
Tony Romo Posts Sign Banning Jessica Simpson from His Home
July 27, 2009 - Jessica Simpson and Tony Romo must have broken up on really bad terms because he's literally banned her from his Dallas, Texas home.
A sign at the entrance of his home reads: "RED ALERT!!! TONY ROMO HAS MADE SOME CHANGES TO HIS LIST OF PEOPLE ALLOWED IN....JESSICA IS NO LONGER ON THE LIST AND NOT APPROVED FOR ACCESS...