TV Station Twitter Billboard Goes Wrong
When Billboards Attack...
December 1. 2009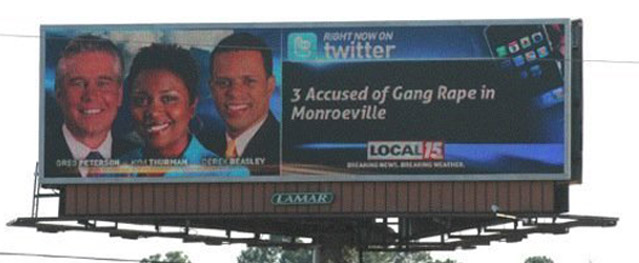 A news station, WPMI-TV, decided to jump into the social networking front, by posting the Tweets from their Twitter page on a billboard. The only problem is, the billboard featured the faces of three of their news anchors, next to a Tweet that read "3 Accused of Gang Rape in Monroeville." Uh oh.
ALABAMA TV STATION LEARNS TWITTER, BILLBOARDS DON'T MIX
A trio of of television anchors in Mobile, Ala. have learned the hard way that Twitter and electronic billboards don't mix very well. A reader e-mailed me the unintentionally humorous photo above of a billboard for WPMI-TV.
Next to the image of three WPMI anchors is a "right now on Twitter" screen. Giving drivers updates on Twitter in real time as they pass by the billboard is pretty cool, right? Well, it is, unless the update says "3 Accused of Gang Rape in Monroeville."...