U.S. Press And Silicon Valley Left Reeling After Their Candidate Hillary Clinton Loses Presidential Election To Donald Trump And 80 Percent Of Americans No Longer Trust Them
Hillary Clinton Was Not Worth Your Name
November 18. 2016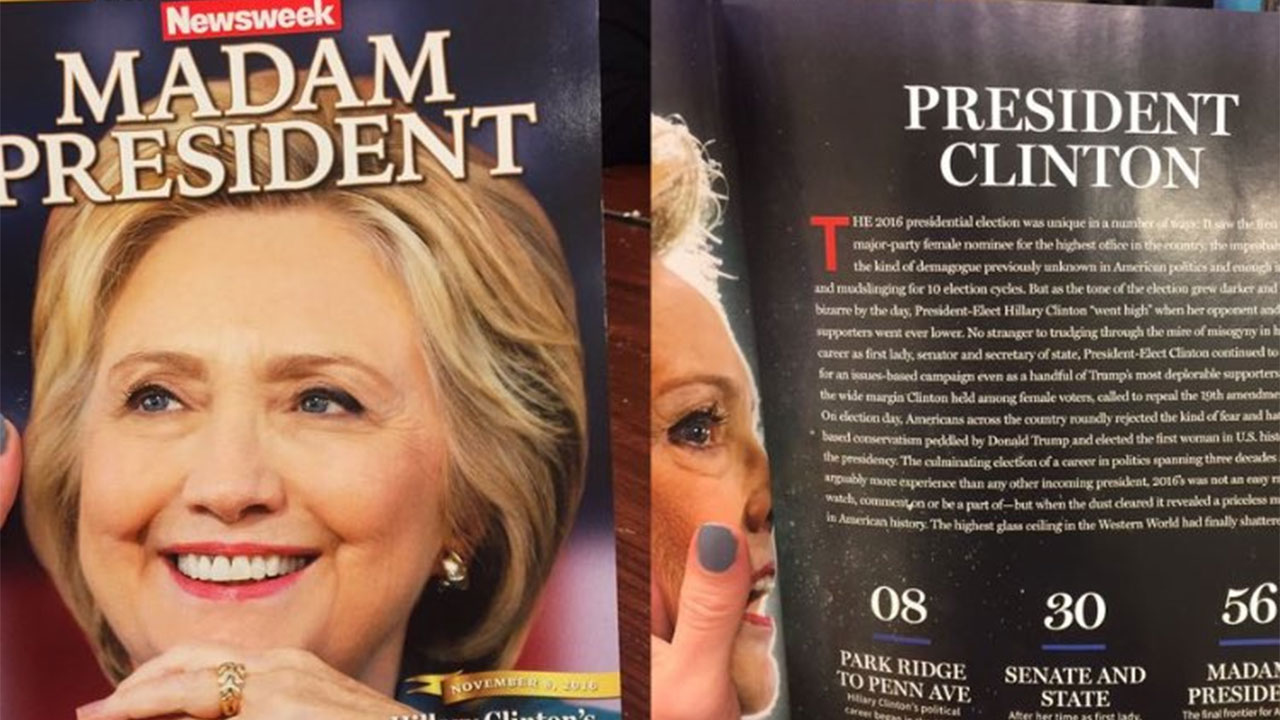 Newsweek's cover proclaiming Hillary Clinton president had to be recalled
A poll this week revealed 80 percent of Americans no longer trust the media. The press got a terrible wake up call when their brazen attempts to swing the election in the favor of candidate Hillary Clinton ended in sweeping disaster and tears. Clinton's rival Donald Trump won most of the electoral college, taking the election in a decisive win.
Google insanely edited search results to remove rival candidate Donald Trump as the official nominee and financially punished bloggers on BlogSpot.com and vloggers on You Tube who criticized Clinton online (Obama And Hillary Clinton Tried To Use The Federal Election Commission To Silence And Punish The Conservative Media In America While Engaging In Censorship Using Google and Black Man Stating He Is Bill Clinton's Illegitimate Son Banned From Google's You Tube In An Act Of Censorship For Hillary Clinton). Facebook suspended accounts and suppressed links that promoted Trump, while promoting links that glorified Clinton.
The New York Times apologized to readers for its one-sided reporting during the election. Newsweek had to recall 125,000 copies of their publication proclaiming Hillary Clinton president. Hillary was even sending articles she wrote to Politico.com journalists to publish in their names to help her in the election. That's not what a journalist does at all and people don't want to know their news is tampered with and to such degrees. The whole Clinton campaign was rigged from top to bottom. Fake, fake, fake!
Newspapers and liberal websites ran with stories of Trump sexually assaulting and raping women, with absolutely no proof to back up their claims. One accuser, a Hillary Clinton supporter, has already withdrawn her lawsuit, with the Daily Mail newspaper stating she made the whole thing up about Trump raping her when she was a teen. Trump threatened to sue the rest of the women after the election. They better lawyer up.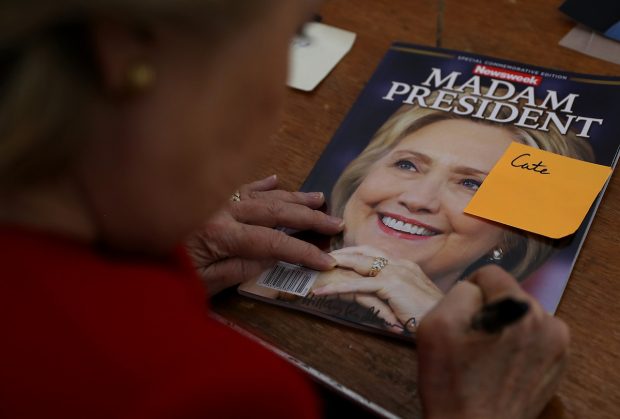 Hillary Clinton signing Newsweek proclaiming her "Madam President" days before their prediction failed and she lost the election
CNN, which stands for Cable News Network, turned into the Clinton News Network. It was so one-sided and brutal. They threw journalistic integrity out the window, finding the worst stories they could on Trump and ignoring serious stories on Clinton's corruption that harmed many innocent people (her push to jail 2,000,000 black men in the 1990s, many of whom did not deserve it and stealing billions of dollars in charity money from Haiti).
I understand that channels and newspapers are free to endorse whomever they wish in an election. There's nothing wrong with that. However, when the news becomes so one-sided, angry, virulent and at times defamatory in a bid at getting someone in political office, it has gone too far.
Some pundits were on TV screaming at Trump (who wasn't even in the room), frothing at the mouth and carrying on like they'd lost their ever loving minds. Some on TV were filled with so much hate, malice and rage for Trump, I get the impression if someone left you alone in a room with him and stated you could harm him without penalty, you would unconscionably do so, even though it would be morally wrong.
I don't agree with everything Trump said, but some of you took things to terrible extremes against him and in favor of Clinton, who is an evil person. I'm not sorry she lost. I expected it. However, I am disappointed in the media, who proved to the American people once and for all that stories are being covered up and suppressed if it doesn't fit elitists' agenda. Most Americans are not elitists, so you've misjudged and underserved your audience.
And please don't tell me the press feared defamation lawsuits in publishing stories criticizing Clinton, like she's some saint. Hillary's got horns not a halo. All the sexual assault stories against Trump the mainstream media desperately ran right before the election, with nothing to back them up, said it all. No receipts, no witnesses, no emails, no texts, no CCTV to even put them in the vicinity of Trump when the alleged sex crimes occurred, yet they received so much press, blanket coverage, all in a bid to destroy his campaign. That was poor journalism.
Yet when the people of Haiti and human rights activists came to the same press with proof of the Clintons' serious misconduct in their country, the mainstream media did a complete and total blackout of the stories. As a consequence of the Clinton campaign, the mainstream media has been discredited. And they wonder why Drudge Report, Zero Hedge, Breitbart, Daily Caller and Info Wars has become so popular in America. That's because they published the stories to the internet the mainstream media covered up during the election.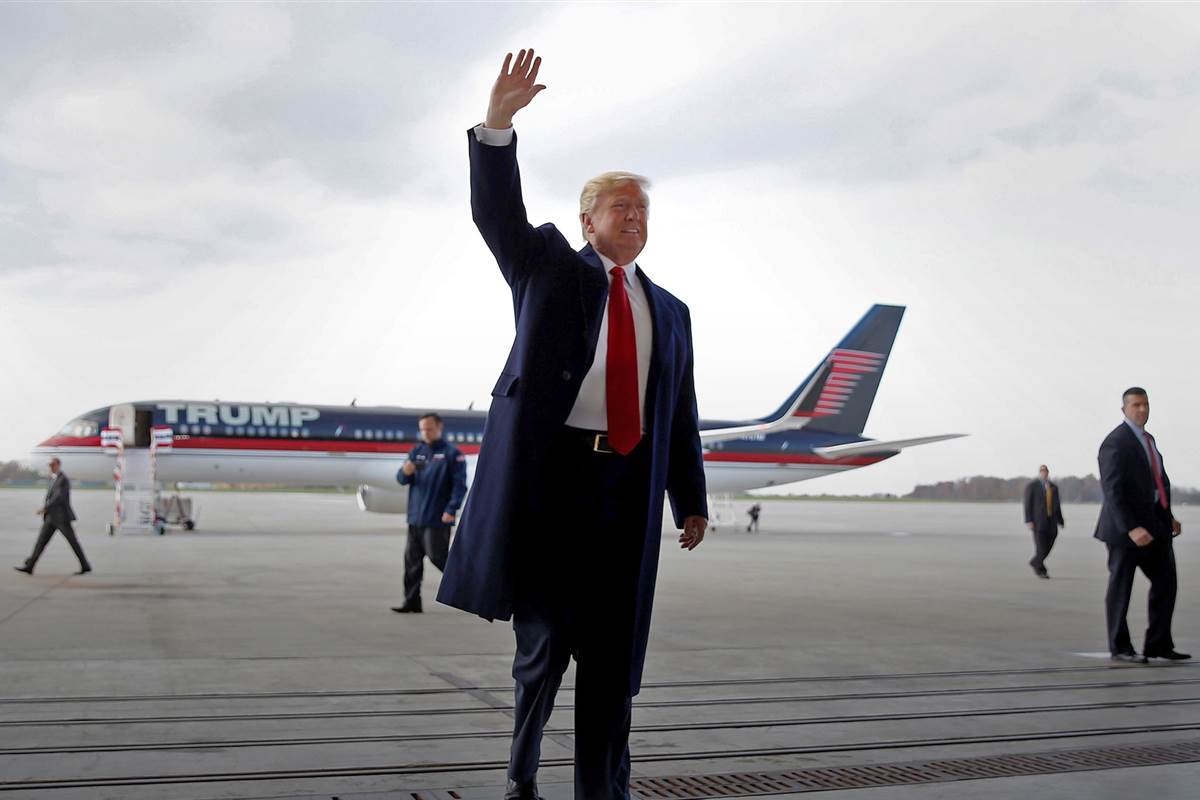 Donald Trump
Even reading items in the news about Hollywood's reaction to Trump's win is quite telling. Hollywood is devastated. They were making all sorts of corrupt plans about what they would do during a Clinton presidency (Madonna's idiotic sick Kabbalah Center was bragging they would obtain nuclear codes from her "cousin" Hillary Clinton and threaten governments in foreign countries not receptive to them if they resisted the sect setting up shop in their nations).
Hollywood is now threatening Trump supporters in the industry with retaliation and acts of abuse over voting for him. They are also spewing horrendous venom online. One walks away from it with the feeling Hollywood are rooting for Trump to fail, even at the expense of America. It's alarming, but that's Hollywood for you, crazy no matter the cost to everyone else.
If I were in an election, I would want to win fairly and not ask media outlets and social networking companies to compromise their ethics and businesses for me. The Clinton campaign and her Hollywood backers didn't give a darn about Silicon Valley or the U.S. media's name and reputation, as they repeatedly asked them to do unethical and discriminatory things in favor of Clinton that has greatly damaged their companies and credibility in the sight of the American people and the world.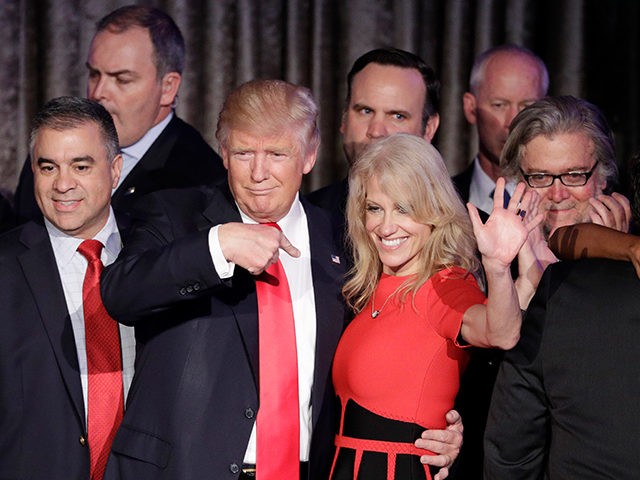 Team Trump on election night realizing they're winning
If you look at the press outside of America, they reported on both candidates, putting the good and bad out there, allowing readers to decide. However, that didn't happen in America. Now media outlets in America are apologizing to the American people, because on November 8, 2016, they realized they were insulting the views, opinions and lives of millions around the country. Trump supporters were mocked in newspapers as poor, uneducated, racist fools (never mind he did get some of the black and Latino vote).
At the end of the day, yes, some Trump supporters are racist. However, many were just people terrified of the direction the country is going in with job losses, terrorism, cost of living increases and a Congress who isn't listening anymore. They knew a vote for Clinton would be more of the same status quo. They decided to give someone else a chance, hoping he will be different (which remains to be seen). People voted for Barack Obama for much of the same reason they voted for Donald Trump - they want change.
And anyone who thinks things are fine in America regarding the economy and laws the Supreme Court and Congress are passing, is apart of the problem. Americans have never been so cash strapped. Life in America has become unaffordable for millions of people. The health care system needs serious reform. Polls routinely reflect Americans are not in step with the laws being passed in the nation. People need help but are not getting it to the degree to make a lasting difference. That needs to be fixed.
I don't think Clinton supporters are poor, uneducated, racist fools (either). I think they don't know enough about how evil she is, otherwise Bernie Sanders would have easily won the nomination without there being room for Democratic National Committee officials to tamper with the results.
STORY SOURCE
MRC/YouGov Poll: Most Voters Saw, Rejected News Media Bias
November 15, 2016 | 9:47 AM EST - RESTON, VA – The Media Research Center (MRC) announces the findings of a new post-election poll on what actual voters thought about the media's influence on the 2016 presidential race. The MRC/YouGov poll was conducted on November 9 and 10. Key findings: 7 in 10 (69%) voters do not believe the news media are honest and truthful. 8 in 10 (78%) of voters believe the news coverage of the presidential campaign was biased, with nearly a 3-to-1 majority believing the media were for Clinton (59%) vs. for Trump (21%)...
National recall after Newsweek misfires with Clinton cover
November 9, 2016 | 4:01pm - A national recall went out Wednesday for the special "Madame President" issue of Newsweek that was prematurely shipped to stores and newsstands across the country. At the same time, the publisher of the magazine will rush the "President Trump" version of the commemorative issue to press on Thursday — so it will get to stores next week.
"Like everybody else, we got it wrong," said Tony Romando, CEO of Topix Media, the Newsweek partner which produces special issues under the popular brand. Both a Clinton and a Trump commemorative issue were designed and laid out in advance, but Topix Media, believing late last week that Clinton was likely to win, shipped only the Clinton issue. The magazine hit stores Tuesday. While retailers were told not to put issues on sale prior to the election, a handful did. Romando claims only 17 Clinton magazines were sold — out of 125,000 printed and shipped...
Politico Reporter Gets Caught AGAIN Sending A Story To A Clinton Staffer For Approval
2:51 PM 11/03/2016 - For the second time in less than a month Politico chief political correspondent Glenn Thrush has been caught sending stories to Hillary Clinton staffers for approval. Thrush sent an email to Clinton communications director Jennifer Palmieri on April 17, 2015 with the subject line: "pls read asap — the [Jennifer Palmieri] bits — don't share." This was revealed in Thursday's WikiLeaks release of Clinton campaign chairman John Podesta's emails. It is included in Podesta's emails as Palmieri shared the email with several other Clinton staffers, including campaign manager Robby Mook and Podesta.
The eight paragraphs that Thrush sent Palmieri were filled with glowing sentences about her. She wrote in the forwarded email to Clinton staffers, "He did me courtesy of sending what he is going to say about me. Seems fine." The paragraphs about Palmieri ended up largely unchanged in the column, "Quiet, please. Hillary's running," a piece focused on Clinton's press strategy...
Florida newspaper apologizes for anti-Donald Trump bias
Wednesday, November 2, 2016 - A Florida daily newspaper is apologizing to readers for not being objective enough in its coverage of Republican presidential nominee Donald Trump. The Daily Commercial, which serves Lake and Sumter counties, recently issued a "mea culpa" admitting that it hadn't taken a balanced-enough approach to the 2016 presidential election. "Because we have limited space and resources, smaller papers are generally limited to covering the horse race — the day in-day out happenings on the campaign trail," the paper explained in an open letter...
http://www.washingtontimes.com
To Our Readers, From the Publisher and Executive Editor
NOV. 13, 2016 - When the biggest political story of the year reached a dramatic and unexpected climax late Tuesday night, our newsroom turned on a dime and did what it has done for nearly two years — cover the 2016 election with agility and creativity.
After such an erratic and unpredictable election there are inevitable questions: Did Donald Trump's sheer unconventionality lead us and other news outlets to underestimate his support among American voters? What forces and strains in America drove this divisive election and outcome? Most important, how will a president who remains a largely enigmatic figure actually govern when he takes office?
As we reflect on the momentous result, and the months of reporting and polling that preceded it, we aim to rededicate ourselves to the fundamental mission of Times journalism. That is to report America and the world honestly, without fear or favor, striving always to understand and reflect all political perspectives and life experiences in the stories that we bring to you. It is also to hold power to account, impartially and unflinchingly. You can rely on The New York Times to bring the same fairness, the same level of scrutiny, the same independence to our coverage of the new president and his team.
We cannot deliver the independent, original journalism for which we are known without the loyalty of our readers. We want to take this opportunity, on behalf of all Times journalists, to thank you for that loyalty.
Sincerely,
Arthur Sulzberger Jr., publisher
Dean Baquet, executive editor
New York Times: We blew it on Trump
November 11, 2016 | 8:10pm | Updated - The Gray Lady feels the agony of political defeat — in her reputation and in her wallet. After taking a beating almost as brutal as Hillary Clinton's, the New York Times on Friday made an extraordinary appeal to its readers to stand by her. The publisher's letter to subscribers was part apology and part defense of its campaign coverage, but the key takeaway was a pledge to do better.
Times publisher Arthur Sulzberger Jr. admitted the paper failed to appreciate Donald Trump's appeal. "After such an erratic and unpredictable election there are inevitable questions: Did Donald Trump's sheer unconventionality lead us and other news outlets to underestimate his support among American voters?"...
Google's Eric Schmidt Wore 'Staff' Badge at Hillary Clinton Election Night Party
Hacked memo revealed Schmidt was working directly with the Clinton campaign
November 16, 2016 1:00 pm Eric Schmidt, the executive chairman of Google's parent company, Alphabet, Inc., was spotted at Hillary Clinton's "victory" party last Tuesday wearing a staff badge, according to a picture recently submitted to Politico. Google came under fire earlier this year for allegedly altering search results to paint Hillary Clinton in a more favorable light than Donald Trump...
ESPN's Public Editor Agrees With Viewers That Network 'Has Moved Leftward'
By Clay Waters | November 17, 2016 | 3:36 PM EST - ESPN Public Editor Jim Brady on Election Eve surveyed complaints that the sports network had gone overboard with liberal pieties, frustrating long-time watchers by injecting politics onto the playing field. He agreed with conservative complaints that ESPN had shifted leftward, though the company brass and at least one outspoken lefty personality didn't see a problem: "One notion that virtually everyone I spoke to at ESPN dismisses is what some have perceived as unequal treatment of conservatives who make controversial statements vs. liberals who do the same."
Ad Feedback
....ESPN is far from immune from the political fever that has afflicted so much of the country over the past year. Internally, there's a feeling among many staffers -- both liberal and conservative -- that the company's perceived move leftward has had a stifling effect on discourse inside the company and has affected its public-facing product. Consumers have sensed that same leftward movement, alienating some...
RELATED ARTICLES
'Clinton Cash' Documentary Exposes Hillary Clinton And Bill Clinton Going From Broke To $2 Billion Dollars In Bribe Money From Global Dictators And Businesspeople Stealing From The Poor And Harming The Environment (Video)
Obama Demanding Black People Vote For Hillary Clinton Who Referred To Black Men As 'Super Predators' And Had A Hand In Locking Up 2 Million Black Males During Her Husband's Administration In The 1990s
FBI Hit With Massive Backlash From Americans Labeling Them 'Corrupt' For 'Rigging' Hillary Clinton Investigation Into Mishandling Classified Information And Not Charging Her For Crimes She Committed
Attorney General Loretta Lynch Dodged 74 Questions In Congress About The Corruption That Led To Hillary Clinton Not Being Criminally Charged For Mishandling Classified Information
Haiti Could Have Used The Billions Of Dollars Bill Clinton And Hillary Clinton Stole Through The Clinton Foundation To House And Feed People During Hurricane Matthew
Members Of Congress Question FBI Director James Comey In Hearing About Hillary Clinton Lying To The Legislature And FBI Under Oath
862 Dead, 28,000 Homes Damaged, Thousands Homeless And Many In Danger Of Starvation In Haiti After Hurricane Matthew
Hillary Clinton Had To Be Sedated After Losing Election To Donald Trump Leading To Delay In Concession Speech
Clintons Accused Of More Shady Financial Dealings As Their Offshore Investment Fund Is Shutdown In Colombia