U.S. Stock Market Plummets 800 Points
Takes Global Markets Down With It
October 6. 2008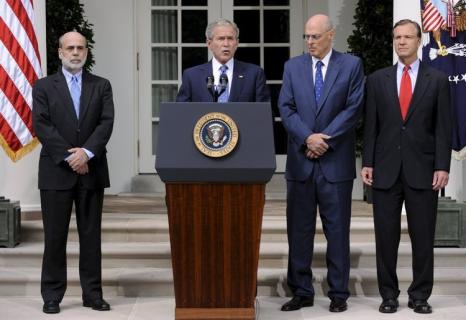 George Bush at podium (Republican)

In light of today's events with the U.S. stock market plunging an unprecedented 800 points, many are questioning whether last week's $700 billion bailout bill was of any use to the nation. The plunge also devalued stock markets around the world.

Nice Work Mr. Bush, Not!

Today,

President George Bush stated in his defense, it will take time for the alleged benefits of the bill to show. Considering the last item you stated would take time to show was Weapons Of Mass Destruction in Iraq, which have yet to surface, I ask, when have you ever been right.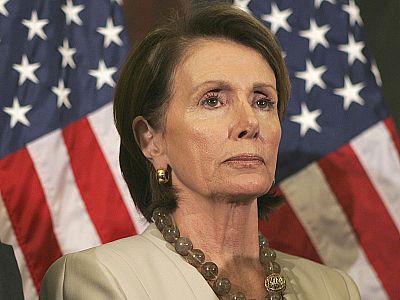 House Speaker Nancy Pelosi (Democrat)
As I stated last week before today's record stock market plunge, $700 billion dollars is not enough to repair a broken economy that hemorrhaged trillions of dollars and continues to lose money at a drastic rate.
The bill is a poor patch job, where the American people don't even know if you've covered the biggest holes in the proverbial leaking roof. The answer is no.
Panic engulfs global stock markets
World markets suffered massive losses Monday, striking four-year lows, as panic-stricken investors doubted whether a Wall Street bailout package would stem the global financial crisis.
London, Frankfurt and Paris all tumbled more than six percent approaching the half-way mark while a 15-percent dive in Moscow forced a halt to Russian trading.
"We have a seriously weak and fear driven market at our hands," said Tom Hougaard, chief market strategist at City Index. "It is anyone's guess where we will end the day."
Investors dumped shares after US stock markets had fallen sharply on Friday, despite US congressional approval of a 700-billion-dollar bank bailout.
On Monday, Tokyo ended down 4.25 percent as Hong Kong's stock market shed 5.0 percent, Seoul tumbled 4.3 percent and Sydney lost 3.3 percent. Shanghai dived 5.23 percent and Mumbai was down 5.58 percent in late afternoon trade.