Video Surfaces Of Adrien Broner Assault And Robbery (Video)
May 20. 2016
Video has surfaced online of boxer Adrien Broner engaging in assault and robbery for which he was arrested in March 2016. The victim in the case alleged Broner punched him in the chin twice, splitting it open, which required 60 stitches, after a night of betting on bowling games went wrong. After Broner punched the man, he took back his money from the betting losses and $2,000 of the victim's money. He has sued Broner and filed a complaint with the police. Prosecutors filed charges and arrested Broner in April 2016. Broner is free on bail pending trial.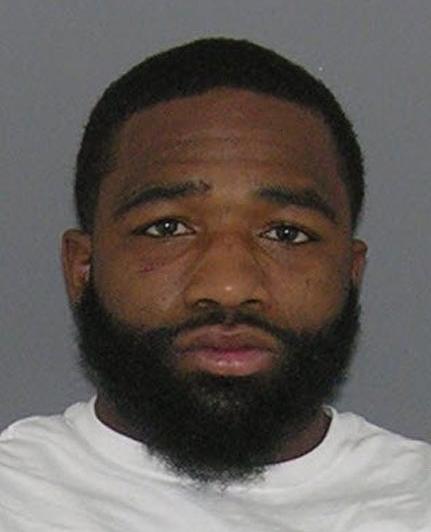 Adrien Broner's mug shot
The only problem with the video is it's so grainy you can't make out anyone on the tape to obtain a positive identification. In that sense, it is useless. Voices are heard on the tape and one of them is definitely Broner, who sounds very agitated. Another voice is heard on the tape saying "chill A.B." which is Broner's initials and one of his nicknames.
RELATED ARTICLES
Boxer Adrien Broner Turns Himself Into Police On Assault And Robbery Charges Posting $100,000 Bail Adding To His Long Rap Sheet
Warrant Issued For Adrien Broner's Arrest On Charges Of Assault And Theft Carried Out At Gunpoint
Boxer Adrien Broner Facing 3-10 Years In Jail Over Assault And Robbery Due To Gambling Incident
Reports Indicate Floyd Mayweather Getting Restless In Retirement And Is Looking For 50th Fight
Boxer Adrien Broner On The Verge Of Tears Slams Former Mentor Floyd Mayweather (Video)
Adrien Broner Asks Fans To Write To Him In Jail But Some Are Questioning Why Because...
Boxer Adrien Broner Released From Jail But Still Faces Second Court Case
Floyd Mayweather Protégé Adrien Broner Loses Fight To Shawn Porter
Adrien Broner Scores Controversial Win Over Ashley Theophane
Boxer Adrien Broner Pleads Not Guilty To Assault And Robbery
Why Do Boxers Grow Out Their Beards During Training Camp
Showing Up Too Late To The Fight (Boxing)