Walmart Settles Lawsuit Filed By Comedian Tracy Morgan Over Deadly Accident
May 28. 2015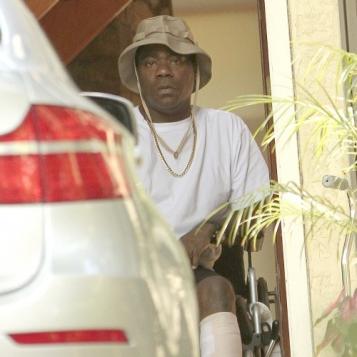 Tracy Morgan in a wheel chair during rehabilitation. He is now walking with the aid of a walker.
Giant retailer Walmart has settled a lawsuit filed by comedian Tracy Morgan, after one of their company's drivers slammed a large truck into the entertainer's van on a New Jersey road. As stated on the Judiciary Report last year, a settlement is the prudent course of action in this case (Tracy Morgan Responds To The Outrageous Claims Of Walmart's Attorneys Who Blame Him For His Injuries In Fatal Crash). It is the right thing to do in light of what transpired.
Walmart released a statement about the settlement, "Our thoughts continue to go out to everyone that was involved in the accident. While we know there is nothing that can change what happened, Walmart has been committed to doing what's right to help ensure the well-being of all of those who were impacted by the accident." Morgan also released a statement on the settlement, "Walmart did right by me and my family, and for my associates and their families. I am grateful that the case was resolved amicably."
RELATED ARTICLE
Tracy Morgan Responds To The Outrageous Claims Of Walmart's Attorneys Who Blame Him For His Injuries In Fatal Crash