Warner Bros Loses Copyright Cases
Warner Bros Loses "Hari Puttar" And "Watchmen" Copyright Cases
December 31. 2008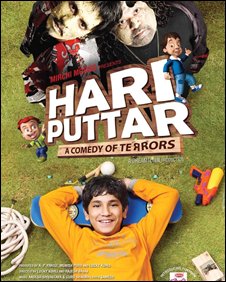 This is a follow up to the September 5, 2008 article titled Warner Bros Hypocritically Files Copyright Lawsuit. The Indian courts ruled against Warner Bros in their "Harry Potter" copyright infringement claim, stating the makers of the film "Hari Puttar" did not steal their movie. While, there are similarities between "Harry Potter" and "Hari Puttar" the latter is a complete and blatant copyright infringing rip off of "Home Alone." One look at the trailer reveals this fact.
In other Warner Bros legal news, the company lost the "The Watchmen" copyright case, brought against them by Fox. It is being reported Fox optioned the rights to the novel, but held back in filming it. However, they retained the copyrights. Warner Bros, engaging in conduct they did to me as well, decided they were going to make a movie they didn't even own the rights to, criminally violating established copyright law, both domestically and internationally.
HARI PUTTAR TRAILER:
A judge ruled in favor of Fox, which is putting Warner Bros' already announced release date for "The Watchmen" in jeopardy. Warner Bros stated they are not backing down, which means they are going to violate the law or bribe the judge into letting the film go ahead, if Fox refuses to settle.
This ladies and gentlemen, is the type of conduct that brought the U.S. economy down this year, firmly placing the nation into serious financial turmoil. It is the arrogance of some, not all, in corporate America, believing that: I can do whatever I please to whomever I please and steal from and defraud anyone anywhere and If I am caught I shall corrupt the court system.
NEWS REPORT:
Warner Loses Watchmen Case
That's not creating wealth, that's stealing it. That's not creating products, that's ripping off your competitors. That does not breed a healthy economy, but a corrupt one that is collapsible. It's like a weird ponzi scheme, where one company should be creating, it is instead robbing and defrauding others to stay afloat, taking away money, products and jobs that would exist in the economy, in addition to their company's output, had they just done the work honestly and come up with their own thing.
So instead of having two products from two companies, you have one, as one entity was defrauded. This cycle has been repeating itself throughout corporate America and hurting the economy and those who choose to invest here. This has been happening a lot in corporate America over the last few years, especially due to George W. Bush's Laissez-Faire policies, which created a financial catastrophe like the world has never seen before.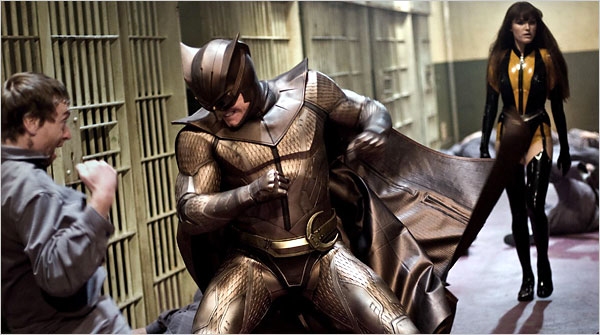 A still from the Warner Bros film "Watchmen"
Warner is one of the nation's largest corporations and also one of the worst thieves. They have countless lawsuits for theft under their belt. That's when they are not ripping off former AOL customers in America, refusing to stop charging their credit and debit cards for services they are no longer receiving, reaping a few hundred million in ill-gotten profit from this unsavory practice.
Imagine what would have happened had Bernard Madoff properly invested his clients money and not defrauded many. It would have been a plus for the economy. Same premise with Warner Bros and companies like them. They are taking away from the economy, much like any thief stealing intellectual property, when they should be working on something else that is original to contribute. They need to stop this madness.
Warner Bros.' 'Hari Puttar' suit thrown out
September 22, 2008 The Delhi High Court tossed out Warner Bros.' copyright infringement suit against Mumbai-based Mirchi Movies over "Hari Puttar: A Comedy of Terrors," clearing the way for the film's release Friday…
In a statement Monday, a London-based Warner Bros. spokesperson said: We brought these proceedings because we believe that the proposed title and marketing of the defendants' film infringed our intellectual property rights and unfairly sought to confuse consumers and benefit from the well-known and well-loved 'Harry Potter' brand.
Judge Feess Hands Fox Copyright Ownership in "Watchmen"
20th Century Fox scored a big copyright win in California federal court on Wednesday when U.S. District Judge Gary A. Feess, in a five-page order, granted Fox's claim of copyright ownership in Watchmen, a forthcoming flick from Warner Bros.
The ruling in favor of Fox, reports the WSJ comes as a surprise, given that the studio appeared to have dropped the project more than a decade ago and was not involved in producing the film.
Fox bought the rights to "Watchmen" in the 1980s for one of its top producers, Lawrence Gordon, who helped produce the "Die Hard" franchise. But the studio eventually abandoned its plans to make a film from the graphic novel. Gordon then took the project to Warner Bros. and Legendary Pictures.
"Fox owns a copyright interest consisting of, at the very least, the right to distribute the Watchmen motion picture," Judge Feess wrote. What form Fox's rights will take remains to be seen, but Judge Feess said he'll issue a more detailed order soon. He advised the studios to focus on reaching a settlement or appealing the decision.
UNHAPPY NEW YEAR! Time Warner Cable To Lose Viacom's MTV, VH1, Nickelodeon & Comedy Central In NY, LA, Everywhere
TUESDAY: What an awful way to ring in 2009. It turns out that Viacom claims it has been trying to negotiate a "fair" renewal of its prized cable channels for months and months, but reputedly Time Warner Cable has been unresponsive and "unreasonable" so talks have stalled…
At 12:01 AM on January 1st, just after the ball drops in Time Square, Time Warner Cable's 13.3 million subscribers will lose 19 Viacom channels -- Comedy Central; CMT: Pure Country; Logo; Palladia; MTV; MTV 2; MTV Hits; MTV Jams; MTV Tr3s; Nickelodeon; Noggin; Nick 2; Nicktoons; Spike; The N; TV Land; Vh1; Vh1 Classic; Vh1 Soul.
The howling starts here, especially by parents home for the holidays with children who won't have access to their favorite shows like SpongeBob Squarepants and Dora The Explorer...