White House Asks People Not To Photoshop Obama Gun Photo
February 4. 2013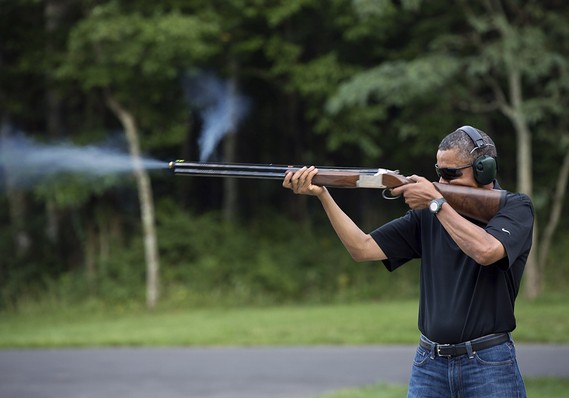 Barack Obama
White House officials are asking the public not to Photoshop the Obama skeet shooting image they released this past weekend. Some will be tempted to add another person to the photo or add other elements to the picture. Well, the White House says don't even think about it. Do you guys think Obama will "pepper" someone like his cousin Dick Cheney did when he was in office. Mitt Romney better beef up security.
STORY SOURCE
White House releases 'odd' photo of Obama skeet shooting, urges users not to Photoshop it
3:26 AM 02/03/2013 - An "odd" official photo of President Barack Obama shooting clay pigeons during a visit to Camp David has finally been published by the White House, but it comes with the administration's typical copyright caveat: Don't Photoshop it.
"This official White House photograph is being made available only for publication by news organizations and/or for personal use printing by the subject(s) of the photograph," reads the disclaimer, which appears underneath all original photos on the White House's Flickr account. "The photograph may not be manipulated in any way and may not be used in commercial or political materials, advertisements, emails, products, promotions that in any way suggests approval or endorsement of the President, the First Family, or the White House."
But even the polished photo released on Saturday has been met with some skepticism. Emily Miller, senior editor of the Washington Times opinion page, wrote on her Facebook profile that the photo looked "odd."...